Renault Sport Spider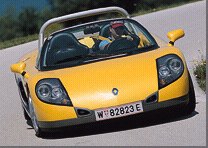 Being a raw mid-engine small-size sports car, Renault Sport Spider is inevitably being compared with Lotus Elise. Both cars has similar layout, similar engine size ( 2.0 vs 1.8 ), similar aluminium chassis ( also supplied by the same Norweign company but with different bonding technique ), but the result is very different.
Elise weighs at 723kg, Sports Spider weighs at 955kg ;
Elise takes 5.5sec to finish 0-60mph, Sports Spider needs 7.4sec ;
Elise provides the crispest handling, involving control and comfortable ride, Sports Spider performs strong only on grip.
Elise has a hood ( although not electric ), Sports Spider has no rain protection, nor windscreen ( except the right hand drive version ).
Moreover, the Sports Spider is some 40% more expensive than Elise.

.
So, what motivates Renault to build such a car ? Firstly, when Renault unveiled its prototype in several years ago, there was no Elise, Z3, SLK, Boxster, Alfa Spider, MGF....in the market, and the strong reaction from the motor show leads to an estimation that it would be popular. Obviously, such prediction is over-optimistic. Secondly, since it was designed to be built in small numbers, the project will not cost too much, even result in loss.

I personally hate Sports Spider very much, not only because it is inferior to many rivals, but also because it leads to the death of my favourite car, Renault Apline A610. After many years of disappointing sales, its production in Alpine factory was terminated in favour of the production of Sports Spider. Now, with the disappointing sales of Sports Spider, Renault may regret that decision.
Specifications
Model

Sport Spider

Layout

Mid-engine, Rwd

Engine

Inline-4, dohc, 4v/cyl.

Capacity

1998 c.c.

Power

150 hp

Torque

136 lbft

Transmission

5M

Weight

955 kg

Top speed

124 mph*

0-60mph

7.4 sec*

Best competitors

BMW Z3 2.8

Caterham Seven

Caterham 21

Lotus Elise

Autozine's choice in this class

Lotus Elise
.
* Tested by Autocar
.
---
Copyright© 1997-2009 by Mark Wan @
AutoZine