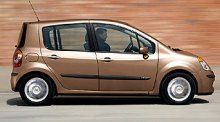 The original product lineup of Renault consists of Twingo, Clio, Megane, Laguna and Vel Satis. That's a logical series, ranging from small to big, cheap to expensive, spanning neatly across every segment. But since the late 90s the automotive market has become more and more deviated. Many cross-segment cars emerged into the market. Today, we have crossover vehicles like Renault Scenic (between family hatch and MPV), Volvo XC90 (between SUV and MPV), Seat Altea (between MAV and hot hatch), Chrysler Pacifica (between station wagon and SUV), Opel Meriva (between supermini and MAV) and undoubtedly more and more to come.

Like Opel Meriva, Fiat Idea and Toyota Yaris Verso, Renault Modus is a crossover between supermini and MAV. It just biases more towards supermini. Based on the next generation Clio platform, the Modus is seen as an attractive alternative to your regular supermini. Some people even predict in the future all superminis will look like that. It will undoubtedly steal a lot of sales from Clio, but it will also widen the customer base for Renault. If everything go as planned, it will generate 300,000 units of sales every year !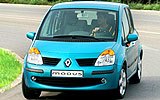 The Modus looks pretty and cheerful, with a smiling face and a pair of big eyes. Huge windows in combination with low waistline not only look smart but also brighten the cabin. Its build quality exceeds that of the supermini standard, more in line with Megane and Scenic. Soft-touch plastics and high level of fit and finish deliver a premium feel, a big contrast to the raw Meriva. Colorful seats and 2-tone color scheme on the dashboard lifts the ambience.

The car occupies the same road space as Clio, but its 1.59m height exceeds Clio by a massive 17cm. This give it enormous headroom. As for legroom, the 2482mm wheelbase is no match for Meriva's 2630mm, but Modus follows its rival to use a sliding rear seat to enable flexible distribution of passenger and luggage room. In the forward position, the rear bench can sit 3 people tightly but offer more luggage space. If you flip the center cushion and push the outer seats inward, you can slide the rear bench backward, creating an additional 17cm legroom ! in this case the Modus becomes a roomy 4-seater.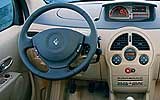 Underpinning the Modus is the first common platform between Renault and Nissan. It has been used in Nissan March (Micra) and will be shared with the forthcoming Clio III, Twingo II and Nissan Tone to optimize savings. As a tradition of Renault, the platform is unsophisticated, employing the popular strut and torsion-beam suspensions and electric power steering to keep cost down. That's why Renault can offer a high quality package at a reasonable price.

The engine range consists of an entry-level 75hp 1.2-litre 16V, a 98hp 1.4-litre 16V, a 113hp 1.6-litre 16V with variable valve timing and a couple of 1.5dCi common-rail injection turbo diesel engines. Different state of tune result in either 65hp or 82hp. Because the Modus has a weight penalty of 100kg over Clio, you had better to choose the most powerful engines. The 1.6 petrol is always an eager engine, but the 82hp 1.5dCi actually suits the Modus better. Its 12.5 sec 0-60 may seems slow, but the strong mid-range torque (up to 136 lbft) is useful in real world driving, while its smoothness and quietness are always highly praised by road testers, let alone the fuel economy it brings. Most important, the diesel engine's relaxed manner suits the character of Modus. This is a comfort-oriented car.


There is no point to attack corners as in a hot hatch. However, if you do so, you will find the Modus resists body roll surprisingly well for a car so tall, thanks to the stiffer suspension setup. The down side is a ride harsher than what you would expect for a French car, though it beats Honda Jazz. Predictably, the electric power steering lacks feel, but that matters little to those buying this kind of cars.

Will the likes of Modus supersede superminis in the future? I hope not. Admittedly, its added space and versatility is very attractive to most people, but it won't bring as much driving fun as a normal hatchback. As long as car enthusiasts not die out, car makers should continue making regular hatchbacks.