| | |
| --- | --- |
| Published on 28 Oct 2008 | All rights reserved. |
| | |
| --- | --- |
| | To keep Renault alive, the new Megane has to succeed... |

French cars used to be very strong in European market. However, they have been declining in recent years. The once big selling Peugeot and Renault are facing sales decline and job cuts because their latest products are not as popular as their predecessors. The problems at Renault seem particularly serious – its highly anticipated Laguna III turned out to be a sales disaster, much the same way as the earlier Modus and Vel Satis. New Twingo is likely to be another casualty considering its mediocre reputation. The remaining lifesavers are Clio and Megane. Both cars perform reasonably well up to now, but their profit margins are being eaten up by the increasing invasion from Korean and Japanese cars. To keep Renault alive and the French in the driving seat of Renault-Nissan group, the new generation Megane has to succeed. But can it ?

This is the third generation Megane. You might remember the first generation once challenged Volkswagen Golf as European No. 1 seller. The second generation stunned us with a radical semi-sedan-semi-hatchback tail. No matter succeeded or not, they tried very hard to be outstanding. However, I have a feeling that under the leadership of Carlos Ghosn, Renault became increasingly conservative. To save money and keep the company free from risks, Ghosn usually approves new cars using last generation platforms and standardized technologies from component suppliers. This is why the Megane III is built on a development of the Megane II platform. It still employs torsion-beam rear suspensions, which is a low cost compromised solution. This might put it in an unfavourable position against the multi-link camp headed by Ford Focus, Volkswagen Golf, Seat Leon, Skoda Octavia and even Kia Cee'd and Hyundai i30. It is by no means a French Revolution.


| | |
| --- | --- |
| | Now no longer having a distinctive design, Carlos Ghosn should be worry. |



Without altering the basic suspension layout, Renault tried to improve its handling and ride by revising its spring / damper rates, bushings and adopt a stiffer subframe. Adaptive damping ? Sorry, Renault is yet to understand why Volkswagen and Opel need this sophisticated technology. Ditto the Sport / Normal / Comfort mode control that is increasingly popular in this class. As for steering, it carries over the last generation's electric power steering, albeit with slightly quicker ratio to sharpen handling response. As you can see, there is no reason to believe the new Megane could challenge the dynamic winners of the class, i.e. Focus and Golf.

Nevertheless, containing the old wine is a new bottle. It appears to be lower, wider and sleeker than the old car. But it also looks softer and less distinctive. Renault tried a similar design theme with the current Laguna, and it has been proved to win few friends. Frankly, I think it could be another failure. Comparatively, the interior looks much better. It is light and airy, competitively spacious and elegantly designed. Mind you, it doesn't set new standards in materials, fit and finish and quietness, because the new Volkswagen Golf has raised that bar again, but this is still a high-quality environment. The upper half of the whole dashboard is made of soft-touch plastics while there are many elegant chromed accents. The instrument combines an analogue rev counter, a backlit digital speedometer and signal display, which looks quite cool. Best of all, the interior feels very French.


| | |
| --- | --- |
| | The interior feels very French... |



The new Megane is slightly larger than the last generation, and its wheelbase is 15mm longer at 2640 mm. This gives its interior slightly more space. The 100 mm increase of length results in a class-leading 405 liters of luggage space. Fortunately, the larger size has not resulted in more weight. In fact, Renault claims a reduction of 8 kg. This mean most engines could be carried over again…

Most customers are likely to choose the 105hp 1.5-liter 8V dCi turbo diesel engine. While it is not the most refined in its class (gruffy at high rev), it is punchy and frugal, achieving 60 mpg in European combined cycle, which is excellent for a C-segment car. It could top 118 mph and accelerate from 0-60 mph in a little over 10 seconds, perfectly acceptable for an entry-level economy car. It makes more sense than the 130hp 1.9dCi, which is not much faster.

In the petrol side, you can have Renault's 1.6-liter 16V and 2.0-liter 16V engine. However, you may forget them because they will be replaced by a new 1.4-liter TCE turbo engine next year. This engine is actually designed by Nissan in Japan. It employs a small turbocharger plus intake variable valve timing to produce 130 horsepower and 140 lb-ft of torque. Quoting Renault's words, it "produces the power of a 1.8-liter engine, the torque of a 2.0 engine and returns fuel consumption matching a 1.6 engine". Renault has never been famous for engines, so Le Cost Killer is right to supplement its weaknesses with what Nissan does best, and by the way saves substantial costs. That said, the 1.4 TCE misses one crucial technology - direct injection, thus it still trails Volkswagen's 1.4 TSI engine.


| | |
| --- | --- |
| | It is clearly set up as a comfortable and relaxed car, just like most other Renaults... |



On the road, the new Megane feels slightly more responsive than the old car thanks to the revisions made to its suspension and steering. However, the overall setup is relatively soft by class standard, which is evident in the excessive body roll and understeer when you push hard. Undoubtedly, keen drivers will prefer Focus and Golf. The Renault also dissatisfies its driver through a notchy gearshift and a not very feelsome steering. However, Megane III has never tried to pretend to be a sporty car (its unsophisticated suspensions would not allow even if it do). Instead, it is clearly set up as a comfortable and relaxed car, just like most other Renaults. Its soft suspensions deliver cosseting ride, while all controls are lightweight and easy to operate. Its punchy diesel engines enables relaxed cruising on highway as long as you don't urge it. In this view, it is every bit a real French car.

Unfortunately, local rival Peugeot 308 is equally strong in the camp of refinement yet feels more agile to handle. The new Volkswagen Golf VI trumps both again in nearly all areas. Now no longer having a distinctive design, how can Megane III stand the strong competition ? Will it repeat the failure of Laguna III ? Carlos Ghosn should be worry.

Verdict:



| | |
| --- | --- |
| Published on 17 Nov 2008 | All rights reserved. |
Megane Coupe

| | |
| --- | --- |
| | Renault wants you to see its 3-door hatch as a coupe... |

The difference between a coupe and a 3-door hatchback is mostly cosmetic, but the former could charge more money. That is why more and more car makers try to market their 3-door hatches as coupes, such as Opel Astra GTC, Volkswagen Scirocco and Seat Ibiza SportCoupe. The latest addition to the list is Renault Megane Coupe. This car looks stylish thanks to its wide stance and flowing roofline. The way the upper edge of the side windows flows smoothly and develops into the lower edge of rear screen is interesting. Ditto the use of aluminum-effect front intake panels. It looks radical by the standards of production car.

The Megane Coupe keeps all dimensions unchanged from the 5-door hatchback except its height, which is reduced by 48mm. This already include a 12mm drop of ride height, so the rear seat space is still acceptable to regular size adults. The Coupe shares its dashboard with the regular car, which means high quality and stylish. What a pity it is no more special than the 5-door hatch.


| | |
| --- | --- |
| | The 2.0 TCE engine lacks both firepower and refinement... |



Predictably, the lower ride height is made possible by stiffening suspensions – spring rate is up 19% and 12% front and rear respectively. As a result, it controls body roll more tightly than the regular car. Understeer has been reduced. The retuned power steering gains weight and precision, but not radical enough to compensate for its lack of feel. Overall, the handling is satisfying rather than outstanding. On the plus side, its ride quality remains good for a coupe.

The engine is more disappointing. Even the top-spec 2.0 TCE turbo engine with inlet variable valve timing and twin-scroll turbocharger isn't exactly firebreathing. Its 180 horsepower arrives at an early 5500 rpm, peak torque even comes at 2250 rpm. This engine hates revving and will protest with coarse noise at high rev. Keep it at mid-range, however, it will pull happily. But then a coupe is not supposed to be so civilized. The engine is apparently underdeveloped. Volkswagen's TSI family is far superior.

The Megane Coupe is not really a driver's car, unlike Volkswagen Scirocco. While some people may find its looks and cheaper price tempting, it is not the car we would recommend.
Verdict:



| | |
| --- | --- |
| Published on 23 Nov 2009 | All rights reserved. |
Megane RS (Renault Sport)

Earlier this year, Ford Focus RS stunned us by showing how entertaining a front-wheel drive performance machine can be. However, don't ever think it must be a default winner. Within half a year, two rivals will challenge it for the class leader title. They are Renault Sport Megane and Volkswagen Scirocco R. Now we have a look at the Renault first.

The last generation Renault Megane R26 (and especially the track-oriented R26R) was highly admired by British motoring journalists. It showed that Renault Sport has the know-how to build great driver's cars. The new generation Megane RS is built on its well established basis. Powering the car is still that well-proven iron-block 2-liter turbocharged four-pot engine, but it gets revised intake ports, twin-scroll turbo, new piston rings, sodium-cooled exhaust valves, reinforced pistons and conrods and the addition of intake variable valve timing to boost horsepower from 230 to 250. Torque also increased from 229 to 251 pound-foot. Coping with only 30 kg weight gain of the whole car, it guarantees higher performance - 0-60 mph now takes a respectable 5.8 seconds. Top speed hits 155 mph.


| | |
| --- | --- |
| | Renault's RS challenges Ford's RS as the best front-drive hot hatch in the world... |

Nevertheless, in terms of performance Ford Focus RS is even stronger. Thanks to its larger 2.5-liter five-pot engine, it produces 55 more horsepower and 73 more pound-foot of torque than the Renault. This mean, although Megane RS is 80 kg lighter and have a smaller frontal area, it can hardly keep up with the Ford once the latter open its throttle wide. Moreover, its flat power delivery is no where as exciting as Ford's. You get a slight turbo lag at low rpm, then it picks up quickly at around 2000 rpm and remains committed until peak power occurs at 5500 rpm. Beyond that, you get little reward no matter for power or sound. Ultimately it will cut off fuel supply at 6500 rpm, 550 rpm lower than the Ford engine. Megane RS is not short of performance, but its engine lacks character.

Another weakness is its 6-speed manual gearbox. Its gearshift is vague, and its throw is too long. A shame that Renault claimed the gearbox is new.


| | |
| --- | --- |
| | PerfoHub struts is similar to Ford's RevoKnuckle in construction and theory... |



Comparatively, the chassis is more remarkable. Although its torsion-beam rear suspension is not an optimum choice, Renault Sport has replaced the front MacPherson struts of the regular Megane with a sophisticated setup they called "PerfoHub struts". Its construction and theory is similar to Ford's RevoKnuckle - by separating the steering axis from the shock absorber, King-pin offset is reduced from the regular car's 56 mm to 40 mm. The result is reduced torque steer. In fact, PerfoHub strut is not new to Renault. A similar design was already presence in the last generation Megane RS from 2004. However, this time the new car uses aluminum to construct the front suspensions' hubs, hub carriers and lower control arms, greatly reducing unsprung weight hence improving ride quality. Besides, the front suspension subframe is made 3 times stiffer in order to maintain suspension geometry under high cornering load.

Compared with Ford, Renault Sport cares more about track-days drivers. Besides the standard Megane RS, it also offers a Cup model which has all the hardcore tunings - less equipment, lightweight Recaro seats, stiff suspension setup (springs stiffened by 35 and 38% front and rear respectively !), lower ride height, a standard helical limited slip differential and stickier Michelin Pilot Sport rubbers. The standard car already has very good brakes - Brembo 4-pot calipers and 340mm discs up front and 290 mm discs at the rear. In the case of Cup, the discs are grooved and the servo has been retuned to give stronger stopping power again.


| | |
| --- | --- |
| | Despite of its power deficit, it can easily keep up with Focus RS in the twisty... |

On the road, the Cup shines in the way it corners. Despite of its power deficit, it can easily keep up with Focus RS in the twisty. Thanks to a lower roof and seating level, its body control is even more impressive than the Ford. It also displays excellent grip and braking. The steering is more refined than the previous R26, but it is still highly accurate and will beautifully load up in corners. You can trust the helm because torque steer is virtually eliminated, even cleaner than Focus RS - admittedly, its front wheels have less torque to cope with. Coupling to the LSD and an unintrusive multi-stage ESP, the car is highly capable in the twisty. You can apply power early out of corner without causing wheelspin or too much understeer. It turns into bend so fluently.

While the handling is first rate, ride quality and running refinement is still markedly improved from the old car. The aluminum suspension components and Megane III chassis are more than capable to compensate for the stiff suspension setup of the Cup model. It is not as comfortable as Ford, but more forgiving than Mazda 3 MPS. In case of the standard RS model, the level of ride comfort is even more remarkable. It feels a much more grown up car than Ford, thus is a better companion for long distance journey. However, the soft setup does hurt its steering keenness and degrade its overall sharpness. Unless you have backache, Cup model will be the better choice.

That said, the chassis of Megane RS begs for a better engine. It needs more power and a more exciting character to match the excellent handling. Before that is fulfilled, Ford Focus RS is still the better driver's car.
Verdict:




| | |
| --- | --- |
| Published on 27 May 2010 | All rights reserved. |
Megane Coupe Cabriolet

| | |
| --- | --- |
| | Renault still bet on the future of coupe-cabriolets... |

Is Coupe Cabriolet a thing of the past ? Renault is one of the few car makers still bet on its fortune. The new generation Megane CC follows its predecessor to employ a two-piece retractable glass roof. No wonder most of the disadvantages are retained, for example:

- an intrusive windscreen header;
- a pair of rear seats whose head and knee room are more suitable to children;
- a massively long tail necessary to store the bulky roof mechanism;
- a weight gain of 160 kg over the equivalent Megane;


| | |
| --- | --- |
| | Two-piece glass roof is retained... ditto the packaging deficiencies... |



In other words, it has not corrected the deficiencies of its packaging. What it improved are on other areas. The exterior design based on Megane Coupe is slightly more interesting than the old car. The visual and actual quality – like the rest of the Megane family – is vastly improved, as is equipment and refinement. Torsional rigidity of its chassis is a massive 80 percent up. Stiffer suspension setting results in less body motion. Downsized turbocharged engines are greener. Beefed up diesel engines produce more power and torque. Overall, you will find a much more refined car on the road. Mind you, it is still boring to drive, because of its weight, understeer, inert steering etc. Renault is sensible not to emphasize driver appeal, but tuned it to deliver comfort and refinement in first place. It's a relaxing drive, especially with the torquey 2.0 turbo diesel engine.


| | |
| --- | --- |
| | Renault is sensible not to emphasize driver appeal... |

Still, there are better alternatives. Soft-roof rivals like Audi A3 Cabriolet and BMW 1-series Cabriolet have less compromises in packaging yet deliver better dynamics. If you insist retractable roof, Volkswagen Eos is still our first choice.
Verdict:



| | |
| --- | --- |
| Published on 6 May 2012 | All rights reserved. |
Megane facelift 2012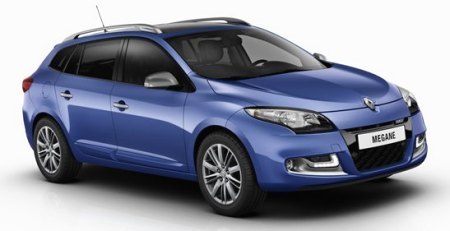 Renault has given its Megane range a desperately needed facelift this year. The cosmetic refinement is quite obvious at the nose. In the mechanical side, it introduces a range of "Energy" engines to cut fuel consumption and emission. Most notable of which is the new 1.2TCe alloy-block petrol engine which has direct injection, light-pressure turbo, low-friction components, variable capacity oil pump and automatic stop-start. It replaces the long-serving 110 hp 1.6. The diesel engines are also improved. 1.5dCi now produces 110 hp and 191 lbft accompanied with CO2 emission of only 95 grams per km. New 1.6dCi produces the best in class output, i.e. 130 hp and 236 lbft. Both also get automatic stop-start to save fuel.
Verdict:



| | |
| --- | --- |
| Published on 7 May 2012 | All rights reserved. |
Megane RS (Renault Sport) 265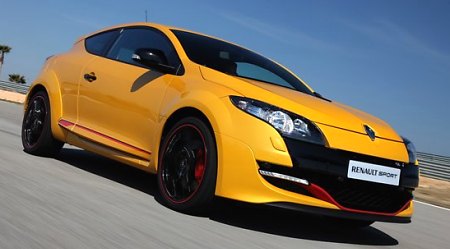 Many people praised last year's Renaultsport Megane 265 Trophy as the best driving hot hatch in the world or even the best front-wheel-drive machine ever seen. It also set a new Nurburgring lap record for FWD cars at an incredible 8 minutes and 8 seconds. Unfortunately, it was a limited edition with only 500 cars destined to the market. We missed it. Now we have a second chance, because the Trophy reemerges as Megane RS 265 this year. It supersedes the Megane RS 250 as Renault's flagship production hot hatch.

Compare with RS 250, the RS 265's main advantage is extra punch, of course. When you switch the dynamic management to Sport mode, the revised ECU allows a higher boost pressure of up to 1.5 bar. In conjunction with a revised intake system, the 2-liter turbo engine releases another 15 horses and 14 pound-foot of torque. This lifts top speed beyond the usual 155 mph to 158 mph, and cuts a tenth in 0-60 mph acceleration. The gain in performance is nothing dramatic, but you can definitely feel the extra grunt when accelerating out of corners. The deeper, angrier exhaust note also enhances the thrilling experience.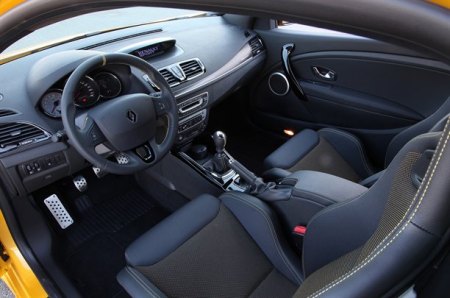 As before, the car is available in standard form or Cup version. The former has all the creature comfort you expected for a daily-use road car. The Cup is more track-oriented. It gets considerably stiffer suspensions (35% and 38% stiffer front and rear respectively), a helical torque-biasing limited slip differential, sports buckets, grooved disc brakes and wider (235/40R18) Michelin PS2 rubbers, besides a few cosmetic enhancements. Despite that, the Cup chassis is still livable on normal roads, thus it is recommended for hardcore drivers.

We always admire the Megane RS' chassis dynamics. It is very well balanced. Power is well laid down to the road thanks to excellent traction. The grip it generates is mighty, allowing very high cornering speed, yet it will obey your commands for sliding through corners. Its steering is responsive and amazingly communicative for an EPS. Torque steer is largely eliminated by the sophisticated PerfoHub front suspensions. The brakes are strong and well tuned. To this date the Megane RS still gets the best chassis in the front-wheel-drive world. All these advantages are carried over intact to the RS 265.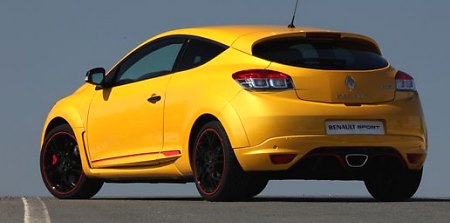 Admittedly, the improvement from RS 250 to RS 265 is small. It is mainly the extra power and noise that overshadow the old car, yet they are hardly headlines. However, now that Ford Focus RS has gone and the aging (but still brilliant) Lancer Evo X is set to retire soon, maybe it is time to recalibrate our scale. As far as affordable hot hatches is concerned, nothing compares to the Renaultsport for pure driving thrills. None can match its real-world speed, too. These two merits are already enough to earn it top marks.
Verdict:





| | |
| --- | --- |
| Published on 11 Jul 2014 | All rights reserved. |
Megane RS 275 Trophy


Although Megane RS is approaching the end of its lifecycle, it is still the most thrilling hot hatch in the world. While rivals like Mercedes A45 and VW Golf R are more powerful and significantly faster, the Renaultsport is more capable in the twisty thanks to its sophisticated front suspension and well-tuned chassis. No matter balance, throttle adjustability and steering feel it is still second to none.

The Megane's Nurburgring lap record for front-wheel-drive cars at 8:07 was recently surpassed by a specially prepared Seat Leon Cupra 280. To take the title back, Renaultsport built a limited edition called RS 275 Trophy-R. It has improvements like 10 extra horsepower (thanks to remapped ECU and high-flow titanium exhaust), stripped out interior (which is part of the package to cut 100 kg from kerb weight), Ohlins adjustable dampers, stronger brakes and sticky Michelin Pilot Sport Cup 2 rubbers. Consequently, it raised the bar to 7:54, a figure eclipsing the first Porsche 911 GT3! However, as the Trophy-R is too costly to build, it is not destined to mass production. Therefore Renaultsport also introduces a more affordable version, RS 275 Trophy, to serve its fans.

The production RS 275 Trophy does not have the dramatic weight reduction that hurts comfort and usability – who can live without sound insulation, audio system and air-conditioning these days? It doesn't weigh any lighter than the old car, but it does sports the 275 hp engine and titanium exhaust, which produces a bassier note at low rev and an angrier howl at high rev. Anyway, on the road it is difficult to tell the extra power, because 10 hp isn't a lot after all, and its peak torque remains unchanged at 265 lbft. In other words, it is still hopeless to catch A45 and Golf R in highway chase.


What you will notice is the enhanced grip and better body control. The RS 275 gets the semi-slick Michelin rubbers from its record-breaking version thus it corners with amazing prowess, even though at the cost of durability. This makes it a very effective track-days tool. Equally effective are the Ohlins dampers, which cost another £2000 to fit. Like the ones fitted to the recent Volvo S60/V60 Polestar, they employ dual-flow valve technology to deal with impacts of different speeds, thus they can react more quickly for both compression and rebound, keeping the wheels in contact with the road. Moreover, they can be adjusted (manually with tools) to suit different roads and tracks. With these sophisticated dampers, no wonder the car rides with outstanding composure and suppleness on difficult roads.

However, what makes the Megane unparalleled in terms of pure driving thrills is its perfect combination of all things – the steering, throttle, chassis balance, tires, brakes, gearshift, LSD and suspension all work seamlessly to serve the driver, responding positively and encouraging you to go harder and harder. Yes, the engine is not too powerful and the interior is quite outdated, but if all you care is driving fun, not even the Golf R and A45 can match it. Age fails to take its edge off.

Verdict:





| | |
| --- | --- |
| Published on 7 Nov 2014 | All rights reserved. |
Megane RS 275 Trophy-R


15 years ago, the first Porsche 911 GT3 set a lap time in Nurburgring north ring at 7 minutes and 56 seconds. That was the first time a production car did that under 8 minutes. Since then many car makers joined the race to do better lap times in Nurburgring. While the limelight always fall on supercars and lightweight sports cars, few notice that affordable hot hatches also creep towards the once magic 8-minutes barrier. In 2011, Renault Megane RS 265 Trophy pushed the front-wheel-drive production car record to 8 min 8 sec. In March this year, Seat released a video showing its Leon Cupra 280 did the lap in 7 min 58.4 sec, though that particular car was installed with different aero, brakes and tires package than what you can buy straight from showrooms. Soon afterwards, Renaultsport raised the bar again to 7 min 54.36 sec, and this time you can buy the same car from its dealers. It is Megane RS 275 Trophy-R.

Derived from the production RS 275 Trophy revealed at the same time, the Trophy-R is a special edition with production limited to 250 cars. It is by no means cheap at £39,000, or equivalent to an entry-level Porsche Boxster, but then again no Boxsters can be as quick.

The engine is practically the same as before. Its maximum output of 275 hp and 265 lbft is no longer appealing by the new class norms, but this is still a good motor with smooth power delivery and a sporty exhaust note, thanks to that titanium exhaust. What makes a noticeable difference is weight reduction. The Trophy-R is 100 kg lighter than the production version, thanks to the use of thin polycarbonate bucket seats (which saves 22 kg), the deletion of rear seats (-20 kg), sound insulation (-18 kg), air-con and radio (-10 kg), the use of lithium-ion battery (-16 kg), titanium exhaust (-4 kg), lighter yet larger 19-inch wheels (-5 kg), composite springs (-2 kg) and dual-cast brakes (-3 kg). Equally influential are the Ohlins adjustable dampers, larger (350 mm) front brakes and Michelin PS Cup 2 tires, all of which are costly but very effective to enhance handling.

On the road, the Trophy-R is more hardcore than the production version. The ride is inevitably harsher on bumpy roads, but it is far from unbearable. The seat of the pants telegraphs more information to the driver, as is the precise and communicative steering. Thanks to the diet and the sticky rubbers, the car turns in more sharply, grips harder and allows you to carry higher speed through corners. The balance remains perfect. The upgraded brakes shed speed more quickly and are more resistant to fade. In short, the Trophy-R feels more a road-going race car. Yes, it might be overpriced for a Megane, but you can hardly find a car at any prices more fun to drive and easier to exploit performance on normal roads.

Verdict:














Megane 1.4TCe



2008

Front-engined, FWD

Steel monocoque
Mainly steel
4295 / 1808 / 1471 mm
2641 mm
Inline-4

1397 cc
DOHC 16 valves, VVT

Turbo

-
130 hp
140 lbft
6-speed manual

F: strut
R: torsion-beam

-

205/55R16
1205 kg

124 mph (c)

9.0 (c)

-

Megane 1.9dCi



2008

Front-engined, FWD

Steel monocoque
Mainly steel
4295 / 1808 / 1471 mm
2641 mm
Inline-4, diesel

1870 cc
SOHC 8 valves

VTG turbo

CDI
130 hp
221 lbft
6-speed manual

F: strut
R: torsion-beam

-

205/55R16
1310 kg

127 mph (c)

9.1*

29.6*

Megane Coupe 2.0TCe



2008

Front-engined, FWD

Steel monocoque
Mainly steel
4295 / 1808 / 1423 mm
2641 mm
Inline-4

1998 cc
DOHC 16 valves, VVT

Turbo

-
180 hp
221 lbft
6-speed manual

F: strut
R: torsion-beam

-

205/45R17
1320 kg

142 mph (c)

7.5 (c)

-









Performance tested by: *Autocar










Megane RS Cup



2009

Front-engined, FWD

Steel monocoque
Mainly steel
4299 / 1848 / 1435 mm
2636 mm
Inline-4

1998 cc
DOHC 16 valves, VVT

Turbo

-
250 hp / 5500 rpm

251 lbft / 3000 rpm

6-speed manual

F: PerfoHub strut
R: torsion-beam

-

235/40YR18
1387 kg

155 mph (c)

5.8 (c) / 6.0*

13.7*

Megane CC 2.0dCi



2010

Front-engined, FWD

Steel monocoque
Mainly steel
4485 / 1811 / 1434 mm
2609 mm
Inline-4, diesel

1995 cc
DOHC 16 valves

VTG turbo

CDI
160 hp
280 lbft
6-speed manual

F: strut
R: torsion-beam

-

225/45R17
1625 kg

133 mph (c)

8.8 (c)

-









Performance tested by: *Autocar









Megane 1.2TCe



2012

Front-engined, FWD

Steel monocoque
Mainly steel
4302 / 1808 / 1471 mm
2641 mm
Inline-4

1198 cc
DOHC 16 valves, DVVT

Turbo

DI
115 hp
140 lbft
6-speed manual

F: strut
R: torsion-beam

-

205/55R16
1205 kg

118 mph (c)

10.2 (c)

-

Megane 1.6dCi



2012

Front-engined, FWD

Steel monocoque
Mainly steel
4302 / 1808 / 1471 mm
2641 mm
Inline-4, diesel

1598 cc
DOHC 16 valves

VTG turbo

CDI
130 hp
236 lbft
6-speed manual

F: strut
R: torsion-beam

-

205/55R16
1320 kg

124 mph (c)

9.2 (c)

-

Megane RS 265 Cup



2012

Front-engined, FWD

Steel monocoque
Mainly steel
4299 / 1848 / 1435 mm
2636 mm
Inline-4

1998 cc
DOHC 16 valves, VVT

Turbo

-
265 hp / 5500 rpm

265 lbft / 3000-5000 rpm

6-speed manual

F: PerfoHub strut
R: torsion-beam

-

235/40YR18
1387 kg

158 mph (c)

5.7 (c) / 5.6* / 5.7** / 5.8***

13.2* / 13.2** / 13.4***










Performance tested by: *Auto Zeitung, **Auto Bild, ***Sport Auto










Megane RS 275 Trophy



2014

Front-engined, FWD

Steel monocoque
Mainly steel
4299 / 1848 / 1435 mm
2636 mm
Inline-4

1998 cc
DOHC 16 valves, VVT

Turbo

-
275 hp / 5500 rpm

265 lbft / 3000-5000 rpm

6-speed manual

F: PerfoHub strut
R: torsion-beam

-

235/40YR18
1379 kg

158 mph (c)

5.7 (c)

-


Megane RS 275 Trophy-R



2014

Front-engined, FWD

Steel monocoque
Mainly steel
4299 / 1848 / 1435 mm
2636 mm
Inline-4

1998 cc
DOHC 16 valves, VVT

Turbo

-
275 hp / 5500 rpm

265 lbft / 3000-5000 rpm

6-speed manual

F: PerfoHub strut
R: torsion-beam

-

235/35YR19
1280 kg

158 mph (c)

5.5 (c)

-










Performance tested by: -









Copyright© 1997-2014 by Mark Wan @ AutoZine