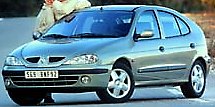 Megane is a successful project, so successful to reverse the slumping sales of the French company. In 1998, it was the second best selling car in Europe, having sold 580,000 units in the forms of 5 doors hatchback, 4 doors saloon, 3 doors coupe, 2 doors cabriolet coupe and the 5 seats MPV called Scenic. It won the customers' heart by refinement, practicality and especially value for money.

A mid-life facelift has been made in early 1999, costing some £107 million. The whole front end has been redesigned, incorporating a BMW-like grille with chromed surround. Most comment is quite crude to this change, so is mine.

As predicted, a facelift won't alter the basic monocoque body and the suspensions (MacPherson struts in front and trailing arms in the rear). Most of the work has been done to the engine compartment - in addition to the old 8V engines, Clio's 110hp 1.6 litres 16V and a new 95hp 1.4 litres have joined the range. The 1.6 unit is quite torquey, especially within a wide 2500-4000rpm band. It is also sufficiently quiet and smooth, except in high rev where more noise generated.

As before, the Megane still rides on soft suspension setting, that guarantee supple ride in the price of body control. Steering is too light and too slow (3.5 turns lock-to-lock) for an exciting drive, therefore it is still not a driver's car.

The new cabin is surrounded by plastic of improved quality. ABS, trip computer, passenger and side air bag are standard. New Megane is more bargain than ever.