Renault Laguna III

Debut: 2007
Maker: Renault
Predecessor: Laguna II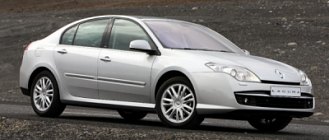 Despite of a shrinking market trend, Renault has no intention to withdraw from the European D-segment. However, to meet the promise by Carlos Ghosn that every Renault model must be profitable, the Laguna III project was developed under the close supervision of accountants. That means a development and production tooling budget of Euro 1 billion. That means a development time shortened to 32 months. That means it continues to use the platform underpinning the last generation. That means no Ford Mondeo / Volkswagen Passat-rivalling multi-link suspensions.

But Renault knows very well the market positioning of its Laguna. Instead of challenging Mondeo for driver appeal and Passat for sophistication, it continues to focus on comfort and practicality. At the same time, it tries to inject a sense of quality into the cabin. But let's look at the exterior first. This is the most conversative design from Patrick Le Quement for many years. To please the majority of buyers, he chose an inoffensive styling. Most motoring journalists criticized the front end as too bland, but compare with the odd-looking blackened nose of Laguna II, it seems perfectly acceptable to me. The detailed design of the front intake and headlights also possess a sense of quality. Well, European pedestrian safety law pushes the bonnet too high and ruins some of the sleekness, but I do admire Le Quement's decision not to follow rivals to adopt a V-shape bonnet as a solution. You know, more and more cars look similar to each other because they chose the same solution to the pedestrian safety law.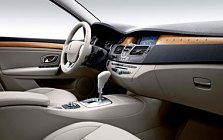 The best angle to view the new Laguna is from the side and from the rear. In this way, it looks sleek and coupe-like. Notice the low shoulder line and large glass area. Also pay attention to the lack of pronounced wheelarches. The Laguna appreciates simiplicity and hates excessive make-up. If you share the same philosophy, then this is the car for you.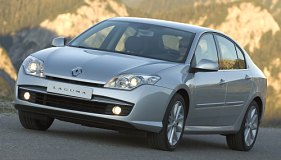 If the exterior is a bit plain to you, then you must turn your attention to the interior, because this is the best area of Laguna III. Stylish, inviting and high quality, nothing else in the class can match it. The top surface of the dashboard is soft plastics with rich texture. The lower surface is coated with soft-touch paint. The sat-nav screen recessed handsomely into the dashboard. Either sides of it are aluminum or wood inserts, very classy. Unlike German cars, the lighter colors used in this cabin and the airy ambience contributed by the large windows delivers a relaxing feel. Drop into the comfy part-Alcantara seats and you can easily find a comfortable driving position. There is plenty of head, leg and shoulder room up front. Rear seats also offer a lot of legroom, thanks to a compact rear suspension and slimmer front seat-back. The swoopy roofline punishes only the tallest guys, so most people would be satisfied with this cabin.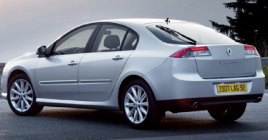 As Laguna III is derived from the Laguna II platform, there are nothing worth special attention. You already know it rides on MacPherson struts up front and cheap torsion-beam suspension at the rear. No adaptive damping. No aluminum suspension components. No "sport mode" button either. However, Renault did a good job to improve its NVH suppression and ride quality. This mean the Laguna rides exceptionally supple. Its cabin is as quiet as Mondeo's. In the handling side, naturally it fails to match Ford and Peugeot, but by stiffening the front and rear springs by 20% and 50% respectively and using thicker anti-roll bars, its has decent body control and reasonable resistance to understeer. The variable assistance electro-hydraulic steering gets quicker and higher precision, although it still lacks feel. Overall speaking, the Laguna III displays decent handling but its first priority is still comfort.

Most new cars weigh more than their predecessors. Laguna III is one of the exceptions. Although it measures 11 cm longer and 6 cm wider than the car it replaces, it weighs no more. (Renault even claims a 15 kg reduction in average) This is achieved by means of using more high-strength steel in the chassis, an aluminum engine cradle, lighter sound insulation materials and trim weight from each component, such as the hollow-head wheel screws that save 0.7 kg in total. This means it can adopt the same engines as the old car without sufferring in performance - a contrast to Ford Mondeo.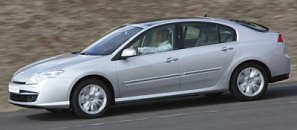 At launch, there are 2 petrol engines and 4 diesel engines: 140 hp 2.0 petrol, 170 hp 2.0 turbo petrol, 110 hp 1.5dCi and 2.0dCi in three states of tune (130 hp, 150 hp and 175 hp). Later on, Nissan's 3.5-liter petrol V6 and GM's 3.0-ltier turbo diesel V6 will join as the range topper. However, the best sellers are more likely to be 2.0dCi in 150 hp form. It provides plenty of punch and generally good refinement. 0-60 mph can be completed in less than 9 seconds while top speed should reach 130 mph. Not bad.

Although Laguna III is not going to be a new class leader, it is a contender every buyer should consider, especially if comfort and quality are your first priority. Reliability is likely to be a strong point too, thanks to an extensive testing program involving 120 prototypes and 6 million miles covered. Renault is so confidenent that it extends the warranty from the usual 60,000 miles in 3 years to 100,000 miles. If it can really deliver Toyota reliablity, then no matter how ordinary it looks or drives it won't find difficulties to sell large numbers.
The above report was last updated on 1 Sep 2007. All Rights Reserved.
Laguna GT with 4WS
| | |
| --- | --- |
| | 4-wheel steering transforms the handling of Laguna |
Laguna GT is an effort to bring some excitement to the otherwise civilized Laguna line. Powered by a 205hp 2.0-liter 16V turbo engine (or a 180hp / 295 lb-ft 2.0 turbo diesel) and mate with a 6-speed manual gearbox, the GT has enough power to do 0-60 mph in 7.5 seconds and top 144 mph. As long as you aware that it is not supposed to be a sports saloon, you will be pleased with its performance and engine flexibility.

However, the highlight of this car is its 4-wheel steering. 4WS was popular in Japanese cars from late 1980s to mid-1990s. Nissan Skyline, 300ZX, Mitsubishi Galant VR4, GTO / 3000GT VR4, Diamante / Sigma and Honda Prelude adopted this technology to improve handling. Following the introduction of electronic stability control, 4WS was seen as unnecessary costs thus was gradually abandoned. In 2005, Nissan reintroduced 4WS into its Infiniti M35/45 in the name "Rear Active Steer". Later on it was expanded to Infiniti G37 and now finally to sister (or mother) company Renault.

Like the Nissan system, the 4WS system of Laguna GT is supplied by Japanese component maker Aisin (a subsidiary of Nissan). It employs electric motors to move the rear suspensions to facilitate rear-wheel steer. When the car is running below 38 mph, the rear wheels steer in opposite direction to the front's by up to 3.5 degrees. This sharpens the steering action and reduces the turning circle to no more than that of Renault Clio ! When the car is running at higher speed, the rear wheels steer in the same direction as the front's. This helps stabilize the car as it no longer needs big steering action, thus lane changing can be done much cleaner.

The theory is old and simple, so how well it works in real world depends very much on the software tuning. In Infinitis, people found the benefits of 4WS not especially obvious. In Laguna GT, Renault's engineers did a better work to integrate the system into the chassis, thanks to the extensive tests conducted by Renault Sport's engineers. The GT feels much more agile than the regular Laguna. The turn-in is sharper and more precise. Neutrality extends to higher cornering speed. Grip and stability are also improved. The 4WS enables good handling without resorting to stiff suspensions, thus the superb ride quality of Laguna remains untouched.

Is the Laguna GT a match for Mondeo or Mazda 6 ? Not yet, because it has a few weaknesses. First, the 4-wheel steering kills any chances of throttle steer. Second, the steering is still quite short of feel. Third, the undramatic body motion, smooth ride and smooth power delivery actually result in a somewhat boring driving experience. A competent car, yes. An exciting car, no.
The above report was last updated on 5 Jun 2008. All Rights Reserved.
Laguna Coupe
| | |
| --- | --- |
| | Its achievement approaches our beloved Peugeot 406 Coupe... |
The time was September 2007. The place was Frankfurt motor show. All the limelight went to the stage of Renault, where a stunningly beautiful coupe was displayed. It was called a concept, and its name suggested it was based on Laguna. Somehow, Renault this time did not repeat the faults in the weird-looking Laguna. It successfully shaped a beautiful coupe with artistic lines, smooth flowing surfaces and a pure profile. It stole the show where Jaguar XF, new Audi A4 and Aston Martin DBS made world debut !

Exactly one year later, the production version of Renault Laguna Coupe is introduced. Some may be disappointed that it loses a little sporty flavours of the concept in the name of practicality. For example, the low roof line of the concept has been raised by 26 mm to make life easier for rear passengers. A thin intake has been opened at the leading edge of the bonnet to help engine cooling, which damages the sleek appearance slightly. The 18-inch wheels are also less well filled the wheelarches than the 20-inch items found in the concept. Nevertheless, these changes could not stop the Laguna Coupe from winning our hearts. Its very graphical front end design and its sculpted rear end are original. It is one of the few designs ever made that really combines beauty, elegance and originality. Compare with it, a BMW 3-Series Coupe looks strange, an Audi A5 looks unimaginative and a Peugeot 407 Coupe looks unpolished. Its achievement approaches our beloved Peugeot 406 Coupe.
| | |
| --- | --- |
| | Compare with it, BMW 3-Series Coupe looks strange, Audi A5 looks unimaginative and Peugeot 407 Coupe looks unpolished... |
Compare with the regular Laguna 5-door hatchback, the 2-door Coupe has a sportier profile, of course. It is 60 mm shorter overall and 65 shorter in wheelbase. The width has been increased by 20 mm, the tracks have been widened by 30 mm while the roof is lowered by 47 mm. On scale you will find it undercuts an equivalent Laguna hatch by about 40 kilograms. On bending machine you will find its 2-door monocoque chassis returns 25 percent higher torsional rigidity. All these figures point to better driving dynamics. The only area it goes backward is aerodynamics, as drag coefficient is increased from 0.293 to 0.307.

Despite of the shorter wheelbase and lower roofline, the cabin of Laguna Coupe is still roomy by the standard of its kind. Four six-footers will find pretty comfortable in it, which means its rear seats far more usable than Audi A5. No one can quite match the Audi for interior build quality, but this Renault can stand beside it without feeling disgraceful. Its soft-plastic dashboard is basically the same as the regular Laguna, which we described as "stylish, inviting and high quality". Now with some aluminum inserts on the dash, transmission tunnel and door panels, it looks even more delicious, delivering a luxury ambience. In addition to the sporty bucket seats, you will definitely prefer this interior than that of BMW.
| | |
| --- | --- |
| | No one can quite match the Audi for interior build quality, but this Renault can stand beside it without feeling disgraceful... |
As expected, in order to compete with its more premium German rivals, the Renault coupe is set around 15 percent cheaper yet offers more standard equipments and practicality. It has a very good sound system, dual-zone climate control, Bluetooth handsfree, keyless entry, parking sensor, cruise control, xenon lights and leather seats. Another merit is a spacious (423 liters) boot, which can be expanded further by folding the rear seat flat. This can be done by pulling a handle in the boot, a convenient feature carried over from the Laguna estate. French cars are rarely so thoughtful, let alone a coupe.

Laguna Coupe is the first Renault coupe since the Fuego of the early 1980s. Back in those days, the fastest Fuego 1.6 turbo could top only 118 mph and accelerate from rest to 60 mph in 9.3 seconds. The world changed a lot during these 25 years. Even though Laguna Coupe is not exactly fast by today's standards, it can reach 150 mph and 0-60 mph takes 6.9 seconds, and this is diesel-powered ! Renault's new 3.0-liter diesel V6 is state of the art. It has a compact graphite iron cylinder block to reduce noise and weight. DOHC 24-valve cylinder heads, variable geometry turbocharger and 1600-bar second generation common-rail direct injection help output and fuel economy. This engine has a potential of 265 horsepower and 406 lb-ft of torque, but to avoid spinning the front wheels of Laguna Coupe it is detuned to 235 hp and 332 lb-ft. (Expect the rear-drive Infiniti could realize its potential.) Mating with a compulsory 6-speed automatic transmission, the combo delivers a smooth, refined and solid performance while returning near 40 mpg fuel economy !

| | |
| --- | --- |
| | Its very graphical front end design and its sculpted rear end are original. |
Another top engine comes from Nissan - the 3.5-liter VQ35DE V6. Unfortunately, it is detuned to 240 horsepower only for this application, far short of the 290 hp level in the American-market Nissan Maxima. Performance is more or less the same as the diesel V6, but the latter is definitely superior for in-gear acceleration due to its strong mid-range torque. The diesel engine is also quieter in cruising, because it barely registers 2700 rpm at 100 mph. As a result, few people will choose the Nissan V6. Instead, those could not afford a V6 may look to the 205 hp 2.0 turbo or 180 hp 2.0 turbo diesel, both are carried over from Laguna GT. At the bottom of the range is a 150 hp version of the 2.0 turbo diesel which does without 4-wheel steering.

Predictably, the Renault coupe does not intend to challenge BMW for driving dynamics. Even if it does, its modest architecture would not allow. You must bear in mind that Laguna is an unsophisticated family car using front-wheel drive and simple MacPherson struts and torsion-beam (semi-independent) suspensions. In my memory, no cars using such configuration has ever been successful to offer BMW-level of dynamics. However, Renault still did some works to narrow the gap. Most notably is the adoption of a 4-wheel steering system, which was originated from Nissan's Infiniti division and introduced to Laguna GT recently. At low speed manoeuvre, the 4WS system steers the rear wheels in opposite direction to shorten turning circle. As a result, the driver feels the cornering response sharper, the rear wheels more tide down to the road (as they are less prone to slide by centrifugal force) and therefore less understeer and less untidy behaviour. In other words, it feels like cornering "on rails". At higher speed, the rear wheels steer in the same direction as the front wheels, so lane change becomes fluent and more stable.

| | |
| --- | --- |
| | The least painful way to break away from your default BMW ! |
This is not just theory. On the road, the Laguna Coupe feels far sportier than its nose-heavy configuration suggested. It feels quite agile, grippy and stable through mountain roads. It still can't challenge BMW, but it is comparable to Audi, if not as quick against the clock. However, its strength is still high-speed cruising, where its diesel V6 works quietly, its suspensions ride smoothly (it rides worse on low-speed small irregularities) and you can enjoy its superb interior environment.

Overall, the Laguna Coupe is an impressive effort. It is beautiful, well built, luxury and superb for motorway cruising. These merits are offset by its slower performance and the lack of driving involvement. However, considering its rarity and good value for money, it is probably the least painful way to break away from your default BMW.
The above report was last updated on 1 Nov 2008. All Rights Reserved.