Renault Clio III

Debut: 2005
Maker: Renault
Predecessor: Clio II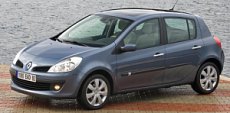 Renault sold 4 million units of the original Clio and 4.5 million units of Clio II, so this model is definitely the most important car to the French car maker. Clio III was developed in just 28 months, a record for Renault. This is made possible by using Nissan's computer simulation technique and the use of the group's B-platform which has already given birth to Nissan March (Micra), Cube and Renault Modus. In particular, the Clio and Modus share 20% common components to reduce purchasing costs. However, they are built at different locations - the Modus at Spain while the Clio III at France (Flins) and Turkey (Bursa).

The new Clio has a pleasing exterior design. It does not look as radical and imposing as Megane II. Instead, it looks softer, cleaner yet not lack of style. This new styling direction has been previewed by concept car Wind and Fluence. There are several body style: five-door hatch, 3-door hatch, 4-door sedan (to be built in Turkey exclusively) and a wide-track Renault Sport 3-door hot hatch. The latter will be assembled at the ex-Alpine plant at Dieppe.


Clio III has grown a lot from its predecessor. At 3986 mm long, 1707 mm wide and 1496 mm tall, it is easily the biggest car of the B-segment. Only the recently launched Fiat Grande Punto can compare with it. Its 2575mm wheelbase is just 3 mm shorter than Volkswagen Golf, which belongs to a class above. These extra dimensions give the Clio a spacious cabin. Although it is not exactly in the league of Golf, it can comfortably carry four adults up to six feet tall.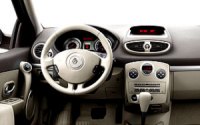 The cabin feels light and airy because of large window area, especially if the optional panoramic glass roof is selected. As in most other Renaults, the cabin is extensively trimmed with soft materials and the light color promotes a warm ambience in French traditions. It feels more expensive than the competition – Volkswagen included. There are also many upmarket equipments, such as keyless entry, button engine start, climate control, adaptive cruise control, active cornering headlamps and a lot of safety features. The new Clio should achieve the top 5-star rating for Euro NCAP crash test, considering the remarkable track record of Renault. This is another strong selling point nowadays.

Unfortunately, the upgraded space, quality and safety have a side effect on Clio III: it gained 150 kilograms from its predecessor. Even compare with the similarly sized Fiat Grande Punto, it is still some 100 kg heavier. As a result, the Clio III no longer feels energetic on the road. It offers 3 petrol engines (75hp 1149cc 16V, 98hp 1398cc 16V and 112hp 1598cc 16V VVT). None of them are new development and none of them match the performance image established by Renault's winning F1 team. These engines are quite sweet and eager, but they don't cope well with the hefty Clio. Naturally, the smallest 1.2 engine is easily forgettable for its sluggish performance. Even the 1.6-litre engine, helped with continuous intake variable valve timing, cannot deliver real excitement. In fact, it is not much faster than the 1.4-litre engine.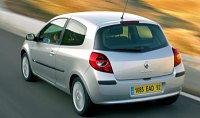 In the diesel side, Renault offers a 1.5-litre 8-valve iron-block engine in 3 states of tune: the cheapest one employs the first generation common-rail injection technology and a fixed turbocharger to produce 68 hp; the middle engine upgraded to second generation common-rail injection (with 1600 bar injection pressure instead of 1350 bar) to deliver 86 hp. The most powerful one also employs a larger turbocharger with variable geometry turbine to generate 106 horsepower and as much as 177 lbft of torque. Unfortunately, its power curve is peaky, producing too little punch below 2000 rpm and therefore less flexible than the 86 hp version, which is pick of the bunch. With 1.2 ton of weight to pull, neither diesel engines can claim itself quick. Well, at least they are refined and quiet.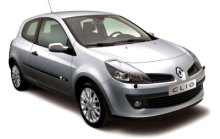 Like other B-platform cars, Clio's chassis is rather conventional. Suspensions are MacPherson strut up front and torsion-beam axle at the rear. Their tuning bias strongly towards the safe side, having no intention to inspire keen drivers. Like the Clio II, its steering is assisted by pure electric, no wonder it refuses to communicate. However, the car's long wheelbase does provide a grown-up ride quality, while wider tracks improves cornering stability. This means driving the Clio III is easy and comfortable, but not very interesting.

In the new Clio, we see Renault's new strategy is to go the upmarket route, offering more comfort, quality and safety than mainstream competitors and asking for a slight price premium. In other words, the same strategy as Volkswagen used to adopt (it backed off recently with the Fox). It many ways the migration to higher market status is successful, but in the eyes of car enthusiasts, the continue decline of driving fun from the original Clio to Clio II and then Clio III has nothing to applaud. Let's pray for the forthcoming Renault Sport Clio...
The above report was last updated on 25 Oct 2005. All Rights Reserved.
Clio RS

"Small hatch, big power" has been the winning formula of fast Clios. Its history started in 1993 by the Mk1 Clio Williams and lifted to a new height 7 years later by the Mk2 Clio RS (Renault Sport). The RS was powered by a 2-litre 16V engine pumping out 172 horsepower (eventually upgraded to 182hp). Serving a car weighing only 1 ton, it was a real pocket rocket, capable of doing 0-60mph in merely 6.5 seconds. The stunning performance was supplemented by an agility only available in a car so compact. In this way, the Clio RS established a reputation as the most exciting hot hatch in Europe, taking the crown from fast Peugeots, Volkswagen GTI and Honda Type R.

Now following the whole Clio family, the fast Clio has entered the third generation. This time it has grown up. The term "grown up" is probably the most frequently used term in the automotive world in recent years. It could be a praise, or it could be a criticism. To the Clio RS, the merit of "grown up" is a stiffer chassis, better NVH suppression, spacious cabin, higher quality and better equipped. On the negative side, it breaks away from its winning formula. Now its new philosophy reads: "big hatch, even bigger power".

How big is it ? Compare with the old car, it is 18 cm longer, 13 cm wider, 7 cm taller and runs a 10 cm longer wheelbase. In other words, it is closer to the current Volkswagen Golf GTI than the old car (see comparison table below). Inevitably, its kerb weight jumped from 1090kg to 1240kg, representing a 14 percent increase.


| | | | |
| --- | --- | --- | --- |
| | Clio Mk2 RS 182 | Clio Mk3 RS | VW Golf Mk5 GTI |
| Length | 3811 mm | 3991 mm | 4216 mm |
| Width | 1639 mm | 1768 mm | 1759 mm |
| Height | 1416 mm | 1484 mm | 1466 mm |
| Wheelbase | 2485 mm | 2585 mm | 2578 mm |
| Kerb weight | 1090 kg | 1240 kg | 1328 kg |
| Max power | 182 hp | 197 hp | 200 hp |
| Max torque | 147 lbft | 159 lbft | 207 lbft |

To compensate the weight, Renault Sport fettled its 1998 cc 16V engine with higher valve lift and larger intake manifolds which generates ram effect. A continuously variable valve timing replaces the old car's 2-step system. Compression ratio of the combustion chambers increased from 11.0:1 to 11.5:1. As a result, the new engine pumps out an impressive 197 horsepower at 7250 rpm and 159 lbft of torque at 5550 rpm. The power figure is the highest you can achieve without resorting to VTEC-style variable valve lift. As for the max torque, it is a new height for a two-liter class mass production naturally aspirated engine.

Compare to the old Clio 182, this represents an 8 percent increase in both power and torque. Can this compensate the 14 percent increase of weight ? if you take this question straight to Renault Sport, it will tell you to note the flexibility of the new engine. On the one hand, the straight-4 engine can rev to 7500 rpm, or 300 rpm higher than before. This proves it is a free-revving, highly willing motor. On the other hand, it produces at least 92 percent of its peak torque, or 147 pound-feet, in the range between 3000 and 7000 rpm. In addition to the upgrade to 6-speed close-ratio gearbox, flexibility should not be a problem.

However, in the real world the new Clio RS never feel as flexible. Road testers found it needs 5000rpm at least to get into power zone. From there to 7500rpm, the engine is sweet and punchy. Below that, it loses the firepower of the old car. You need to rev the engine hard to squeeze performance out of it. The weight is of course one reason, but unquestionably the engine is not as flexible as claimed. Renault Sport claims the new car can accelerate from rest to 60 mph in 6.9 seconds, or 0.2 seconds quicker than before. In fact, the old Clio did that in 6.5 seconds. Top speed figure is more honest, as Renault admitted it drops from 139 to 135 mph due to the larger frontal area.


Fortunately, it compensates the deficit in performance by better chassis dynamics. The new Clio III's stiff monocoque is a base point. Renault Sport widened its tracks by 48mm up front and 50mm at the rear, then fitted stiffer springs, revalved dampers and thicker anti-roll bars to its suspensions, 215/45 tires and large diameter 4-pot Brembo brakes. Outside, the Clio RS has different air intakes compare with the regular car. In particular, it added a hot air extraction outlet at each side behind the front wheels to help engine cooling while reducing aerodynamic turbulence. At the tail, a racecar-like diffuser is added under the tail to generate up to 40 kg downforce at high speed. To make space for the diffuser, the twin exhaust pipes are separated and located at either side of the diffuser, while the spare wheel has been deleted.

Being sold at a bargain price, the Clio RS continues to go without a limited slip differential. However, to reduce torque steer, Renault adopted a similar approach to the Megane RS - a double-axis front suspension geometry which decouples the steering from the engine induced forces. To compensate for the additional suspension components, the control arms and pivot carriers are made of cast aluminum. Besides, the front sub-frame and bushings have been strengthened.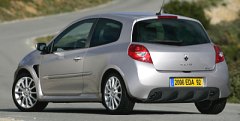 On the road, all these modifications lifted the handling of Clio RS. The biggest advance over the old chassis are composure and precision. On the one hand, it suspensions deal much better with rough surfaces on typical B-roads, providing a supple ride and good suppression of noise can't imagined by the old car. At the same time, the car rolls less in corner. It retains the agility and playfulness of its smaller predecessor, which is a triumph. In additional to that is new found precision and refinement. For example, it has completely got rid of torque steer. It has very little understeer to speak of unless you push it to the limit. It has a slick-shifting gearbox and a much more natural driving position to ease the pain, so you can concentrate on pushing the car to higher limit. Its cornering limit is definitely higher than the old car, thanks to the wide-track chassis, grippy tires and excellent brakes. The only let down is the numb steering. However, the old RS was not famous for steering feel either.

Which lead us to the conclusive question: is the new Clio RS more fun to drive than the old car? The answer is still no. Although we have no doubt that the new car is better overall, it fails to bring the driving excitement of the old car. Weight is the enemy of hot hatches. Renault should not have pumped up the Clio so much. We understand the decision was hardly controlled by Renault Sport, as the mass production regular Clio always comes first. After all, Renault is to build only 10,000 Clio RS annually in its ex-Alpine Dieppe plant. The only solutions we can hope for is a striped-out lightweight version, or an additional light pressure turbocharger won't be a bad idea.
The above report was last updated on 21 Jun 2006. All Rights Reserved.
2009 facelift

If car makers renew their cars every four years, just like what Japanese used to do, they will never need facelifts. Facelifts are means to refresh your products – visually and mechanically – without investing everything again. In general, facelifts cost just a fraction of the original development budget, and cost even less for retooling the assembly plants. It sounds very attractive to Le Cost Killer or Mr. Bean Counter. However, facelifts are usually difficult to succeed. New features, technologies and new corporate styling themes are not easy to merge with the old cars, because there are many constraints that you cannot alter. In fact, most facelifts result in mixed impressions as I found out during the past 12 years writing about cars.


The latest example is Renault Clio. On this facelift, Renault created two different faces – as shown in the pictures – the regular car with a square mouth, and the Renault Sport (RS) model with a black tongue. Unfortunately, neither look handsome. Both have a nose that looks uncomfortably long, and both noses do not fit well into the original body. If this is the definitive work of Patrick Le Quement, who is going to retire later this year, then we will be very disappointed.

Mechanically, there are little changes made to the chassis or cabin, at least too minor to be mentioned here. Some engines are new to the Clio, if not exactly new to Renault. The outgoing 1.4-liter 16V engine has been replaced by Twingo's 1.2 TCE low-pressure turbo, offering the same 100hp output at lower consumption. Twingo RS contributes its high-revving 1.6-liter 16V to its bigger brother, albeit after detuning to 128hp. This engine powers Clio GT, the new "warm" model sitting under RS. Frankly, I am not so impressed with this engine as it lacks both top end punch and low-down torque. Fiat Grande Punto Abarth and Peugeot 207GT, for example, are far better choices.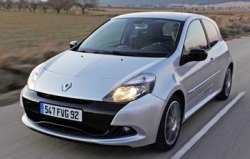 The biggest changes are found in the Renault Sport model. An ugly little duck it might look like, it is still the most exciting driving machine in B-segment (superminis), especially now its high-revving 2.0-liter 16V engine has received new cylinder head and revised ECU to boost low down torque. Renault said it produces 20 percent more torque below 3000 rpm, which feels exactly the same way in reality. Acceleration is also enhanced by shorter ratios for the first 3 gears. Meanwhile, its top speed is boosted to 141 mph, thanks to the combination of 3 more horsepower at the top end and a revised nose that cuts drag by 3 percent.

As before, you can choose between a fully loaded RS or a striped-out Cup version. The latter gets rid of 36kg together with air-conditioning, high-spec audio, electric mirrors, telescopic steering wheel and soft-touch plastics on dashboard. Besides, it gets a quicker steering, 7mm lower ride height, 30 percent stiffer springs and dampers. Both versions receive double-acting dampers to improve high-speed ride and a slightly stiffer front anti-roll bar to reduce body roll. A sharp handling becomes even sharper.

Nevertheless, the Renault Sport model is unlikely to help the whole range much. This facelift fails to narrow the gap between Clio and the class leaders like Ford Fiesta, Mazda 2 and Honda Jazz. Its ugly nose certainly doesn't help.
The above report was last updated on 10 Jun 2009. All Rights Reserved.