| | |
| --- | --- |
| Published on 20 May 2012 | All rights reserved. |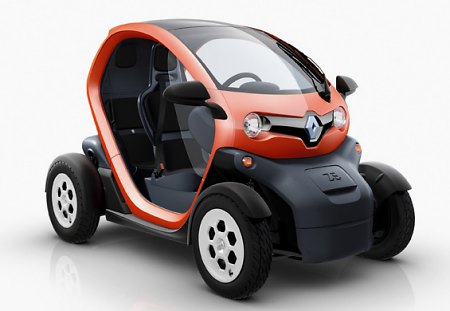 In the past 15 years, we saw at least four serious attempts to revolutionize urban mobility: Smart, BMW C1, Toyota iQ and Gordon Murray T25 – forgive me if I miss any. While they caught our interest, none quite succeeded to rock the establishment. People praise the green philosophy running behind them, but when it comes to making purchasing decision they would prefer the versatility and practicality offered by conventional mini cars. Consequently, the green city cars are usually seen as symbols of niches rather than realistic solutions to our urban congestion or environmental problems. Renault Twizy is likely to follow the same fate.

Twizy is the French maker's third production electric vehicle launched recently, following Kangoo Z.E. and Fluence Z.E and preceding Zoe. It is also the smallest and the most radical of all. Designed to be primarily a personal urban transport, it carries only 2 people, with the passenger sitting closely behind the driver as if on a scooter. Unlike scooters though, the Twizy is a quadricycle, riding on 4 exposed wheels. This gives it car-like roadholding, safety and ease of driving. Moreover, its transparent roof offers decent protection against rain, at least when the car is running.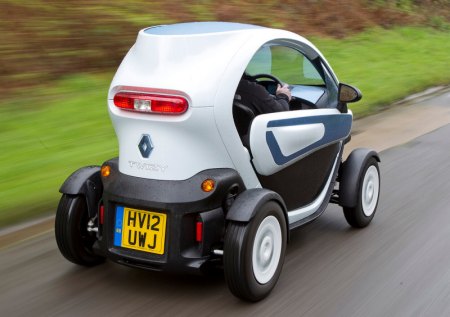 It must be noted that the cabin is not fully enclosed. The base Twizy has no doors thus both sides are open. You can pay extra to add a pair of "scissors doors", or what Renault called "blades". They are not real doors, because they don't seal the body work and have no windows of any kind. Your upper body may still be exposed to crosswind and raindrops. In winter, Renault would suggest you to wear leather and gloves.

Unsurprisingly, Twizy is easily smaller than any 4-wheel passenger cars on the market, including Toyota iQ. Its length and width are only 2.2 and 1.2 meters respectively. Wheelbase is merely 1686 mm even though the wheels are already put at corners. The compact size means it is easy to steer and to slip into congested streets, as shown by its ultra-short turning circle of 3.4 meters. It also occupies much less parking space. At 474 kilograms, the Twizy weighs just half of a conventional mini car. This mean it takes little energy to move. Not so great is the drag coefficient of 0.64, but it is less significant as the car can travel no faster than 50 mph.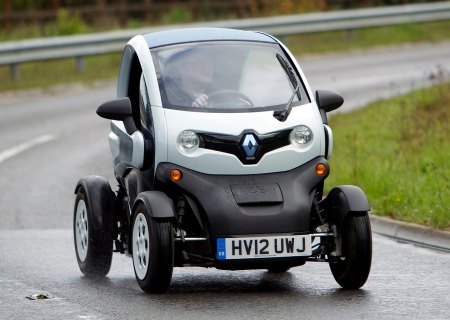 The mechanical structure is quite simple. The chassis is a spaceframe made of square-section tubular steel. A 6.1kWh lithium-ion battery sits underneath the driver seat, supplying power to a 17 hp induction motor located at the rear axle. The front compartment stores an on-board charger and charging cable. Plug into 220V 10A household socket and it takes 3.5 hours to charge to full. Renault claims a range of 100 km or about 60 miles, enough for most urban commutes. The chassis rides on all-strut suspensions developed by Renaultsport. More precisely, the front ones are MacPherson struts while the rear are Chapman struts, which utilize the driveshafts instead of lower control arms to control track width. Finally, the chassis is clad with plastic bodywork.

The interior is less interesting. It can be described as Spartan. There is no equipment at all, not even audio or radio. Neither heating nor air conditioning is offered as the cockpit is exposed anyway. All surfaces are made of water repelling materials, no wonder the dashboard looks plasticky and the seats are fairly firm. The driver seat lacks lateral support, so hard cornering take special precaution. Driving position could be compromise to some drivers as the steering column is fixed, and the seat has no height adjustment. That said, the driver should enjoy plenty of headroom and unlimited shoulder room. The rear seat looks cramped, but it actually accommodates an average size adult without much complaint. Rear legroom is unlimited as you put your legs around the driver. Behind the rear seat conceals a lockable storage space measuring 31 liters. Unfortunately, that is the only boot of the car.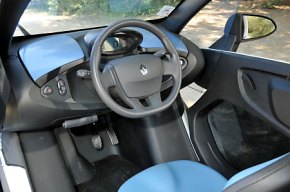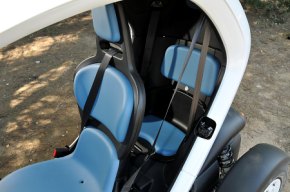 On the move, the Twizy feels more energetic than its modest power suggested. Thanks to some 42 pound-foot of torque available right from zero to 2100 rpm, its acceleration is pretty swift up to 30 mph. Thereafter it struggles to keep up with highway traffic, but as an urban transport it is by all means competent. It reaches terminal velocity at 50 mph, so don't ask for 0-60 mph figure.

Another version is even slower. Its output is limited to 5 hp and top speed is only 28 mph. In various European countries it can be driven by teenagers of above 16 years old without driving license. This version is called Twizy 45 to reflect its top speed in km/h. The 17 hp version is called Twizy 80.

As expected, the Twizy is very nimble in city. Its unassisted steering and all-disc brakes are a little heavy but they deliver direct response. It tracks straight on motorway. It understeers predictably at the limit. Surprisingly, it rolls little in corner, despite of its tallish profile and narrow tracks. This is primarily achieved by using stiff suspension setup. On the flip side, the combination of stiff suspension and very short wheelbase results in a harsh ride. It crashes heavily over speed bumps and urban potholes, delivering the poorest refinement among all city cars we have in memory. Nevertheless, such a back-to-basics personality is fun to live with.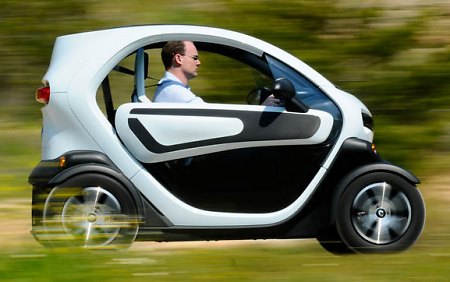 The problem is, this electric quadricycle is not even half as versatile and practical as conventional mini cars, but it costs comparable or even more to buy and to run. In UK, it is priced at £6700-7400, and then you have to subscribe for the battery for a monthly fee of at least £45, depending on mileage. A Fiat Panda 1.2 costs £8500, offers 4 proper seats, a decent boot, full weather protection, far superior ride comfort and refinement, 102 mph top speed and countless of equipment that the Twizy can only dream of. Those interested in the Twizy are likely to be individuals that value green living or sense of occasion, or in other words, the same pool that sustains Smart and iQ. Unfortunately, they are not going to be mainstream. No wonder Renault set a modest target of building only 10,000-50,000 units annually in a human-intensive way – the chassis is welded by human hands instead of robots, for example. This seems peanuts compare with the more conventional, supermini-sized Zoe. The latter is planned to be built at 150,000 units annually. As radical as it is, Renault Twizy is not going to revolutionize our urban mobility.

Verdict: