It was 1977, Renault decided to develop a new rally car to revive the glorious history brought by Alpine A110 earlier in the decade. However, as most budget was assigned to the flagship F1 program, this rally car had to be cheap to develop and build. Therefore it chose the mass production
R5 Alpine/Gordini
as the basis. By relocating its engine and gearbox to the space normally reserved for rear seats, and by adding a turbocharger to boost engine output, it created a fast yet compact and lightweight mid-engined supercar. Moreover, it kept the recognizable shape of the mass production R5 to take the biggest advantage of the promotional effect of motorsport. Clever.
While that sounds simple, the actual modifications were quite comprehensive. The R5 Alpine's 1.4-liter push-rod engine got strengthened gasket, valve guides, crankshaft and oil pump. Carburetors were replaced by Bosch K-Jetronic mechanical injection while ignition became transistorized. A large Garrett T3 turbo and air-to-air intercooler boosted its output from 93 to 160 hp, giving an unheard specific output of 115 hp per liter… and that's for the road car! Although Renaultsport did not have money to develop a full spaceframe chassis, the change of engine position still necessitated a new chassis structure for the rear half of the car. The engine was mounted longitudinally at the space between the front seats and the rear axle, so it was a true mid-engined layout. The longitudinal 5-speed gearbox intruded beyond the rear axle. Surprisingly, Renaultsport kept the hatchback, and a small boot was available behind the engine compartment and above the gearbox.
The gearbox and brakes came from larger Renaults. While the front suspensions remained to be the production car's double-wishbones and torsion bars, the rear ones were replaced with
A310
's double-wishbones and coil springs. In addition to wider Michelin radial tires, this necessitated much widened fenders that made the car looked so spectacular. Large ducts were opened at the rear fenders to feed the engine and radiators. The fenders and front bonnet were made of glass-fiber, while aluminum was used to construct the doors, roof and rear hatch. The whole car weighed less than a ton.
Performance was quite remarkable for such a small car. Road tests found it sprinted from 0-60 mph in less than 8 seconds and topped about 125 mph. However, if you expect supercar performance from its exotic looks you might be disappointed. A Porsche 944 of the day was faster yet cheaper to buy. Give a few more years, the mass production
5GT Turbo
would be just as quick. The rally special also lacked the drivability of a proper sports car. Its high-boost engine suffered from heavy turbo lag. There was little punch below 3500 rpm and throttle response was slow. Punched the throttle to the floor and waited for a couple of seconds, it surged forward in a spectacular manner. The handling was not bad for its days, with strong roadholding and moderate understeer to keep it safe in normal driving, but pushed towards limit and it became tail happy. The delay of power delivery made it difficult to drive smoothly and confidently in the twisty. No wonder it won few rally races. Its biggest victory was the 1981 Monte Carlo, yet that win was taken after the leading Porsche 911 crashed out late in the race. When 4WD Group B cars like
Audi Sport Quattro
and
Peugeot 205 T16
arrived, it became uncompetitive.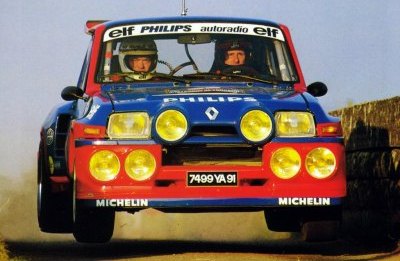 On the plus side, the Renault was relatively affordable and practical to road use, thus resulted in better sales. Although only 400 cars were required to homologate for Group 4, demand for such an exotic-looking car was found much stronger. Eventually, the ex-Alpine Dieppe factory built as many as 5000 cars in 6 years. The last two-third of which was called 5 Turbo 2. It cut production costs by using steel roof and doors, and by switching to the mass production car's dashboard and instrumentation. Less desirable to collectors it might be, performance was hardly any slower.
The R5 Turbo might not set any records, but it did inspire a host of superminis to be converted to mid-engined supercars, such as Peugeot 205 T16, MG Metro 6R4 and, more important to the Dieppe factory, Renault Sport Clio V6 some 20 years later. Its influence was probably greater than its own achievement.