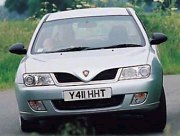 Proton claimed this new Waja (or "Impian" for overseas) as the first car designed by Malaysian and specially made clear that it is not built on a Mitsubishi Lancer. However, the statement might hides a lot of exclusion, such as the petrol engines that are bought directly from Mitsubishi, the diesel engine that came from PSA - both used to be close partners of the state-owned Malaysian car maker - and then the "Ride and Handling" work done by subsidiary Lotus.

However, I suspect that Lotus' work might not be limited to ride and handling tuning only. The whole chassis was probably designed by (though not necessarily styled by) Lotus. Remember Lotus expanded the R&D facilities in Norfork 3 years ago? Some of the test benches as well as workstation computers were reserved for Proton's projects. So I believe some of the 300 Malaysian engineers involved in the project were sent to Norfork to do the chassis development and learn from the British experts.

The styling of Waja lags behind competition by a full generation. The grilles looks very ex-Renault, the tail looks like Volvo S40, overall shape is boxy and unsophisticated. The interior is even worse - ugly, low quality materials used, poor fit and finish - although it offers good room front and rear. Seats are flat thus provides little support.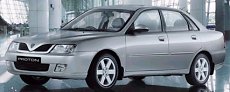 There are 2 petrol engines - a Mitsubishi-sourced 102hp 1.6-litre and a Renault 120hp 1.8-litre. The 1.6 is an outdated design and no longer used by the Japanese company itself. Not only weak but it is also coarse and reluctant to rev once the needle arrives 4,000rpm. So it is better to wait for a Lotus-developed replacement to come in 2003.

It seems that the only strength is the Lotus chassis. This is really a world class chassis, no, it actually handles better than most "world class" rivals. The suspension tuning is pure European, which is firm but provides excellent bump absorption. On the other hand, it rolls little in corner, always feels taut and responsive to change direction. The 2.8-turn steering is direct and provides good feedback.

For political reasons, Waja is default to be a success in home market. In the next 10 years, it will overcrowd Malaysian roads. However, export business will be tough considering its below-standard quality and unattractive pricing. Buy Korean or Yugoslavian cars instead.