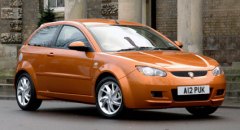 The outgoing Proton Satria was the Malaysian version of Mitsubishi Colt (Mirage). Following its replacement with Satria Neo, Proton has finally cut its last tie with its Japanese ex-partner and ex-shareholder. The new car is derived from the Lotus-developed Gen.2 platform, powered by Lotus-engineered Campro 16V engines, enclosed with a bodyshell designed by Lotus and rides on suspensions tuned by, again, Lotus. All these seem promising.

Think deeper though, you won't expect the Satria Neo to beat the class-leading Fiat Grande Punto or Renault Clio. While Lotus has been renowned for building lightweight sports cars, its engineering arm is not as brilliant for developing mass production cars. Take the exterior design for example, it looks neither attractive nor offensive, just another forgettable design. The drag coefficient of 0.35 is as worst as you can get from a modern supermini. The packaging efficiency is even poorer, because this is a B-segment car derived from a C-segment (Gen.2) platform. It spends too much space in the engine compartment and suspensions - remember the Gen.2 employs multi-link rear suspensions - instead of cabin, so you will find the rear passengers seriously short of legroom. They will also cry for easier access, as Satria Neo is available only in 3-door form. Like Lotus' own cars, the Proton lacks attention to details. No wonder taller drivers can easily have their heads rubbed against the sun visor. A steering wheel with very limited adjustment plus a high-mounted front seat result in a poor driving position. These faults should not have appeared in a modern supermini.


Proton's notorious build quality should also take part of the blame. Although Satria Neo is better assembled than any previous Protons, including Gen.2 and Savvy, it still lags a long way behind industry standard. The interior is full of hard plastics, fake alloy and fake screws thus looks very cheap. Reliability is something buyers have to gamble on – from the door "thunk" the structure seems solid enough. The redesigned power window should have prevented the reliability problems encountered in Gen.2. Moreover, Proton said the car had undergone an extensive aging test in Spain. The problem is, after years of disappointment, do you still have faith in what Proton tells you ?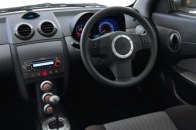 Back to the court of Lotus, the Campro engine is no more than a mediocre engine. It sounds coarse at high rev and delivers little punch at low rpm. Despite of the good on-paper power - 110hp from 1.6-litre or 94hp from 1.3-liter, it lacks bottom-end torque because there is no variable valve timing or variable intake manifolds at all, so in real world the car feels slower than its power rating suggests. This is supported by the official performance claim: the 1.3-liter and 1.6-liter model takes 12.1 seconds and 11.5 seconds respectively to do 0-62 mph. For comparison, a 1.6-liter Suzuki Swift takes 9.0 seconds only.

So far, the new Proton is worth only 1 star in our AutoZine rating. Fortunately, the involvement of Lotus finally delivers in handling, which is traditionally its strength. Thanks to big car (multi-link) suspension, firm tuning of springs and dampers and the persistence of hydraulically assisted steering (actually because Proton has yet to find a source for electrical power steering), the Satria Neo handles pretty good. Body roll is well checked. Steering feel is direct and natural. It rides hard on rough roads but is still acceptable. While it is still no hot hatch, it provides a solid basis for the forthcoming GTi version. This should save it from the junk level rating.