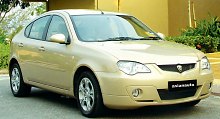 Gen.2 is a car Proton desperately needed. Since the first Proton was born in 1985, the Malaysian car maker has been relying on national protectionism for survival. Its model lineup consisted of many Mitsubishi-based cars using engines and gearboxes supplied by the Japanese firm. These cars were outdated and made of poor quality. But Proton still dominates the domestic market because it is owned by the family of ex-prime minister Mahathir Mohamad and Petronas, the nation-owned oil company. However, recently there are signs that the new government is going to reduce car tariff and other protectionism measures against imports as Malaysia is migrating to the world of free trade. Proton is really under pressure. To survive, it needs to improve its competitiveness as quickly as possible.


It seems that many years ago Proton already realized the need for standing on its own feet. In 1996, it bought Lotus to transfer the know-how of engineering cars. In 2001, Proton created its first car, Waja (overseas called "Impian"). However, the car was actually mostly the work of Lotus. Its chassis was engineered by Lotus, engines bought from Mitsubishi and Renault, gearbox by Mitsubishi… hardly called a self-developed model. The car's handling and ride are merited by Lotus, but its poor quality standard and ugly look did not attract many customers outside homeland.

Now here comes the second attempt - Gen.2. At the first glance, its modern, pretty look has already changed your view on Proton, letting you think, "Ah! this is finally a world-class Proton !" doesn't it look like a Seat Leon? although the styling director was said to be a Malaysian, I guess it might be actually penned by Lotus designer Julian Thompson or Russell Carr. This is a shape that most people will love.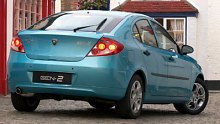 Proton said the interior is by Lotus. Again, it is a nice design, with sporty twin-dial instrument panel and a stylish, alloy-effect center console. Unfortunately, the build quality and ergonomics are not as good. We'll leave that in the latter half of this report.

The Gen.2 is positioned under Waja. However, both cars are actually very close in market positioning because they share the same chassis and even the 2600mm wheelbase. The biggest difference is that the Waja is a sedan while Gen.2 is a hatchback.

Sharing chassis means development time is cut by 40%. It also means the Gen.2 handles and rides as good as Waja. The Lotus-developed strut and multi-link suspensions give Gen.2 remarkable body control. Minimal body roll during cornering gives it a sporty feel. The damping is quite firm, firmer than the Waja, but except on the roughest surfaces the ride is not uncomfortable.

Unfortunately, for cheaper price Gen.2 chooses a set of poor tires. They run out of grip easily, ruining an otherwise capable cornering ability. The chassis could take on much higher g-force, but the tires just give up and turn the Gen.2 into terminal understeer. You cannot find such a stupid mistake in other well-established car makers.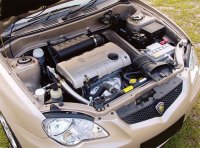 Comparatively, the engine is better. Gen.2 gets a new, self-manufactured CAMPRO four-cylinder engine instead of the old Mitsubishi engine. This engine is not only better but also 40% cheaper than purchasing from Mitsubishi. Proton invested US$130 million into the engine program. It was designed by Lotus as a modular engine family. The first version used by Gen.2 is a 1.6-litre, with iron block, alloy head, twin-cam 16 valves to produce a remarkable 110hp and 109lbft. In the future, a variable valve timing version will join the range. In fact, the word "CAMPRO" stands for Cam Profile switching technology.

Compare with the old Mitsubishi engine, the CAMPRO 1.6-litre is more eager at high rev. However, despite of the claim that 85% maximum torque is available from 2500rpm, in reality it needs to be rev hard to deliver decent performance. And that is the problem, because the engine is harsh and noisy at high rev, not as refined as the products from Ford, PSA or Opel (which was also engineered by Lotus). Part of the problem is because of the insufficient sound insulation used throughout the cabin. Not only engine noise, but wind noise, suspension noise and tire noise are also pronounced. Normally, it is this kind of NVH suppression separates a well-engineered car from a cheap one.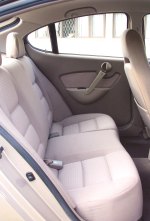 Another area to judge a car good or bad is build quality. And the Gen.2 fails this test completely. From the exterior body panels you can already see misalignment, large and varying assembly gaps. This won't appear in other cars, even the cheapest Korean cars. The Korean has improved vastly in recent years, but Proton's quality standard still remains in the 1980s level. Enter the cabin and the impression deteriorates - nasty hard plastics are used throughout the cabin. Rough edges everywhere. Filmsy cupholders and hinges of center bin lid are likely to break easily. When the car rides on bumps, the loosely fitted parts work in harmony to squeak, letting you doubt whether the car is tightly screwed together.

Ergonomics is another big problem in the Gen.2. The driving position is simply flawed. Unless you are short, you will find the seat too high, the steering wheel too low such that it almost rest on your lap. Further more, tall drivers will find the dials obstructed by the steering wheel. The cabin offers slightly more legroom than Waja, but it is by no means spacious by class standard. While the front seats fit passengers up to 6ft 2in tall, the rear accommodates only 5ft 9in, blame to the sporty angle of rear hatch. Access to the rear seat is also confined by the triangular rear window. It pays the price for the sporty appearance.

Quality and reliability used to trouble Proton. It is likely to continue in the Gen.2. Although production is taken place at a brand new factory with 60% assembly process performed by robots (compare to 30% of the old factory), the way its component suppliers work and the way it performs quality check still leave a lot of room for problems. Proton may be able to sell 50,000 to 80,000 Gen.2s a year as planned in the domestic market, but European customers are unlikely to take risk, especially the car has so many flaws and so little advantage in price.