| | |
| --- | --- |
| Published on 6 Oct 2005 | All rights reserved. |


Although Porsche wants to sell the Cayman as an independent model, everybody knows it is actually a "Boxster Coupe SS". From its internal codename 987 C7S you will know its relationship with the Boxster. Basically, the two cars share the same chassis, with the same wheelbase, width and tracks. Although every sheet metal is different, they share windscreen, doors, cabin and 40 percent other components, while the remaining components either come from 911 or are adapted from both cars. They are also assembled at the same place, Finland, by Valmet.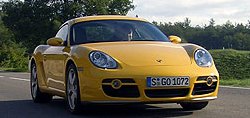 However, looking from outside the Cayman S delivers a vastly different shape. Thanks to the swoopy steel roof which flows smoothly towards the tail, it looks rounder and almost like a mid-engined version of 911. The fixed roof also increased torsional rigidity by an astonishing 150 percent (did we feel the Boxster lack of stiffness?) and lowers drag coefficient from the roadster's 0.30 to 0.29.

The stiff chassis allows Porsche to tune its suspension springs and dampers more precisely, but it retains the tires, wheels and brakes from the Boxster S because they are considered to be sufficient to handle the modest gain of 15 horsepower and 15 lbft of torque from the 200 cc larger flat-six engine.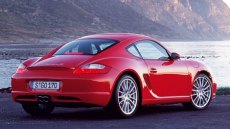 The Cayman S sits between the top Boxster and the base 911. In UK, it is sold for £44,000, versus the £39,000 Boxster S and the £58,000 911 Carrera. As a result, its survival space is rather narrow. To ensure it won't steal sales from the more profitable 911, Porsche deliberately limited its performance. It can easily put the 911's 325hp 3.6-litre or even 355hp 3.8-litre flat-six into the Cayman S, but it eventually gave it a 3.4-litre version of the boxer engine, made by combining the 96 mm bore of the 911 Carrera engine and the 78 mm stroke of the Boxster S engine. Like both engines, it has VarioCam Plus variable valve timing and lift system and a variable intake manifold, but the tuning is mild enough to deliver only 295 horsepower at 6250 rpm. I suppose the big bore and short stroke engine could have delivered 310-315 horsepower if it were not limited. The maximum torque of 251 lbft is also disappointing. Unusually, the torque curve is flat across a wide band from 4400 to 6000 rpm. This implies that Porsche programmed the engine management system to limit its top end power.



No wonder the car is just 0.1 seconds quicker to 60 mph and 4 mph faster at the top end. 10 years ago, any cars taking 5.1 seconds from 0 to 60 mph must be very fast cars. Today, the Porsche sports car found itself trailing many class rivals such as Corvette, BMW M3, Mercedes SLK55 and TVR of various kinds.

However, none of the above cars drive as sweet as the Porsche. We knew this already in the launch of 987, but in the stiffer coupe form, it has elevated to another level. Its handling is ultra-precise and responsive. The combination of stiff chassis and perfectly judged damping deals with surface changes so well that they can hardly unsettle the steering and traction. This means no matter on what surfaces the Cayman S just grip and go.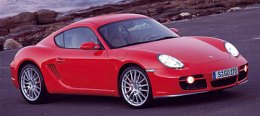 The mid-engined layout also gives Cayman S a lot of advantage over rivals. Remarkable balance and low inertia at both ends allow it to steer more responsively and accurately. Driving it requires no more than basic instinct, especially when the engine is so smooth and linear while the gearshift so initiative. In fact, the level of control and feel exceeds that of the finest 911, making it the best handling Porsche to date. And you know, the best handling Porsche must be the best handling car in the world.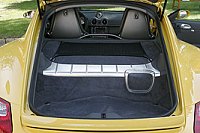 Inside, Cayman shares the same cockpit with Boxster. It does not have enough style and exclusive feel, but so did the traditional Porsches. Behind the cockpit and under the tailgate is a 260-litre loading area. In addition to the 140 litres front luggage compartment, it is more practical than the roadster.

However, my dream is still a more powerful Cayman. The Cayman has an inherently better chassis than the 911. It is ridiculous to limit the better car in order to save the poorer car. Porsche should follow Ferrari to place its models horizontally instead of vertically. 911 can sell because of its lovely character, not necessarily because it is faster and more powerful than other Porsches. 20 years ago, Porsche had 3 similarly quick cars in its lineup: 944 Turbo, 911 Carrera and 928. Each represented different character. That was the golden era of Porsche in my mind.
Verdict:





| | |
| --- | --- |
| Published on 7 Aug 2006 | All rights reserved. |
Cayman 2.7

To avoid being regarded as "Boxster Coupe", Porsche deliberately launched the Cayman line in the form of Cayman S first. Its 3.4-litre engine really gave it sufficient advantage over Boxster S. In addition to the superior handling of coupe, so far this strategy has been successful. Most people see Cayman bridging between the entry-level Boxster and the expensive 911. But as the base Cayman arrived, its market positioning becomes mushy.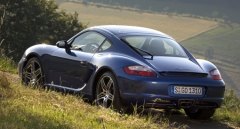 First, its engine displaces the same 2687 cc as the base Boxster. Initially, Porsche claims it adopt the 911's VarioCam Plus instead of the old VarioCam, which means adding a two-stage variable valve lift. The result is a rather forgettable addition of 5 horsepower (now 245hp) and 2 lbft of torque (now 201 lbft). For a 2.7-litre class engine, these figures are undoubtedly remarkable, but rival coupes or roadsters usually employ 3.0 or even 3.5-litre engines which possess 270 to 300 horsepower and far superior torque. That make the Cayman rather weak. Moreover, just a month after its introduction, Porsche announced the Boxster line was also upgrading to the same engines as Cayman and Cayman S. This mean now Cayman has lost its performance advantage over Boxster. It makes you realize Cayman is actually the coupe version of Boxster. It makes you wonder why Zuffenhausen dare to charge more money for the coupe than the open-top version, in contrary to conventional wisdom. In UK, the Cayman costs £36,000, versus £33,000 for Boxster, £40,000 for Boxster S and £44,000 for Cayman S.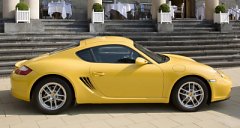 Costing £8,000 less than the Cayman S, you might think Cayman 2.7 represent good value for money. But this case is just not the same as Lotus Elise S, which loses little real world performance to its more expensive sister. In contrast to the case of Lotus, the 2.7 engine is far weaker than the 3.4 engine. It needs to be revved hard to exploit reasonable performance, although it is smooth and the gearshift is eager. Official performance figures are 160 mph and 0-60 mph in 5.8 seconds. If they are not over optimistic, at least subjectively it does not feel as quick.

In the case of Lotus Elise, we applauded the base car has the same superb handling as the more expensive car. In the case of Porsche Cayman, the handling is slightly compromised by the use of smaller and higher profile tires. Of course, you can always pay extra money for bigger wheels and brakes, sportier tires and even a 6-speed gearbox and adaptive dampers (PASM), but that's not the point for an entry-level Cayman. Even if you are willing to pay for these, you will find it lacks power to exploit the chassis. In fact, the superior chassis rigidity of Cayman is wasted by the underpowered engine. To certain extent, Cayman 2.7 is a rather unnecessary product from Zuffenhausen. Boxster will cope as well with the 2.7 engine, save you £3,000 and add the joy of open air motoring.
Verdict:




| | |
| --- | --- |
| Published on 24 Dec 2008 | All rights reserved. |
2009 Cayman update

More power and an excellent gearbox, Cayman is closer to perfection...


From outside, the "new" Cayman is hardly new. If it is not parked beside the old car, you may not notice its new headlamps, reshaped front intakes and taillights. The proportion of its body is still hopelessly outdated – it combines a short wheelbase with very long overhangs, plus a low waist line, very much the proportion of 1980s. On the other hand, the round shape remind us the sports cars of 1960s. Even though the basis of this car (Boxster) is already 12 years old, it should not have looked more retro than the 45-year-old 911, should it ?

However, once you drive this car on road, let it be a twisty mountain road or a session of unlimited Autobahn, you can't help praising it as one of the best sports cars in the world. Not even a 911 can match it. This has been the case since its birth 3 years ago. It will continue for many more years following the latest update.

Porsche hasn't altered its chassis and suspensions much because it is still deemed to be first class. What it need (and desperately needed) is more power from the boxer engines. Today, any Japanese six-cylinder motors can easily pump out 300 or more horsepower. Cayman could no longer stick with the previous 245 hp 2.7 and 295 hp 3.4-liter engine. In the latest update, the base engine has been enlarged to 2.9 liters, lifting output by 20 horsepower and 20 lb-ft of torque. Moreover, it finally abandoned the 5-speed gearbox for the same 6-speeder as Cayman S. Also the same brakes. Porsche's entry-level customers have never been so well treated.

The Cayman S engine still displaces 3.4 liters, but it is actually a new motor. The engine block is made in 2 pieces instead of 4, which makes it stiffer and lighter. The bore is increased by 1mm to 97mm, while stroke is reduced by 0.5mm to 77.5mm, taking the total capacity to 3436 cc, or 50 cc more than before. This lead to a higher red line and freer top end performance. However, the most significant change is the introduction of direct fuel injection and higher, 12.5:1 compression ratio. These modifications lifted its output to 320 hp and 273 lb-ft. In other words, almost the same as the base 911 Carrera 3.6.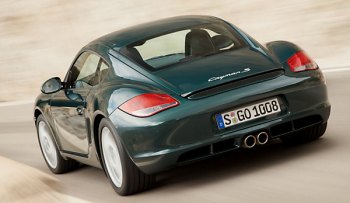 This car delivers far more than the sum of its components...


On the road, the new engine of Cayman S is keener to rev, sounds throatier and delivers noticeably stronger mid-range punch. Coupling to the fact that it is still relatively lightweight - for example, 180 kg lighter than Nissan 370Z - performance is no longer a weakness. We expect 0-60 mph acceleration will take less than the 4.9 seconds claimed by Porsche. Top speed is in excess of 170 mph. If you tick the optional "Sport Plus" package, its electronic launch control can improve 0-60 mph by a further 0.2 seconds and 0-100 mph by 0.3 seconds.

Apart from engine, another important improvement is the new 7-speed PDK twin-clutch gearbox. Its seamless and instantaneous gearshift takes the driving satisfaction to another level, although drivers will have to get use to its strange control, which uses 2 switches on the steering wheel instead of the more popular shift paddles pioneered by Ferrari. Compare with the standard manual box, the PDK achieves both faster acceleration and lower fuel consumption. The latter is partly due to its overdrive 7th gear.

The last but not least improvement is the availability of a limited slip differential to both Caymans. It should have appeared from the beginning to please those might take their Caymans to track days. Now the car can power slide is a controlled manner.

Cayman is an unusual sports car, one that ignores the fashion and stick to traditional core values, one that delivers far more than the sum of its components, one that truly satisfies keen drivers without resorting to big power. Its class-leading position is rock steady.
Verdict:





| | |
| --- | --- |
| Published on 27 Feb 2011 | All rights reserved. |
Cayman R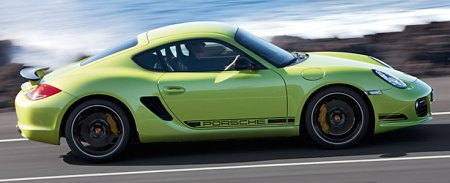 Lightweight hardcore Porsches are always tempting. Last year we appraised Boxster Spyder, now on the limelight is Cayman R. This car is practically the coupe version of Boxster Spyder. It has all the same lightweight treatment, such as aluminum doors, 19-inch lightweight alloys, carbon-fiber bucket seats, a smaller fuel tank and a striped out interior that does without air-con, audio and much of the sound insulation. Even the plastic door pulls have been replaced with fabric ones. The result is a saving of 55 kg, enabling the car to tip the scale just under 1300 kg (in case of manual gearbox).

Apart from weight trimming, the R has sportier chassis tuning, of course. A 20 mm drop of ride height comes together with stiffer suspension springs and dampers to improve cornering stability. A limited-slip differential is (finally) standard, although ceramic brakes are costly option. On the aerodynamic side, new lip spoilers and a fixed rear spoiler reduces lift by 15 percent up front and 40 percent at the rear, enabling the R to attack corners at greater speed.

In the engine compartment, the 3.4-liter direct-injected flat-six is tuned to deliver 10 more horsepower at 7400 rpm. The resultant higher power-to-weight ratio enables the manual car to cut 0-60 mph from 5.0 to 4.8 seconds. In case of PDK gearbox with Sport Chronos package, it may even dip to 4.5 seconds. A pity it just fails to break into the 10-second barrier for 0-100 mph.



On the road, the Cayman R is not as difficult to live with as its hardcore name suggested. Its stiffer suspension tuning is largely offset by the superlight wheels, so ride quality suffers very little. It remains to be an everyday road car, although the lack of sound insulation and air-con may cause more problems. Predictably, the car corners faster and flatter than Cayman S, which is already a remarkable sports car. Although the LSD introduces some initial understeer, once you overcome it the car steers sharply and beautifully into bends. Push it really hard in corners, you will find enhanced traction and braking, thanks to the weight reduction as well as the functioning of LSD. Most important, the R keeps the tactile steering and the beautiful chassis balance of other Caymans intact. For pure driving fun, few sports cars could rival it.

Undoubtedly, hardcore drivers will adore the Cayman R as they did to Boxster Spyder. Nevertheless, I can't help feeling that Porsche is still holding some reserves on it. I won't say 330 hp insufficient, but Porsche could have easily fitted a 3.6 or 3.8-liter engine with 400 hp+ into the car, making it significantly faster and free from the embarrassing comparison with Audi TT RS. Another downside of the car is its aging looks and low-rent interior. They take a little satisfaction away from the otherwise perfect sports car.
Verdict: