The original GT3 was undoubtedly the most beloved version of the 996 range. It was not the fastest 996, but definitely the best to handle and the most exciting to drive. Perhaps too good, virtually threatening the more profitable models like Turbo and GT2, Porsche built it as a limited edition only. From 1999 to 2000, some 1856 units were produced before the car died.

After waiting for 3 years, Porsche enthusiasts are finally given a new GT3. Externally, the new car looks like the current 911 Carrera with deeper skirts and bigger, bi-plane rear spoiler. While Cd is the same as the Carrera's 0.30, aerodynamic lift is reduced to zero, thanks to the rear spoiler whose upper plane is now larger and mounted higher than the original GT3. However, in terms of beauty, the new spoiler is not my cup of tea, because it looks bland. I also prefer the shape of the headlamps and front air intakes of the original GT3.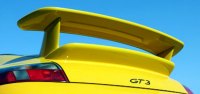 Mechanically, the new GT3 evolves from the old car. You can't find a single breakthrough, but it just improves in every aspect thus the accumulative result is still worth waiting for. We start from the chassis.... the new GT3 is derived from the Carrera 4 bodyshell to take advantage of its stronger chassis and the possibility of fitting a bigger fuel tank for racing purpose. As before, the ride height is lowered by 30mm and the suspensions are set stiffer. Compare with the old GT3, the new car has 20% stiffer springs to improve stability and sharpen handling. This could have deteriorated ride quality, but compensation is made by reducing unsprung weight - lighter wheels and, if you take this option, the 18kg-lighter PCCB ceramic composite brakes. New Bilstein dampers with lower internal friction also improves ride quality. As for grip, both front and rear tires are now 10mm wider.
The whole car weighs 1380kg, 35 more than a regular 911 Carrera but a massive 160kg less than the Turbo which boosts just 40 more horsepower. That means higher power-to-weight ratio than the Turbo. Compare with the previous GT3, weight is up by 30kg, but its normally-aspirated flat-six gets even more powerful. While capacity remains at 3600cc, it gets lighter moving parts (pistons 9% lighter, valves 19% lighter, tappets 42% lighter, con-rods also slightly lighter) to improve revability. Also, the original 2-stage chain-driven VVT system has been upgraded to the latest infinitely variable system (although still called VarioCam), whose range of adjustment is widened from 25 to 45°. As a result, the engine generates more torque throughout the rev range and spins more freely at the top end. Cut-off point is raised from 7800 to 8200rpm. Maximum power becomes 381hp at 7400rpm, versus the old car's 360hp at 7200rpm. Maximum torque is improved from 273 lbft to 284 lbft, at the unchanged 5000rpm.
One thing has to remind you: as before, the GT3 engine was developed from the GT1's racing-based unit instead of the regular 911 engine. It has titanium connecting rods, among others, to make it far more efficient. A specific output of 106hp per litre is among the highest in the normally aspirated world. Although it doesn't match Ferrari's 3.6-litre V8 for top end power (400hp for regular 360 and 425hp for Challenge Stradale), it strikes back in peak torque and a better torque curve throughout the rev range. Performance is easier to access.
On the Road
According to Porsche's figures - traditionally trustable - the GT3 tops 190mph (up from 188mph) and does 0-60mph in 4.3 sec (old car: 4.6 sec). Top speed is higher than Ferrari 360 Modena's 183mph because of its lower drag coefficient (0.30 versus 0.335).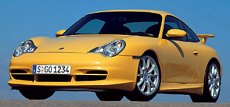 In real world, unsurprisingly, the GT3 does not feel as punchy as the super-torquey 911 Turbo. But its normally aspirated engine is definitely the choice for ultimate drivers, because of remarkably sharp throttle response, because of its willingness to rev to sky-high rpm and because of keener engine and exhaust note. In straight line, its lighter body challenges the Turbo very hard. It loses to the Turbo from 0 to 60mph because of the lack of 4-wheel traction, but after that it gains back quickly and matches the Turbo at 100mph. Both cars top 190mph.
However, once entering a bend, 911 GT3 is in a league of its own. Its lighter body and sportier suspension tuning makes it a perfect machine for attacking corners - sharp turn-in, accurate and communicative steering, rock-steady balance, astonishing braking.... the GT3 loves to be pushed to limit, and you will enjoy doing so, thanks to its superb feedback from steering wheel, throttle and brake pedals, thanks to the willing flat-6, thanks to its precise and short-throw gearshift. Many so-called "driver's cars" deliver their best at 90% effort and need stability control to take care the last 10%. In contrast, the GT3 has no driver aids at all (except ABS) because Porsche engineers are confident of its chassis balance and adjustability. They believe for such a perfect machine the best stability control is the driver himself.
Compare with the old car, it feels lighter to turn-in, it controls body movement more precisely, it stops quicker, it shifts better, it even rides better - at first you feel the suspensions may be too firm, but once over 40mph it damps more beautifully than the last GT3. Hard to believe how Porsche can manage to combine road car comfort with racing car precision.
GT3 is definitely the ultimate driver choice among the 911 family. Even Walter Rhorl - famous ex-racing drivers, now Porsche's test driver who tuned every modern Porsche - thinks so. He said the GT2 is faster but the GT3 is sharper to handle and inspires its drivers more. The old GT3 set a production car lap record of 7min 56sec in Nurburgring, that was broken by the GT2 at 7min 44sec. The new GT3 won't match that, but is expected to cut back some 7 to 10 seconds.
Considering the fun it delivers, £72,000 (plus £5,500 for the highly recommended ceramic brakes) isn't expensive. For reference, 911 Turbo costs £88,000 while Ferrari 360 Modena sells at £103,000. The GT3 is not a stripped-out car in any sense. It has air-conditioning, power windows, central locking, leather seats, 4 air bags and ABS as standard equipment. The only thing it discarded is rear seats. Like before, those prepare to race their GT3 can order the Club Sport version with less equipment, racing seats and a full roll cage. Again, Porsche will build the GT3 as a limited edition, from now on to mid-next year. About 3,000 cars will be made for those lucky customers.