Original 996 (1997-2001)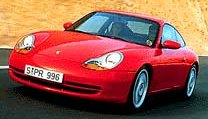 911 is unquestionably a legendary name in the automotive world. To those people who know little about cars, no matter 8 or 80, all of them can tell you it is a "Porsche", although some of them may not tell you the name "911". Some of them may even have the concept that : Porsche = 911, thus when you tell them 924 or 928 are also Porsche, they refuse to believe and say, 'No they aren't. Porsche should have frog-eyes-like headlamps !' This joke tells how famous the 911 is.

The original 911 launched in the 1963 Frankfurt motor show. With excellent handling, especially is the controllable oversteering characteristic, it immediate storm the world and became the biggest selling model. Customers, no matter millionaires or racing drivers, loved 911 so much that Porsche failed to replace it in the following 34 years. The 928 was originally intended to do so, but people accused it as too bulky and look too different from the 911 ( strangely, 911 can by no means be described as a beautiful car, but people love its distinguish appearance so much ). After 928, Porsche again proposed a replacement, which was a mid-engined sport cars using a 4.2 litres V8 which was developed from the 989 four-door GT project. Such car is scheduled to appear in 1996 so it would have probably be called 996. However, the sales slump in the early 90's led to the cancellation of this project.

As time goes by, 911's potential dries out and seems unable to be improved any further - through out the years its engine was increased gradually from 2 litres to 3.6 litres. Obviously Porsche has less and less time to make the decision. Finally, a low-cost double-model project was approved, i.e., develop an all-new replacement for 911 which share one-third components with a new mid-engined smaller sports car name 986. These 2 cars will share engines ( despite of different capacities ), suspension components, cabin instrument, doors, headlamps.... so that no wonder the development cost or production cost are greatly reduced.

Eventually, the all-new 911 launched in 1997 Frankfurt motor show. Basically, it still apply the philosophy of the original 911, i.e., rear-mounted flat six engine. The rear-engined layout provides the same oversteering ability that the traditional 911 drivers love, but better weight distribution ( 39:61 front/rear compare with the previous 37:63, thanks to the lighter engine) make it easier to handle.

Yes, according to British magazine Autocar, the new 911 is exceptionally user-friendly. Its 24 valves 3.4 litres flat six is very smooth and refined, although it no longer generates great sound. Chassis balance is much improved, with huge grip and perfect-weighted steering. Cornering is nothing other than agile.
But the biggest improvement is : handling and steering becomes more progressive and predictable. That means it is a lot easier to drive. In the old 911, when you make an error in fast corner, you'll finish. Not the same way the new car anymore, you'll corner at faster speed without sweat. What an effortless balance !
Except Ferrari 550 Maranello, Autocar's tester said he had never experienced such effortless balance in another sports car. ( maybe he has forgotten the Honda NSX ).
However, that magazine also complained for the less communicative steering. It feels less involving than before and becomes more difficult to oversteer. As a result, they concluded that the new 911 finally becomes a GT, which was once Porsche tried to do with 928 to replace 911.
The new 911 is a lot bigger than the car it replaces. 185mm longer, 30mm wider, 80mm longer wheelbase mean the cabin room is more generous. Front seats are comfortable and well positioned. Rear seats are no longer dog seats, but still impossible to sit an adult human being. Overall weight is only 1320kg, 50kg lighter.
With 300hp and 258lbft output, it can sprint to 60mph in 4.6sec, even marginally faster than Ferrari's 380hp F355 ! With remarkable aerodynamic coefficient of 0.30, it can top 173mph.