Executive saloons rarely look as sensational as this one. Steeply raked windscreen runs smoothly towards the fast-back tilt rear window, not enough ? then look at the long front and rear overhangs, outdated they might be, but they enable a sleek nose and tail so to contrast today's popular fat and bold design theme. Admittedly, there are a few American cars also possess such sports-car-like profile, say, Dodge Intrepid, but the Peugeot does that in a much shorter length yet it has some cleverer details, say, the stylish rear lights and distinctive curve along the edge of boot lid. Up front is not so clever. The cat's eyes - obvious inspired by 206's headlamps - plus the half-circular grille seems funny rather than prestigous. It's OK for 206, but not an executive saloon. On the contrary, the fully chromed side window surrounding makes Mercedes E-class feels cheap.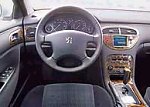 Exterior might not be all that prestigous, but interior must be. The dashboard, center console and glove box area are stylishly shaped just to the right degree - a good balance between fashion and classy. There are several trimming to be chosen, including wood / leather (for traditionalists) and a unique "Titanium Ambience" trim. The latter has mock carbon fiber panels instead of wood and titanium-colored plastic instead of leather. Not only very tasteful, the selection of materials also worth praising. For example, the slightly shiny black plastic covering the dashboard, has soft texture and feels good to touch. It is not shame to compare with Audi.

Impressive ergonomics and comfortable seats are other advantages. There is sufficient room for front passengers. Good knee room at the back too, but just don't expect too much head room, which is limited by the coupe-like rear window.

The sense of refinement is further enhanced by the driving experience. I'm not saying the ride is particular impressive. Although it's a French car and also the first car employing 9-setting electronic adaptive damping front and rear, early impressive is that it doesn't soak up low speed big bump very well (to be confirmed in a detailed road test in future). What I mean is the refinement of power train and noise insulation. The top-of-the-range 3.0 V6 under investigation is smooth and eager at high rev. It was derived from the French national V6 powering 406, Citroen Xantia and Renault Laguna, added with variable valve timing at inlet side, thus sweet to rev towards red-line, and variable length intake manifold, thus output more bottom-end torque. Power has been raised from 194 hp to 210 hp. Torque is equally impressive 210 lbft. Helped by remarkable sound-deadening material, the cabin feels quiet at cruising even at 100 mph. Push the engine, it is no longer as Lexus-quiet, but the hard-edged note is enthusiastic to hear.

For driving ease, the V6 is offered with an optional Tiptronic gearbox licensed by Porsche. It has three automatic modes - normal, sports and winter - plus sequential manual mode. However, the absence of 5th hurt accelaration.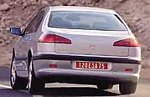 Surprisingly, handling is not the strength of this big Peugeot. Too big, perhaps. It's nearly 100 mm longer than our benchmark BMW 5-series and the V6 model is 50 kg heavier. Therefore handling suffers. Despite of ESP, you can still feel the car is fundamentally more prone to understeer. In other words, it is more reluctant to change direction than, say, 5-series, Omega or Alfa 166. The same understeer works quite well at high speed to deliver a stable and secure cruising. Steering is accurate but over-assisted, hence insufficient of feel. Again, a more detailed assessment is required in the future.

So, the new 607 is not really qualified as the best executive saloon. 5-series, Lexus GS and Volvo S80 are still unmatched. However, it is not a secret that the big Peugeot targets the less demanding customers, in other words, those having smaller budget. Therefore it actually rivals the entry level German prestige, Lexus, Volvo and the so-called second division players headed by Opel Omega. Then, life will be easier for the Peugeot. Especially it also offers 2 cheaper engines - an all-new 2.2-litre 160hp four-pot and a common-rail diesel 2.2HDi with VTG turbo and the world's first particle filter. The latter is even more torquey than the V6. It might be the biggest seller of all.