| | |
| --- | --- |
| Published on 5 Jun 2009 | All rights reserved. |
| | |
| --- | --- |
| | A crossover between hatchback, MPV and SUV, but with so little SUV... |
One thing we learned through the years of watching cars is never to believe official pictures. While these pictures show 3008 appear to be quite well designed, in reality it looks clumsy, like a fat body bolted on an undersized floorpan with too narrow tracks. Its big mesh grille is hardly tasteful, while the square shape of the fenders not only look odd but also amplifies the smallness of those 17-inch wheels. What about the rearview? It's so forgettable that we don't bother to put it here.

Peugeot's new model 3008 is a crossover between hatchback, MPV and SUV, something like Nissan Qashqai. While its competitors also include Volkswagen Tiguan, Ford Kuga and Dodge Caliber, the Peugeot put more emphasis on quality and comfort instead of SUV toughness or offroad ability. The latter can be seen in its lack of all-wheel drive option. Compare with those cars, it is also more environmental friendly, as reflected in its excellent drag coefficient of 0.296 and a range of fuel efficient engines. Therefore I decided not to deny it from the gate of AutoZine.

As implied by its name, 3008 is derived from the 308 platform. Compare with that car, it is considerably taller (at 1639mm vs 1498mm), longer (4365mm vs 4276mm) and slightly wider (1837mm vs 1815mm), although its wheelbase is just 5mm longer. Weight is up by around 130 kg.
| | |
| --- | --- |
| | Never judge a car based on its looks... it drives really nice indeed |
Although it remains a 5-seater, its seating arrangement is more flexible than 308. The 60/40-split rear seats and front passenger seat can fold flat to place luggage. A split tailgate – consists of a large conventional tailgate and a smaller bottom-hinged piece - opens to a large boot which provides a parcel shelf adjustable at 3 levels. As expected, occupants sit high in the car to have a commanding view over the road like SUVs. There are lots of head and shoulder room for all passengers. Although rear legroom is not much better than that of 308, the middle passenger is benefited by a flat floor. The rear seats cannot slide back and forth, so don't assume it a MPV – that task will be left to the forthcoming 5008.

While the cabin does not shine in versatility, it does deliver a very upmarket feel. The dashboard employs expensive plastics and tastefully decorated with chromes and lacquers. A row of 7 toggle switches and HUD (head-up display) has flavours of aircraft cockpit. The driver-oriented architecture and tall center tunnel appear like Audi. This is the best yet cabin for Peugeot, even better than that of 308.

In order to reduce weight, 3008 employs an aluminum bonnet, plastic front wings and ultra-high strength steel in its chassis (consists of 12.5% by weight). Laser welding also reduces the amount of overlapping steel to save weight. The aforementioned low aerodynamic drag compensates its large frontal area. Low rolling resistance tires and fuel efficient engines also help improving its fuel economy. There are 5 engines on offer: 120hp 1.6-liter VVT Valvetronic, 150hp 1.6 THP VVT direct injection turbo (both come from the joint-venture between BMW and PSA), 110hp 1.6HDI and a pair of 2.0HDI with either 150hp or 163hp. Transmission includes 5-speed manual, 6-speed manual and 6-speed Tiptronic like its sibling.
| | |
| --- | --- |
| | This is the best yet cabin for Peugeot, even better than that of 308... |
A car as tall as 3008 could be clumsy to handle. Therefore Peugeot offers it an adaptive suspensions called "Dynamic Roll Control". It links the shock absorbers of the left and right rear wheels hydraulically. A control valve in the hydraulic path normally opens to allow free flowing of oil between the rear wheels. In cornering, the valve closes to stop oil flowing, thus stiffens both shock absorbers and limits body roll.

On the road, the Peugeot reminded us another thing we learned from the past: never judge a car based on its looks. This is because it drives really well. Soft suspensions give it a supple ride while Dynamic Roll Control (standard on 1.6THP model) keeps its body movement tidy in corner. Body roll and understeer are less pronounced than its tallness suggested. The cabin is well insulated from wind and road noise. The 1.6 THP engine is smooth and eager. Although you can't expect strong performance, there is sufficient low-down torque to enable a brisk driving manner. PSA's diesel engines are also among the best in the industry. Both 1.6 THP and 1.6 HDi are frugal, delivering 38.1 and 55.3 mpg respectively.

So styling aside, 3008 is actually quite lovely. Imagine had Peugeot studio come back to form, it could have been easily a big hit.
Verdict:




| | |
| --- | --- |
| Published on 29 Sep 2011 | All rights reserved. |
3008 Hybrid4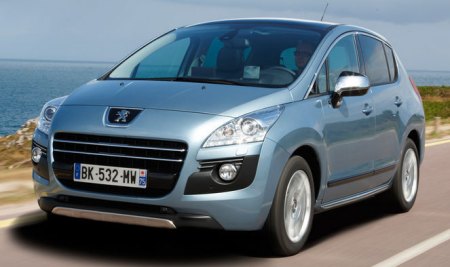 3008 Hybrid4 is the first hybrid production car from PSA, also the world's first diesel-electric hybrid. By mating the already very efficient 2000-bar common-rail injection turbo diesel engine with a small electric motor, Peugeot achieves a carbon footprint of just 99 grams per kilometer, placing it among the greenest cars on the market. The 3008 is a pretty heavy crossover, so its achievement is all the more impressive.

Peugeot's take on hybrid technology is very different from the established parties. Its electric propulsion system is mechanically separated from the internal combustion engine. The former is mounted near the rear axle and drives the rear wheels only, while the conventional engine and gearbox drive the front wheels as usual. There is no mechanical linkage between the two systems. The major advantage is its compatibility with the regular car, as the electric propulsion system can be easily bolted on the rear axle without modifying the original powertrain. It also realizes a part-time 4-wheel drive function that we call "e-4WD".

To make room for the electric motor, 3008 Hybrid 4 replaces the regular car's torsion-beam rear suspension with a new multi-link arrangement which consists of an upper wishbone, two lateral arms and a toe-control link each wheel. It is mounted on a subframe together with the electric motor. The AC electric motor and power electronics are supplied by Bosch, whereas the battery comes from Sanyo.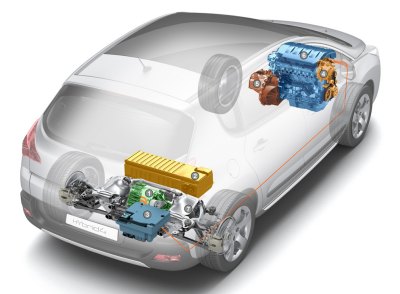 The 2.0HDi engine in this car produces 163 horsepower and 221 lbft of torque, with the latter available from as low as 1580 rpm. It mates with a 6-speed automated manual gearbox. The electric power system, including motor, step-down gears, inverter, power electronics control module and NiMH battery pack, are all located under the rear seat and boot floor, something easy for the high-seating 3008, therefore boot space is hardly altered. The electric motor has a continuous output of 27 hp and 74 lbft, or for short burst a maximum of 37 hp and 147 lbft. Because the electric motor has the same bottom-biased characteristic as the diesel engine, the total output is simply the sum of the two, i.e. 200 hp and 369 lb-ft. This mean, although the 3008 Hybrid4 carries an additional 130 kilograms, it provides better low-speed tractability and acceleration. The company claims 0-60 mph is improved from 9.6 seconds to 8.0 seconds. Top speed, however, is slightly worse, because the electric motor does not operate at high speed in order to preserve battery.

So how does it work on road? At first, the car looks every bit conventional, almost identical to the conventional car, both inside and outside. The main differences lie on the instrument readings and a rotary switch from which you can choose among 4 driving modes:

Auto: computer decides the combination of engine and motor power to optimize fuel economy;
Sport: sportier gearshift pattern optimizes performance;
4WD: whenever the car slides, the motor is engaged to enhance traction;
ZEV: zero emission vehicle mode, i.e. electric propulsion only.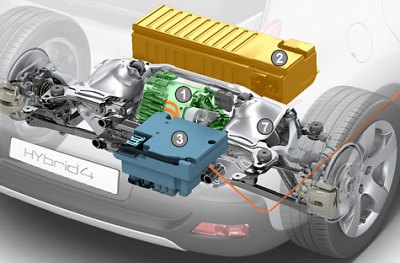 Due to the limited battery size, the ZEV mode is good for only 2.5 miles and a speed up to 31 mph. Although it is slightly better than Toyota Prius (25 mph and 1 mile), the ZEV mode is more a gimmick. Nevertheless, this is not to say the electric propulsion useless. Leave it in Auto mode, the car switches between engine and motor regularly. In town, the AC motor works alone for about a third of the time. At higher speed, the diesel motor takes over and recharges the battery. The transition between engine and motor is smooth, although the restart of diesel engine does produce slightly more noise than the gasoline engines in other hybrid cars. The 6-speed automated manual gearbox used to be criticized for clunky gearshifts in the regular 3008, but in this car it is well smoothened by the torque of electric motor, which is deliberately programmed to fill the gaps. The turbo lag of the diesel engine is also filled by the electric propulsion. Overall, the driving experience is more refined and pleasant than the conventional version.

The extra low-end shove from AC motor offers better performance, too, but it won't turn the 3008 into a hot hatch. This is still a heavy, high and soft-riding crossover hatchback majoring on comfort and refinement. We are glad that the extra weight has not ruined its handling much though, thanks to the low position of that weight. The only obvious drawback is a weaker braking.

The greatest achievement of the Hybrid4 is not how different it is, but how normal it works while delivering ultra-low emission and fuel consumption. It does that without sacrificing space, refinement and performance. This would not have been possible without the combination of diesel and electric power. Now the challenge is to get the cost down as soon as possible. The 3008 Hybrid costs 20 percent more than the diesel 3008 on which it is based, or at least 10 percent more than the priciest Toyota Prius. It might be worth the extra, but to entertain the majority it has to be cheaper.



Supplementary data: 3008 Hybrid4 vs rivals






Power

0-60 mph

CO2 emission

EU combined fuel
consumption

Peugeot 3008 Hybrid 4

200 hp

8.0 sec

99 g/km

74.4 mpg

Toyota Prius

134 hp

9.8 sec

92 g/km

70.6 mpg

Volkswagen Golf 1.6TDi Bluemotion

105 hp

10.6 sec

99 g/km

74.3 mpg

Honda Insight

100 hp

11.7 sec

101 g/km

64.2 mpg

Verdict: