Peugeot 207

Debut: 2006
Maker: Peugeot
Predecessor: 206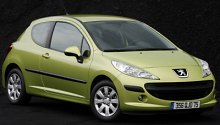 The 20X series has been the most successful models of Peugeot. In the past 2 decades, some 5.3 million 205s and 5.4 million 206s (as of end of 2005) were sold, contributing to the largest slice of the company's sales. 206 was also the best selling supermini (B-segment car) in Europe for many years, and even once the best selling car in Europe. For all these reasons, their latest successor 207 had better to perform well.

Styling-wise, 207 is very successful. The design is a combination of 206 and 307 – the sharp-angle, large area windscreen and the general profile are borrowed from its predecessor, while the headlamps and grilles follow that of the facelifted 307. Looking cult and sporty, it has an inherent advantage over most rivals.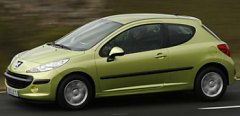 In the mechanical side, it is more middle-of-the-road. These days Peugeot is very conservative in mechanical design. It follows the popular trend of using MacPherson struts and torsion-beam suspensions and an electric power steering, as it is built on the same platform as 1007 and Citroen C2 / C3. In fact, I can't find any technical details worth special note.

Well, perhaps except size. The 207 has grown a lot in size – a massive 200 mm longer, 70 mm wider and 40 mm taller than the 206, while the wheelbase is 100 mm longer !! to shock you, it is actually bigger than the old 306. Is it really a supermini ?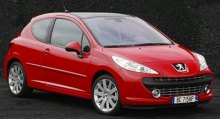 Such doubt can also be found at the scale. The lightest 207 weighs 1150 kg while the heaviest (with diesel engine) stands at 1250 kg. In other words, it gained about 150 kg from its predecessor, in which 40 kg comes from the extra size, 60 kg from extra safety improvements and the rest from upgraded comfort features. Talking about safety, the car must be proud of having a torsional rigidity of 21,820 Nm / degree. Considering an Opel Vectra is 18,000 Nm/degree, this is remarkable for a hatchback. No wonder it achieved 5-star Euro NCAP result.

On the road, the Peugeot "big mini" feels sportier than its key rivals, Renault Clio and Fiat Grande Punto. It corners more flatly, thanks to a harder suspension setting and wider tracks. Its electric power steering betters rival systems by offering decent feedback and weighting, although it is no match with the legendary 205. Peugeot wants to establish a sportier image than Citroen and other mainstream rivals, so it tuned the 207 in favour of keen drivers. On the down side, the car rides harder than Renault and Fiat.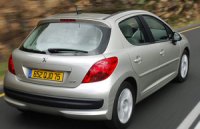 Nevertheless, the 207 misses one important thing to please keen drivers: power. At launch, the 207 offers 3 petrol and 3 diesel engines: 1.4-litre 75hp 8V petrol, 1.4-litre 88hp 16V CVVT petrol, 1.6-litre 110hp 16V petrol, 1.4-litre 70hp turbo diesel, 1.6-litre 90 hp turbo diesel and 1.6-litre 110hp VTG turbo diesel. My preference is the 1.4-litre 16V CVVT, for it is more refined than the bigger petrol while its lightweight aluminum block benefits handling. Unfortunately, it is not powerful enough to push the "big mini", taking 12 long seconds to complete 0-60 mph acceleration. In real world, the two larger diesel engines might be a better bet, but they are pretty expensive.

Another weakness is gearbox. The old 5-speed manual gearbox has a notchy gearshift. However, both the engine and gearbox problems are likely to be solved next year when a new BMW-designed 1.6-litre engine and 6-speed manual gearbox join the range. Because the combo will be shared with the new Mini, I am confident that it will be nothing but excellent.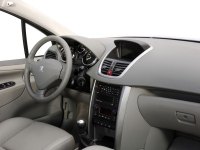 Open the doors and enter the cabin, you will see Peugeot has upgraded the quality standard but it still trails Renault, nor its visual appeal can match the colorful Fiat Grande Punto. The dashboard design is perhaps slightly ordinary. The driving position has been improved, thanks to a fully adjustable steering wheel. Space-wise, 207 once again proves that Peugeot is not good at packaging efficiency. Despite of the jumbo exterior dimensions, the interior space is just average. The fast windscreen leads to a less spacious feel for the front occupants. The rear seats can only take 2 adults because the side windows are heavily curved inside. Moreover, rear legroom is more compromised than Punto and Clio. To compensate, Peugeot offers a lot of big car equipment, such as color screen for sat-nav, a panoramic glass roof, a superb 8-speaker Hi-Fi, cruise control, dual zone climate control, Bluetooth connectivity, tire pressure monitors…

To most mini car buyers, the packaging weakness and hard ride quality make 207 less appealing than its key rivals. To keen drivers, its engine and gearshift takes its edge off. Before the BMW engine and gearbox arrive, 207 can only be described as a fine car, but not a remarkable car. Well, the outgoing 206 was also far from first-class. In fact, its main virtue was a beautiful styling. Once people loved its look, they accepted all other average aspects. The new car also got a pretty look. Will it repeat the success of its predecessor? We shall see.
The above report was last updated on 24 Apr 2006. All Rights Reserved.
207GT Turbo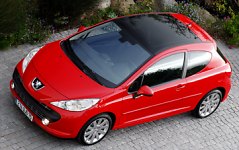 In my last Peugeot 207 report the biggest criticism was the lack of good engines and gearboxes, but I also wrote "both the engine and gearbox problems are likely to be solved next year when a new BMW-designed 1.6-litre engine and 6-speed manual gearbox join the range. Because the combo will be shared with the new Mini, I am confident that it will be nothing but excellent." This is proved to be true today with the launch of 207 GT Turbo !

The 207GT Turbo replaces 206GTi (206RC) as the company's best selling hot hatch. Power comes from BMW's new 1598cc four-cylinder engine with twin-cam 16 valves, continuous VVT at the intake camshaft, direct injection and a twin-scroll turbocharger. A relatively small turbo (boost pressure max 0.8 bar) and the cooling effect of direct fuel injection allows an unusually high compression ratio of 10.5:1, benefiting off-boost power. It produces 150 horsepower at 5800 rpm, 13hp more than the old 206GTi, yet returns better fuel consumption at 40.3 mpg, up from 36.6 mpg despite of the larger and heavier 207 body. All these facts and figures demonstrate the engineering power of BMW. If it were developed by Peugeot itself, can you imagine it would be this advanced ?

On the road, this is a very tractable engine with instantaneous throttle response and almost no detectable turbo lag. It pulls strongly right from idle, thanks to a strong torque curve peak at 177 lbft from just 1400 rpm to 3500 rpm. That comes 30 lbft more and 2000 rpm earlier than class norm ! the willingness means it is easy to get the 207GT Turbo to 131 mph and 0-60 mph in 7.7 seconds without working hard on rev and gearshift. That's a sharp contrast to the naturally aspirated rivals like Renault Clio RS and Honda Civic Type R. With so much torque from bottom end, you can easily forgive the 5-speed gearbox for not delivering the slickest and swiftest gearshifts.

There is some drawback though. The engine is tuned to bias towards low to mid-range output, therefore it is not very willing to rev beyond 5500 rpm, at which point you can hear a booming resonance protesting your abuse. If you want a more eager top end performance, Peugeot will advise you to wait for next year's hotter version, which will be powered by the 175hp version of the engine. For now, I would say the 150hp engine is lovely enough for most circumstances.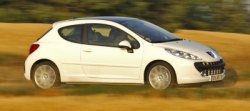 The chassis is also a success. After the disappointing 206GTI 180, we are glad that Peugeot is back on form in the tuning of 207GT Turbo. It gave the car harder front suspension bushings, stiffer torsion beam at the rear suspension and firmer dampers. It corners flat and overcomes bumps with controlled suppleness. Its nose turns eagerly into corners, a reflection of the lightweight engine (aluminum block makes it even lighter than the regular 207's naturally-aspirated 110hp 1.6) and fine suspension geometry. The steering is the best ever electric power steering we have seen. It is not only responsive and accurate, but most important it loads up beautifully in corners to tell the driver how close it comes to the limit. This kind of feedback has been lost in most other hot hatches. Another waning talent you can find in 207GT Turbo is throttle steer. If you back off throttle mid-corner, it will induce a touch oversteer. It brings back the memory of 205GTi, but the way it oversteer is progressive and gentle, and is backed up by ESP as the ultimate safety net. Peugeot has hit the right balance between driving fun and safety.

As an everyday car, 207GT Turbo is better than Renault Clio RS because of its more accessible performance. It is also cheaper to buy (£14,400 vs £16,000) and cheaper to run. However, the Clio is ultimately faster, sportier and cooler to look. Whether it can stand the next attack from Peugeot's 175hp model remains to be seen.
The above report was last updated on 27 Sep 2006. All Rights Reserved.
207RC (GTi)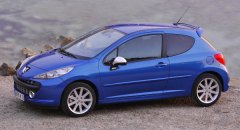 The 150hp 207GT Turbo is one of our favourite hot hatches despite of its lukewarm performance. Now, with 25 more horsepower and sportier suspensions, can the range-topping 207RC (or 207GTi for UK market) put Peugeot back to the top of the hot hatch world?

Before answering this question, let's look at the car first. 207RC is surprisingly close to 207GT Turbo. Externally, the only noticeable change is the tailgate spoiler. There are no bigger wheels or wider tires. No fancy air dam, skirts or ventilation holes. For a range topper it is surprisingly understated. Inside, the grey dashboard is quite boring. Nothing can make you wow. There are a pair of heavily bolstered bucket seats, but they are trimmed in grey Alcantara to continue the boring story. In comparison, the cabin of Opel Corsa OPC looks far more attractive. Nevertheless, function-wise this cabin works very well: the driving position is excellent; the bucket seats are very supportive; the equipment list is generous. Modern day hot hatches won't punish their drivers anymore.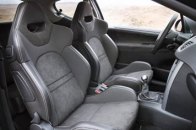 Open the bonnet, the engine is again indistinguishable from the 207GT Turbo. In fact, this is the same BMW-developed 1.6-liter 16V direct injection turbo engine as its smaller brother. The only difference is higher boost pressure (now 0.8 bar or 1.0 bar on overboost) and a turbine housing made of steel, which is more heat resisting than cast iron. What a cheap way to deliberate another 25 horsepower ! The engine produces 175 hp at 6000 rpm, but the most impressive is again its torque delivery - 177 lbft from 1600 to 4500 rpm. The direct injection, which enables 10.5:1 compression, twin-scroll turbocharger and continuous intake variable valve timing contribute to this impressive torque spread. They also eliminate any turbo lag. From as low as 1000 rpm, the engine comes alive and keeps pulling right until the 6500 rpm cut-out without any discernible tail-out. Impressive.

Unusually, the overboost facility has no time limit, an evidence that the engine has great potential for tuning. As long as the gearbox is in one of the top three gears, overboost can increase maximum torque to 192 lbft. However, even without using the overboost function, 207RC is capable to accelerate from rest to 60 mph in 6.8 seconds, matching the more powerful Clio RS and Corsa OPC. Praise must go to the flexible engine and sensible gearing.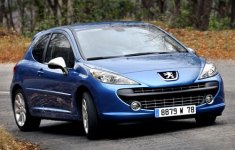 Talking about gearing, we are surprised that Peugeot equipped the 207RC with the same 5-speed gearbox as 207GT Turbo rather than a more fashionable 6-speeder. Admittedly, for a hot hatch whose top speed is only 137 mph and has an engine so flexible, a 6-speeder is not only useless but it actually requires more shifts thus leads to more interruption. That is bad for both acceleration and driving pleasure. Peugeot sensibly avoided the temptation of 6-speed gearbox and goes the traditional route. The RC's 5-speed manual has a longer first gear for attacking hairpins and shorter ratios for the remaining gears. These ratios were found very suitable to twisty back roads, giving the 207RC a lively real world performance. What a pity the gearshift quality is too rubbery, too imprecise for busy work.

Compare with 207GT Turbo, the suspension beef up includes a 30 percent stiffer torsion beam at the rear axle, stiffer springs and harder bushings at the front MacPherson struts. The conversion successfully tightens its body control while still leaves pretty good ride comfort. 207RC is a safe-handling machine. If you lift off the throttle in a bend, it will tighten its nose a little bit but the tail will not step out like the legendary 205GTi. Such well-tamed manner and the abundance of grip make it easy to drive fluently in the twisties, especially when the engine and gearing are so cooperative. The electric power steering is also the best of its kind, offering good weighting and consistent feedback from the front rubbers.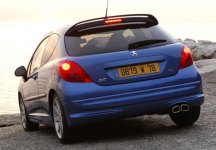 Critics like to compare it with the great 205GTi. Perhaps it's time to wake up from dreams. Modern hot hatches can no longer follow the footprints of 205GTi to use unassisted steering or hydraulic power steering as they are costly and energy inefficient. Nor can they tip the scale at under 1000 kg. All the safety structure and comfort features put an extra 250 kg to the 207RC, robbing it sharp feedback and instantaneously response. And then our modern drivers ask for easier and safer handling… Look at Clio RS, Corsa OPC or Mini Cooper S, everybody else are heading to the modern way. It's not fair to criticize 207RC just because it is the grandson of 205GTi.

If you can forget the history of hot Peugeots, you will be able to appreciate 207RC. It is fast and fun to drive in back roads. It is very user friendly. It is cheaper to buy than the aforementioned rivals and is also very cheap to run, with an excellent combined consumption of 39.2 mpg. Of course, it is not perfect. More power and a more striking look would have made it even better. Given the existence of 207GT Turbo, Peugeot could have done more.
The above report was last updated on 23 Apr 2007. All Rights Reserved.
207CC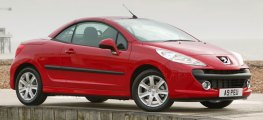 6 years ago, Peugeot and its supplier Heuliez stunned the world by offering a retractable metal roof in 206CC. No one else could believe a car so small and so affordable could employ such a classy technology. The car dominated a segment it created in the following years. Some 366,000 cars were sold and, at its peak, around 100,000 units were built annually ! the great success changed the landscape of the cabriolet market in Europe and even propagated to Japan (see Daihatsu Copen) and America (Pontiac G6 Convertible). Today, coupe-cabriolet – a term invented by Peugeot – has replaced conventional soft-top cabriolet as the market trend. Countless of competitors joined the battlefield, such as VW Eos, Volvo C70, Ford Focus CC, Nissan Micra C+C, Mitsubishi Colt CZC, Opel Tigra and Astra TwinTop, Renault Megane CC, BMW 3-Series Cabriolet and Peugeot's own 307CC.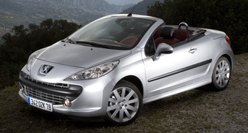 Following the retirement of 206 range (at least in wealthier markets), the place of 206CC has been succeeded by 207CC. The new car is no longer revolutionary, but it has sorted out the problems of the old car and refined the roof. The roof is now made in-house at Peugeot's plant in Spain together with the assembly line of 207CC, although the electro-hydraulic actuating mechanism is still supplied by Heuliez. Lessons learned from the old car helped improving the sealing and reliability of the system. It also eliminated the need for manually latching between the windscreen header and the roof. This mean, the only action you need is to press the button, then the roof will open and store into the boot automatically in 25 seconds.

You might notice that the roof is still a simple and cheap two-piece design. This result in a header rail located fairly close to your head, and the boot looks quite long compare with the passenger compartment. Never mind, at this price you can't ask for a multiple-piece roof like Volvo C70 or Volkswagen Eos, as these cars cost significantly more and occupy a higher segment. The beauty of 207CC is that it offers coupe-cabriolet experience to the majority rather than asking you to pay more.

Despite of the low asking price, the 207CC offers very good refinement and safety. Its chassis is a lot stronger than its predecessor, achieving a torsional rigidity of 17,500 Nm / degree when the roof is up or 11,600 Nm / degree when the roof is down. That compares favourably with most coupe-cabriolets and you can feel it on the road. With the roof up, there is no scuttle shake and little noise can enter the cabin. Safety features include front and side air bags, ESP stability control and a pair of rollover protection bars popped up from behind the cabin in 175ms.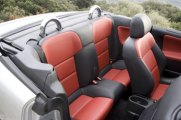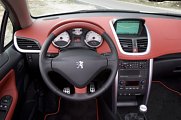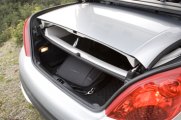 The cockpit of 207CC can be stylish if you specify leather trim which covers the whole dash top, door panels, seats and part of the steering wheel. Driving position is perfect compare with 206CC. Predictably, the cabin is only suitable to 2 adults plus 2 handicapped at the back, because of the limited legroom and the small roof eating seriously into headroom. The 2-piece metal roof also engages a lot of luggage space when it is folded, reducing boot volume from 370 liters to 145 liters. The latter is also very difficult to access due to the narrow opening underneath the folded roof. Perhaps this is why the CC is offered with the small rear seats – they are often used as luggage space.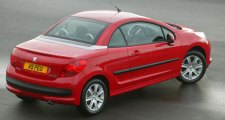 Never mind. Most buyers of the CC are believed to be single women. They care more about a pretty look – the 207CC does look stylish – and ride refinement – it does ride well. However, it is not an engaging drive. The CC conversion added an astonishing 210 kg to the car (while 206CC added only 120 kg to its equivalent hatchback version). This blunts its performance and takes the sharp edge off its handling. In isolation, the engines are good. BMW supplies both gasoline engines from its new Mini – the 150hp light-pressure turbocharged 1.6-litre with VVT and direct injection, and the naturally-aspirated 120hp 1.6-litre with VVT and Valvetronic. Both are smooth and willing, but even the turbo engine's wide spread of torque (177 lbft from 1400 rpm to 3500 rpm) cannot put a thrilling laugh on the face of its driver, as it takes 8.3 seconds to accelerate from 0-60 mph. On the other hand, PSA's own 110hp 1.6HDi engine is best reserved to those who prefer driving leisurely.

Frankly, few coupe cabriolets can escape from similar conclusions. Even as brilliant as BMW 3-Series Cabriolet, they cannot overcome the weight penalty due to the hefty roof mechanism and chassis reinforcement. However, the most important to Peugeot is: 207CC combines the benefit of coupe-cabriolet in a package with good look, high chassis integrity, refinement and safety, and still offered at a very affordable price. It may not match the success of 206CC, but it will doubtedly be a big seller.
The above report was last updated on 12 Feb 2007. All Rights Reserved.