Pagani Zonda C12

Debut: 1999
Maker: Pagani
Predecessor: no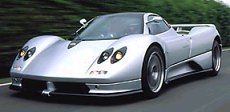 We haven't talk about supercars for a long time. I believe since Mercedes CLK-GTR I have never written about any new supercars. While Diablo 6.0 isn't exactly new, Saleen, Ultima, Ascari etc. are barely trying to "exist", without giving us confidence that they will live healthily for a few years and their makers will continue to survive. Day 1, they appear in press' headline; day 2, they die in bankruptcy; On day 365, car-loving teenagers still debate which one is the fastest without knowing they were already dead. I won't waste time to discuss about such supercars.

To me, Pagani is different. If any new-born supercar specialist is to succeed, it must be the Italian Pagani. You can see from the C12 and C12 S, which are well-finished enough to beat Ferrari in terms of build quality. They do not have the rough edges commonly found in other short-lived supercars. Now Pagani has delivered 4 C12 and 13 C12 S, at a supercar price yet there are at least another 25 firm orders to be fulfilled.



What made Pagani succeed ? firstly, financial stability. Before expanding into supercar business, Pagani is already a successful composite parts manufacturer, which supplies many other supercars and race cars. Secondly, engineering talents and quality control know-how. The composite factory provides engineering and manufacturing support, supplying carbon-fiber chassis and panels to the Zondas supercars. Thirdly, good location. The car factory is in Modena, the global capital of supercars. Nowhere could be more convenient for sourcing high-quality sports car components. Fourthly, relationship. Pagani secured supply of powerful V12 engines from Mercedes AMG, without needing to develop its own (too costly) or compromising with American V8s (too rough). Other rivals can only dream of that. Lastly but not least, determination. Boss Horacio Pagani not only has deep passion about supercars but also a serious manner to polish his cars until perfect.

Both Zonda C12 or C12 S have stunning good look which are penned by Horacio Pagani himself. For your information, Mr. Pagani is the one who styled the 25 Aniversary edition of Lamborghini Countach. Yes, this is a real supercar shape - futuristic, imaginative and aggressive. The wedge front end and bubble glass cockpit are not unlike endurance racing cars. The split rear spoilers in C12 S (in contrast to the C12's conventional one-piece wing) are unique and beautiful. The jet-engine-like exhaust pipes are even the car's trademark. It set every viewer on fire. Facing the Zondas, Lamborghini Diablo and all Ferraris seemed barely warm. Simultaneously, you'll find Pagani's cars are artistically styled and carefully crafted like the pre-war Bugatti. You can feel the heart and soul put inside the car. Pagani's customers must be laughing at those buying the cheap-looking and raw-feeling Mercedes CLK-GTR at 1.1 million pounds. They paid a quarter of that to get a real high-quality supercar.

The cockpit is concept-car-like, covering with colourful leather, aluminium and carbon fiber, the latter is the most obvious evidence of carbon-fiber chassis. It might not employ as many carbon-fiber as McLaren F1, especially for load bearing, but the whole cockpit is a carbon fiber survival cell, not just chassis tub. Load bearing is more conventional - tubular steel frames mount the suspensions and powertrain. This is less rigid than McLaren or F50 but reduce the vibration transmitting to cockpit a lot. Unsurprisingly, suspensions are all double-wishbones for optimum control. Aluminium control arms hold 18-inch wheels wearing wide rubbers. As a whole, the car tips the scale at just 1250 kg (dry weight), at least 200 kg lighter than the stripped-out Diablo GT, thus benefit acceleration, handling and braking a lot.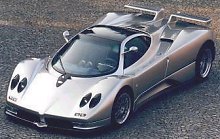 << C12 S

What separate C12 and C12 S ? apart from the slightly different nose and rear wing, they look nearly identical. Open the engine lid will see the real difference: the warmer C12 is powered by a standard Mercedes V12. It is not today's 5.8-litre unit, but the older and more powerful dohc 4-valve unit displacing 6.0 litres. Without any modifications, it outputs a healthy 394 hp, enabling the Zonda a 911 Turbo-matching performance.

C12 S is hotter and newer, powered by an AMG-enhanced 7.0-litre version of the dohc V12, pumping out a strong 550 horsepower and 553 lbft of torque. The engine is similar to the ones using in SL73 AMG and CLK-GTR, being tuned to somewhere between them. Compare with McLaren F1's V12, the AMG mega engine is less revvy - it delivers maximum power at just 5,550 rpm - and less responsive to throttle action. However, the extra cubic inches give it tremendous torque, pulling the car strongly from 1,000 rpm at top gear. Engine noise is always loud, if not very characterful. It becomes increasingly deep and intensive as rev rise, especially since 4,500 rpm. Flat out, the C12 S can reach 60 mph in 3.5 sec and top 210 mph, beating all supercars on sale today (admittedly, not many left today) and even the mighty XJ220, EB110, F40 and F50. Only the F1 is comfortably ahead of the Zonda, while the heavier CLK-GTR is also likely to be beaten. It feels really that quick, thanks to low inertia and strong torque, acceleration is always astonishing.

Like the best sorted supercars, Zonda's shape is the outcome of wind tunnel testing. Deep chin spoiler, rear wing and rear diffuser contribute to 500 kg of downforce at 185 mph, and it is distributed to match weight distribution too. Therefore high speed stability is a strong card to Zonda.


How does it handle? early impression is remarkable. Most controls are well tuned: steering feels sharp and communicative, with least power assistance to meet basic demand; AP twin-plate clutch has a heavy pedal but so do all traditional Italian supercars; self-made 6-speed manual transmission shifts precisely; long throttle travel allows more precise control of torque, so no afraid of spinning the rear wheels accidentally. Pushing to the extreme remains a question because I have yet to see a test report did so. However, judging from the suspension and tyres, and the precision of controls displayed at low speed, there is no reason to doubt its all-out handling.

Is there any flaws? yes, I can criticise it as lack of innovation. Basically, its chassis is not the most advanced; the AMG V12 is conservative (no VVT and drive-by-wire throttles, remember); the cockpit is race-car narrow... apart from styling, the Zonda stuns us far less than F1, EB110, 959 and F40 ever did.


The above report was last updated on 10 June 2001. All Rights Reserved.
C12S 7.3


Pagani has upgraded its V12 from 7.0 to 7.3 litres. This seems an easy job, as AMG used to build a 7.3 unit for the old-shape SL73 some years ago. Compare with the outgoing 7.0, the larger engine produces just 5 more horsepower - now at 555hp. Surprisingly, peak torque remains unchanged at 553lbft. Even more surprisingly, the larger engine is actually more revvy than before, now redline extends by 1,000rpm to 7,000rpm. Peak power also comes higher up the rev, at 5900rpm instead of 5550rpm. Does that mean performance more difficult to access? no, because maximum torque still arrives at 4050rpm. The extended revability just indicate power delivery is more elastic, easier to access.

Anyway, Pagani didn't revise the performance claim of 220mph top speed and 0-60mph of 3.7 seconds. The latter has been proved by Autocar's test. The magazine also recorded 0-100mph in 7.4 seconds. This places Zonda in the middle rank among the all-time greats - faster than F40, F50, EB110 and XJ220, but slower than McLaren F1, 911GT1 and probably Mercedes CLK GTR.

However, Autocar was impressed by the usability of the Zonda, describing it as a far better road car than McLaren F1. Its suspensions have an unusually long travel and are tuned to deliver suppleness, thus providing the best ride quality among supercars. So remarkable that it can be even used as a long distance GT. Wide body and grippy tyres provide great chassis balance. Even in wet condition, the standard traction control (a new item comes with the AMG 7.3 V12) ensures the tremendous torque does not result in dramatic wheelspin.

Zonda might not corner as agile as Bugatti EB110, because it is wide and lack of 4-wheel-drive traction. But compare with other supercars it is easy to control and live with. Great all-round visibility, manageable controls weighting and the aforementioned well-mannered handling make it the best supercar today.

Tomorrow? just watch out Ferrari Enzo!


The above report was last updated on 3 Aug 2002. All Rights Reserved.
Zonda F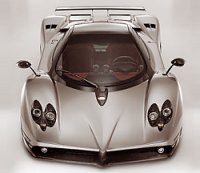 In the past few years Pagani Zonda C12S has been AutoZine's favourite supercar, thanks to its communicative chassis, amazingly supple ride, exotic look, elegant cabin and unrivalled build quality. However, one thing it trails behind its rivals is: power. Although the Mercedes AMG V12 displaces 7.3 litres, it produces "only" 555 horsepower. This is some way off the 100 hp / litre standard set by other supercars. Now an updated version Zonda F is going to correct this problem.

Although the long-serving AMG V12 still goes without variable valve timing, it has received enhanced intake manifolds and exhaust and revised ECU. Now max power is increased to 602 horsepower at 6150 rpm (up from 5900 rpm), while max torque is lifted slightly to 560 lbft at 4000 rpm. The hydroformed intake and exhaust manifolds also make the engine lighter than before.

The chassis has also received some upgrade. First of all, the wheels are enlarged by 1 and 2 inch front and rear respectively to enable the installation of ceramic brakes measuring 380 mm diameter. Yes, they came from Brembo and are the same as those used by Ferrari Enzo. Secondly, the suspensions are lowered by 10 mm, accompany with stiffer setup, to enhance handling precision. The suspension arms are now made of aluminum and magnesium alloy to reduce weight. Thirdly, the tires are upgraded to grippy Michelin Pilot Sport 2, the same one as Porsche Carrera GT. This allow to use narrower rear tires yet deliver superior grip. Besides, the new tires have lower profile than the original.

At 1230 kg in dry, the Zonda F weighs 20 kg less than the previous car (although manufacturer's figure is 50 kg). In the aerodynamic aspect, a new single piece rear spoiler replaces the 2-piece design for lower drag. New diffuser also reduces drag. Thanks to this superior aerodynamics, the Zonda F can reach 214 mph (345 km/h), beating the slightly more powerful Porsche Carrera GT (205 mph) and Mercedes SLR McLaren (207 mph). Moreover, 0-62 mph (0-100 km/h) can be done in just 3.6 seconds.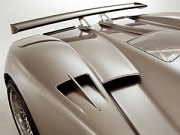 If not enough, Pagani also offer a Club Sport version, which has titanium exhaust to boost 650 horsepower, 575 lbft of torque and additional aero kits for even more downforce. Of course, the Club Sport is more biased towards racing tracks, thus it is not as drivable on the road as the regular Zonda F.

On the road, Autocar magazine's tester found the Zonda F really noticeably more powerful (though the test car had 630 hp). Evo magazine also had similar finding, and it found the Zonda F more accelerative than Carrera GT which was together in the comparison test. The modified V12 is smoother and more free-revving, while gearshift is also quicker and lighter.

Autocar said the clutch is heavy, but both magazines agreed the Zonda F's smooth and supple ride is unrivaled by any other supercars in the world, which is amazing considering the stiffer suspension setup. This make the car very drivable on public roads.

On the track, the previous C12S used to have some problems: braking power fade early, tires get worn quickly and lose grip. Now the ceramic brakes and Michelin tires have changed the scene completely. The Zonda F not only corners and stops brilliantly, its chassis is also more agile, precise and controlled. Its steering delivers even more informative feel than before.

By all means, the modification from C12S to Zonda F is very successful. It retains the goodies of the old car and injected new level of speed and driving excitement. It is once again our favourite supercar.


The above report was last updated on 9 Aug 2005. All Rights Reserved.
Zonda Cinque


After more than 10 years, Pagani Zonda is finally coming to the last days of its life. The next generation car, C9, is being finalized and is expected to arrive in a year's time. However, that does not dry up the demand for Zonda. On the contrary, Pagani received many requests to create special editions of the car, usually came from the richest people in the world. One of the requests came from its Hong Kong dealer, and it eventually resulted in this car, Zonda Cinque.

Cinque is the Italian word for "five". It is so named because only 5 units were to be built. Expectedly, such an exclusivity is associated with an extremely high price, i.e. 1.3 million euro before tax ! However, even at that price the car was found to be popular among billionaires, so after 5 coupes were built Pagani decided to produce another 5 Zonda Cinque Roadsters. In other words, there are actually 10 Zonda Cinques in the world.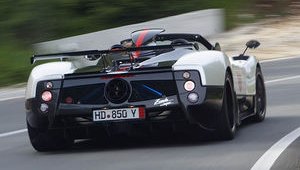 The Cinque is the last evolution of the road-going Zonda. Compared to the previous Zonda F, it is even more powerful and simultaneously even lighter, so it brings performance to the highest ever level. The basics remain the same, but many parts have been polished. For example, the 7.3-liter AMG V12 is enhanced to produce 678 horsepower (up 76hp) and 575 lb-ft of torque (up 15 lb-ft). To save weight, Pagani developed a new kind of carbon-fiber materials called "carbon-titanium", which has titanium threads woven into carbon-fiber to achieve even higher stiffness-to-weight ratio than ordinary carbon-fiber. Consequently, the Cinque has its already light dry weight reduced by a further 20 kg. At 1210 kg (no matter coupe or roadster), it is the lightest among current generation supercars.

Another important change is the adoption of semi-automatic gearbox. The same Cima 6-speed transaxle is added with a robotized gearshift mechanism developed by Automac, which includes shift paddles behind the steering wheel and 3 driving modes for selection. Unfortunately, its gearshift is nowhere as fast and as smooth as those of Ferrari 599GTO and 430 Scuderia. Power interruption is obvious during each gearshift, and this robs it some driving satisfaction.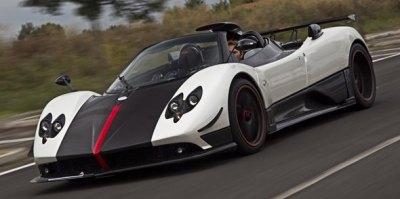 Otherwise, the Cinque is near perfect. The mega V12 is as tractable low down as before. Once you prod the throttle, it unleashes insane power – the same horsepower as Lamborghini LP670-4 SV but at nearly 2000 rpm lower down the rev ! and don't forget it carries 350 kg less than the Lambo ! You can imagine how hard its straight line acceleration is. Pagani's usually credible figures say it goes from 0-200 km/h (124 mph) in 9.6 seconds. That's the same time taken by McLaren F1. Bugatti Veyron and Koenigsegg CCX are faster still, but I would say neither deliver the same exciting experience as the Pagani. Why? because the 4-wheel-drive Bugatti is rather undramatic to do so, while the Koenigsegg is too laggy and inflexible at low rev to be enjoyed. For pure driving thrill, nothing compares with the classic combination of a big naturally aspirated V12 and rear-wheel drive.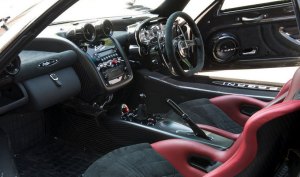 The handling and ride is also nothing short of amazing. No matter the massive aero kits, roof-mounted engine intake, lower ride height and stiffer suspensions, the Cinque lies between the track-only Zonda R and the road-going Zonda F. It generates an incredible 750 kg of downforce at 300 km/h (186 mph), ensuring the car to stick on the ground at high speed. With harder suspensions and extra weight comes from the downforce, the steering becomes even more responsive and intimate. With 380mm ceramic discs at each corner and so little weight to cope with, its braking performance is phenomenal. With lower and harder suspensions, the car reacts to driver input more sharply and responsively. However, such a race-car experience does not come at the expense of ride quality. Quite incredibly, the Cinque overcomes bumpy surfaces cleanly, thus it is still a very usable supercar. How is this achieved ? The answer lies on the titanium springs and magnesium dampers developed by Swedish suspension expert Ohlins, and also the magnesium-aluminum wheels. They cut unsprung weight considerably, offsetting the effect of stiffer suspension setting.

With more racing flavours and less coherence, the Cinque is not as beautiful as Zonda F in my eyes. Its price is also unreasonably high compare with the previous Zondas. However, the fact that it can command so much money exactly reflects how precious it is – you can't get the same driving experience in other cars. It combines tasteful design, excellent build quality, insane performance, race car precision and road car usability in one package. Moreover, the driving experience is not polluted by 4-wheel drive and turbocharging. The last time we saw such a car was McLaren F1.


The above report was last updated on 14 Oct 2010. All Rights Reserved.
Specifications
General remarks
Layout
Chassis


Body
Length / width / height
Wheelbase
Engine
Capacity
Valve gears
Induction
Other engine features
Max power
Max torque
Transmission
Suspension layout

Suspension features
Tires


Kerb weight
Top speed
0-60 mph (sec)
0-100 mph (sec)

Zonda C12

Mid-engined, RWD

Carbon-fiber monocoque, tubular steel subframes
Carbon-fiber
4345 / 1933 / 1151 mm
2730 mm
V12, 60-degree by Mercedes

5987 cc
DOHC 48 valves
-
-
394 hp

420 lbft

6-speed manual
All double-wishbone

-
F: 255/40ZR18
R: 345/35ZR18
1250 kg dry

183 mph (est)

4.2 (est)

-

Zonda C12S 7.3

Mid-engined, RWD

Carbon-fiber monocoque, tubular steel subframes
Carbon-fiber
4395 / 2055 / 1151 mm
2730 mm
V12, 60-degree by AMG

7291 cc
DOHC 48 valves
-
-
555 hp / 5900 rpm

553 lbft / 4050 rpm

6-speed manual
All double-wishbone

-
F: 255/40ZR18
R: 345/35ZR18
1250 kg dry

208 mph**

3.7*

7.4*

Zonda F

Mid-engined, RWD

Carbon-fiber monocoque, tubular steel subframes
Carbon-fiber
4435 / 2055 / 1141 mm
2730 mm
V12, 60-degree by AMG

7291 cc
DOHC 48 valves
-
-
602 hp / 6150 rpm

560 lbft / 4000 rpm

6-speed manual
All double-wishbone

-
F: 255/35ZR20
R: 335/30ZR20
1230 kg dry

214 mph (c)

3.5 (c)

-










General remarks
Layout
Chassis


Body
Length / width / height
Wheelbase
Engine
Capacity
Valve gears
Induction
Other engine features
Max power
Max torque
Transmission
Suspension layout

Suspension features
Tires


Kerb weight
Top speed
0-60 mph (sec)
0-100 mph (sec)

Zonda Cinque

Mid-engined, RWD

Carbon-fiber monocoque, tubular steel subframes
Carbon-fiber
-
2730 mm
V12, 60-degree by AMG

7291 cc
DOHC 48 valves
-
-
678 hp / 6200 rpm

575 lbft / 4000 rpm

6-speed automated manual

All double-wishbone

-
F: 255/35ZR19
R: 335/30ZR20
1210 kg dry

217 mph+ (c)

3.3 (c)

-
Performance tested by: *Autocar, **Sport Auto

Copyright© 1997-2010 by Mark Wan @
AutoZine