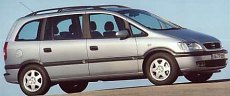 Success of Renault Scenic started a Mini MPV era in Europe. Every giant car makers create their own mini MPV base on their conventional hatchbacks. From Brava's parts bin, Fiat created the 6-seater Multipla. Similarly, Nissan transformed the Almera into Tino with 5+1 seating plan. Both of them and Scenic have 2 rows of seats. In where the sun rises, Toyota made a 3-row, 6 passengers mini MPV called Spacio out of the mainstream Corolla. However, many people think it is just a gimmick as the space in the 2nd and 3rd row compromises too much.

Opel Zafira follows the approach of Spacio. It has 3 rows capable of seating 7 passengers. However, the body shell gets an extra 93mm wheelbase and 220 mm height from Astra, which provides the floorpan, engines and various components. Compare with Scenic, Zafira is 186mm longer, 50mm higher and have 119mm longer wheelbase ! Compare with the ultra-wide and ultra-short Multipla, it is even 326mm longer. Though wheelbase just surpass the Fiat by 33mm, while height and width are shorter by 20mm and 161mm respectively. All these numbers point out the roominess of the Opel mini MPV.

To be honest, you won't expect the 119mm extra wheelbase over Scenic could fit a limousine-like third row. There should be a bit compromise between the third row and the second row, the latter could be slided forward and backward for at most 200mm. However, it is not too cramped for average size adults. The same when the 2nd row sits a couple of 6ft 4 giants while the back row have children on board. In Toyota Spacio, both the 2nd and 3rd rows are limited to children.

Compare with other competitors, there is an abundance of storage space, exposed or enclosed. The same is cup holder. The biggest advantage of Zafira is the last two rows of seats can be folded flatly to the floor when huge cargo room is needed. In this case, most other rivals need you to take the seats away, which is a headache for those without their own garage. Without taking the seats away, the Zafira is already capable to provide a 1700 litres volume loading space, nearly matching Scenic's seats-away 1800 litres.

Least satisfying is the packaging. The conventional exterior styling is still OK, but the cabin lacks any taste and visual build quality very much. As you've already known, the Astra scores lowest points in this aspect. Zafira, which shares Astra's dashboard and center console, looks no better. Assessing against Multipla like comparing hell with paradise. This could be a fatal fault. Its development team could hardly afford.

Inevitably, engines and running gear, plus suspensions come from Astra. The Ecotec 1.6 litres (100hp), 1.8 litres (113hp), 2.2 litres (147hp) and direct injection diesel (82hp) ensure smooth and competent operation as already proved. Apart from the standard 5-speed manual, a 4-speed automatic is optional.