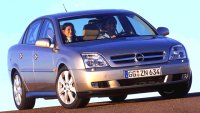 The automotive world changes rapidly. When I wrote about the outgoing second-generation Vectra in 1998, it was still the European top seller in its class, beating the contemporary Ford Mondeo and Peugeot 406. During the last 4 years, the car slipped gradually behind Volkswagen Passat and new Mondeo. If not because of fleet and company car sales, it could be worse. Why did it fall so dramatically ? most believe due to its lack of image. If I mention Passat, you will think of quality; If we talk about Mondeo, you will think of handling; Renault Laguna may be linked to ride quality; Nissan Primera will remind you how a spaceship look like; Holden Commodore is all about space; Chrysler Sebring is, well, famous of cheapness. At least it has an advantage. So what about Vectra ? it had no character at all. It scored 70 or 80 marks in every department but it did not shine in any area either.

Despite that, Opel did not learn a lesson. What you see now might be a hugely improved Vectra, better than the old one in every way, but again it has no character. This is a common problem for many GM products. Some analysts criticized the giant company cares too much about surveys and without its own vision. Had product chief Bob Lutz arrived earlier, what we would have seen might be a completely different Vectra, but now we have to accept the reality: new Vectra is again a soulless machine.

We said the new car has huge improvements over the old one. This start from a new chassis. The new Vectra is the first product built out of GM's Epsilon global platform which will be shared with new Saab 9-3 and others. Being 100mm longer, 90mm wider, 35mm taller and boosting 60mm longer wheelbase, the new car can enlarge its cramped cabin considerably. At the same time, chassis (torsional) rigidity has been up by 74% to 18,000 Nm / degree. This is achieved by using large amount of high-strength steel in the structure. The Vectra has as much as 52% of its monocoque body made of high-strength steel, compare with 37% of the new Mercedes E-class. On the other hand, to compensate the weight gain, it also employs quite a lot of aluminum (around 100kg, mostly in suspensions and a few panels) as well as magnesium.
Both front and rear suspensions are now mounted on subframe for NVH isolation, though this is just a predictable development that everybody else is doing. The front MacPherson struts are adapted from Astra, but now have cast aluminum control arms to improve ride quality. The rear is a new multi-link setup consisting of 3 lateral and 1 vertical link. New generation stability control called ESP+ can brake up to 3 wheels instead of 1, bringing quicker response. Lastly but not least, it is known that Rüsselsheim again seek help from Lotus for tuning the car's handling.
Exterior design is another area of improvement. Its high shoulder line and bold profile are obviously learned from Audi A4, while the swoopy roof of the hatchback model has some resemblance to A6. However, the dull corporate grille and big headlamps do not deliver much elegant feel. The most beautiful part is the tail, where the sharp taillights match perfectly with the boot lid. Model name and company logo are stamped on a chromed, horizontal strip at the lower edge of the boot lid, which is a nice detail.
The cabin is also a big improvement in terms of space and quality. Anyway, this is not a difficult task considering how poor the old Vectra was. Basically, the new cabin is not big by class standard, although it can swallow 5 six-footers. 2700mm wheelbase means that it can hardly challenge the huge rear legroom of Mondeo and Passat, while high seating position does not favour headroom. In addition to the less-airy environment, the Vectra feels much smaller than its main rivals.
Quite surprisingly, the cabin employs plastic materials of rather good quality and assembly is faultless. Switches and buttons have damping to pass the touch feel test. Design, however, is as dull as ever. Look ! the whole dashboard, console, door panels and even air ventilations are dark and rectangular, having no sense of beauty at all. Really can't believe that its designer came from Audi. The control panel at center console was carried over straight from Omega, so it is a little bulky to the smaller car. However, the ugliest element is the tiny LCD screen mounted high between a pair of air vents. Isn't it too small ?
Despite of the compact size and the aforementioned weight-saving materials, the Vectra is a complete failure in terms of weight control. Installed with an all-alloy 2.2-litre four and it weighs 1455kg. A Mondeo 2.0 weighs almost 100kg less, thus goes quicker (0-60 needs 9 sec versus 10 sec) and drinks less fuel (35.3mpg versus 32.8mpg). It is a shame, because the 2.2 engine has always been a smooth and willing performer in other models. It just fail to overcome the weight problem.
As a result, forget about the company-car-friendly 1.8 (120hp) and a pair of outdated turbo diesel (still no common-rail). For better performance you have to wait for a new light-turbo 2.0 derived from the all-alloy 2.2 or the performance flagship GTS, which is powered by Omega's 3.2-litre V6 good for 211 horsepower. We shall wait for a test report to see whether the extra burden at nose will deteriorate handling, but it could be a potential rival to Mondeo ST220. Expect 0-60 in 7.5 and a top speed of 154mph.
How does the new Vectra drive ? it has some traditional goods and bads of German saloons. Suspension setup is firmer than Laguna, though not as firm as Mondeo. This give it a good high-speed stability and motorway refinement. The latter is enhanced by the vibration-free steering, strong chassis and muted cabin. Vectra enjoys motorway cruising, but once it enter twisty roads it fails to deliver as much fun and eagerness as Mondeo. While the driver is busy dealing with the slightly notchy gearshift, he will find the electro-hydraulic steering - though precise and well-weighted - lacks communication. Not only lacks the sharpness of Mondeo, even loses to the Laguna.
Again, this is a characterless Vectra. Overall speaking, it has similar abilities to Laguna, C5 and Passat, if eclipsed by Mondeo in all area. However, because of the lack of character I would rate it below its rivals.