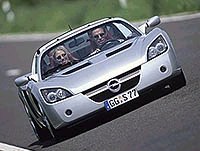 Opel Speedster (or Vauxhall VX220 in other words) is built and developed entirely by Lotus based on Elise. Production takes place in the same production line as Elise in Hethel which has been enlarged to output a maximum 10,000 cars - around 3000 will be the new Elise, 3000 to 3500 will be the Speedster. Therefore Lotus revealed that there is another 3500 spare capacity to enable a US-market Speedster to be added. If GM really approves that, it will be probably badged as a Pontiac.

American journalists thought that might be a modern Fiero. I can't help feeling sorry with them because they seemed not realise how poor the Fiero was compare with the Speedster. In Chinese saying, "You cannot talk about them in the same day". Think in this way, the Speedster is featherweight sports car having a bit more user-friendliness and a decisively better engine than the Elise.

Let us look at its styling first. That is probably the only thing contributed by Opel yet the designer is also a Briton. The intention to distinguish it from Elise is clear, as seen in the aggressive edges and wrap-around head and tail lights which are in contrast to Elise's organic theme. However, the Elise content is equally clear because the basic aluminium extrusion chassis tub and all the hard points are unaltered. In particular, you'll see the shape and angle of windscreen mirrors that of the Elise. Dimension wise, the Speedster is more or less identical to Elise although it is 125 kg heavier because of bigger engine and more equipment, such as ABS and a driver's airbag. Never mind, at 875 kg it is still 100 kg lighter than a tiny MR2 and nearly 400 kg lighter than Honda S2000 !
How can it be so light ? the aluminium chassis weighs just 71 kg, the also-aluminium Ecotec engine weighs 138 kg, glass-fiber body is lighter than conventional steel although build quality is harder to control. The cockpit is "more luxurious" than Elise but still spartan by any sense. As chassis tub is the same, you can also see the same narrow cockpit with wide sills. There is more black plastic covering the cabin, such as sills, door inner panels and the whole dashboard, but the beautiful aluminium tub is still exposed on the floor and at transmission tunnel. The thin sports seats are hard but supportive. A small steering wheel houses an airbag which is the only luxurious item over Lotus. Still no electric this or that. No air conditioning too. £1200 brings you an optional roof panel, otherwise weather protection relies on a manual soft top - call it a cloth may be more suitable. Normally it is rolled and stored behind the seats and whenever the driver sense raining, he'll stop the car, take out the cloth, unroll it and fix its two struts to between windscreen pillar and rollover bar. Sounds complicated but work quite easy and quick.
What differs it from Elise most is the Ecotec 2.2-litre engine coming from Saturn LS and Astra Coupe. The long stroke engine pumps out a remarkable 150 lbft of torque at 4,000 rpm. Most important, 90% of that is available from as low as 1900 rpm. What a contrast to S2000 ! In terms of power, at 147 hp it is not very powerful but is already 27 hp more than the lighter Elise. Therefore the Speedster is as quick as Elise up to 60 mph (i.e., 5.8 sec) and then runs away until it tops 132 mph. Not only quicker than Elise, the Ecotec always feels far more flexible and even smoother, thanks to twin balancer shafts. Gearchange has a longer throw but still accurate.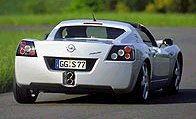 To distinguish it from Elise, Lotus deliberately tuned the chassis to be less driver-focused and more user-friendly. Softer dampers leads to safe-inspiring understeer into corners. While the Lotus enter a bend with amazing precision and alert, the Opel feels stable and grippy but less sharp. Otherwise there is little to distinguish between them: same Bridgestone RE 040 tyres, same front and rear wheel and tyre size excluding that the front are 17in instead of 16 in. The steering is also unassisted (which is only possible for a car so light at front and having narrow front tyres), delivering very good feel and weighting up perfectly on entering a bend. Because of the suspension tuning and 225 rear tyres, it is nearly impossible to induce oversteer unless under severe provocation. In this respect it might be less fun to drive than Elise, MR2 and S2000 but its tremendous grip, uncorrupted steering and low center of gravity make it more capable and fluent than the latter two for most drivers. Besides, few roadsters can deliver a performance-to-price ratio so high - at £23,000 it is 5 grand less than the Honda.
That's how good the car is. Don't mention Speedster and Fiero in the same day.