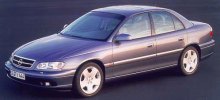 As long as the German and Swedish executive sedans come with a premium price, there will be demand for the Omega. However, the "second division" is getting harder and harder to survive, as shown by the death of Ford Granada, Citroen XM and the modest sales target of Alfa 166 and Peugeot 607. Omega won't surrender so early, not just because it used to be the Champion of the second division, but also because it gains help from parent company GM.

What did the American giant give Opel ? Two new engines. The first one is an all-alloy 2.2-litres inline four which fills the wide gap between the 2.0 base model and 2.5 V6. When it debuted in Saturn LS, GM proudly announced the Europe-designed, US-manufactured engine will power all the global subsidiaries. As a long stroke four pot, it gets twin balancer shafts to counter the vibration generated. However, road testers found it is not particularly smooth, especially is in idle. Saab's 2.3-litre unit, for instance, is smoother and sweeter.

Surprise come from another motor - Chevrolet Corvette's LS1 V8, detuned to 310hp. Unfortunately, although it had been officially announced, Opel finally scrapped the plan at the last moment. Why ? fuel consumption could be one of the reasons. Embarrassed market positioning could be another. The hot rod American V8 does not suit the civilized manner of the car, making it neither a contender to other V8-powered executive sedans nor a HSV-style performance sedans.
Engine aside, Omega received a 40% makeover with a development and retooling budget of 100 million pounds. It also underwent 10,000 test miles in Arizona, USA. Most changes were made to suspensions and the repackaged interior. The old Omega was praised of good handling, thanks to its rigid chassis and rear-wheel drive, but the suspension was unsettled over low speed bump, which was a common mistakes for traditional German cars. The new car has revised front suspension geometry and a damping rate bias towards low speed control. As a result, low speed ride improves a lot. At the steering department, revised power steering quickened the steering response and improve feedback, giving the driver more fun. Talking about driving fun, the Omega is still the last breed of RWD executive sedan in the second division. Although it is designed to bias smooth and fluent operation instead of Alfa 166's kind of thrill, it is still a truly satisfying driver's car, with understeer minimised to just provide sufficient sense of security. It makes an Audi A6 boring.
Nevertheless, the new Omega's styling may deliver a contrary message. The old car's distinctive grille has been replaced by a dull, Astra-like mask. Sacrificing style for family resemblance, is it wise ? Luckily Opel did not alter the otherwise beautiful profile of the old car.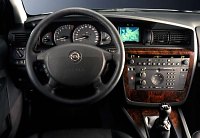 The Omega is always a big car with a spacious cabin, the new car is with no exception because there is no change to the chassis. A new facia might fool you that this were a Cadillac - not a praise, just mean it looks dull and conservative. A piece of cheap-looking plastic surround the old car's dials and a big, odd-looking center console. The latter is covered by fake wood decoration like many American "premium" cars, inside that is a multi-function panel controlling dual-zone climate control, stereo, mobile phone and the optional satellite navigation. Switches looks as if lifted from the Astra and Vectra. However, if you concern practicality more than desirability, the addition of anti-whiplash front seats and 4 air bags would please you.
At launch, the facelifted Omega was topped by the existing 3.0 V6 (210hp). In 2001 it was substituted by an updated version displacing 3.2 litres. The extra capacity and higher compression ratio brings an extra 8hp and 15lbft. As before, the 54° V6 is a smooth, refined and eager engine deserving the badge "Engineered in Germany". Working companion with a rare 5-speed manual gives rather good performance - 0-60mph takes 7.6 sec only. Top speed approaches 150mph. It takes on the 1675kg weight very well, unlike the 170hp 2.5-litre V6. The manual box is light and slick, making the 4-speed auto dated. Although GM is supplying an advancer 5-speed auto to BMW, its own cars are not yet benefited. Strange. However, nearly all customers for this class choose auto.
Having said so much, you see the new Omega is really a good car to drive and to travel in. What it lacks so much is a classy packaging. As long as we are human, with sense of beauty, grace and curiosity, we have many reasons not to choose the Omega. A sad conclusion for Opel.