Japanese car makers has been producing small MPVs for many years, for example, Mitsubishi Toppo, Toyota Yaris Verso, Mazda Demio and many K-cars. In Europe, the development was relatively slow. Since Renault Scenic brought the trend of MPV into C-segment (Golf class) in 1996, European car makers have not yet tried to expand the MPV fever to smaller segments. Surprisingly, the first European car maker exploring this new segment is not the French, but the traditionally conservative Opel. Under the leadership of CEO Carl Peter Forster, Opel is reinventing itself as an innovative car maker. Not believe? look at the Zafira, Meriva and Signum, these kind of unconventional cars will account for 40% of the company's sales. Niche coupes and roadsters will account for another 20%, leaving conventional cars like Corsa, Astra and Vectra only 40%. With such a brave new strategy, no wonder Opel can be the first one to launch a Corsa-sized MPV - the Meriva.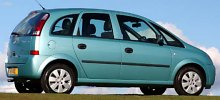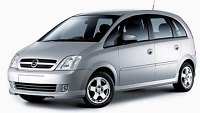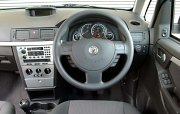 Meriva is derived from the Corsa platform using the same essential mechanicals. That means it has significant advantage over its Scenic-class rivals in terms of production cost. You might expect it to be much smaller than Scenic, but in fact Opel has done a great job by enlarging it significantly - it is 23cm longer than the Corsa, 5cm wider and 18cm taller. That's just marginally shorter than the Scenic but the Meriva is taller and have a longer wheelbase. As a result, the 5-seat cabin is spacious, offering more legroom than Astra and vast of headroom.

The highlight of Meriva is a flexible seating system called FlexiSpace. The rear bench is normally a 3-seater. For a car this small, inevitably shoulder room will be tight for 3 passengers at the back. However, if there are only 2 passengers there, the FlexiSpace rear bench can be converted into a 2-seater - the center part of the seat folds and drops down, then the outer seats can be slid closer towards each other and release more shoulder room for both passengers. Now the outer seats are no longer blocked by the rear wheelarches thus can slide back to release 200mm extra legroom, bravo! the backrests can also recline for better comfort.

In case you want more luggage space, the rear seats can fold down completely onto the floor to form a flat loading platform for 2005 litres of luggage, mountain bikes, ski boards, whatever. Other useful utilities include fold tables behind the front seat backs, a tray under luggage floor and a lot of storage cubbies throughout the cabin. Meriva has the most brilliant cabin ever seen for a 5-seat MPV.

In mechanical aspect, the Meriva is just average. The target was to make it easy to drive and comfortable to travel in, even in the expense of some body control and steering feel. All controls are lightweight to please female buyers. That's understandable, but its drivetrain does not live up to expectation. The 100hp 1.6-litre 16V used to be sweet revving, but in this heavier car it needs to work harder and generates more noise than desired yet performance is just so-so. Another engine is a 123hp 1.8, which is also noisy at high rev, although power is not lack of. Gearshift of the 5-speed gearbox is unpleasantly notchy.

Anyway, with the clever packaging and the right price, Opel is confident to sell 200,000 units of Meriva every year. It will also be sold in Brazil in the badge of Chevrolet Meriva.