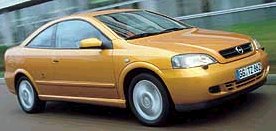 Opel is not renowned for making the best coupes in the world, otherwise, more people would have known Opel GT and Manta. You may remember the Calibra of 1989, probably because of its beauty or its record-breaking drag coefficient, but never because of its chassis. The Calibra was built on the Cavalier (sedan, if you have forgotten) with little development. Although it could be ordered in turbocharged form, with no fewer than 204 horsepower running through the part-time 4-wheel-drive system, and a top speed of 150 mph, plus the ability to reach 60 mph in just 6.2 seconds, handling was still its biggest weakness. Therefore, while it won the top spot of European coupe sales chart, it won few hearts from car lovers.

But the Astra coupe is another matter. As the badge reveals, it is based on the compact and rigid Astra platform, which is already renowned for remarkable handling. Moreover, like the Astra, the coupe was thoroughly tested and tuned by Lotus Engineering, mainly stiffened the suspensions' springs, dampers, anti-roll bars and revised rubber bushings, without altering the basic suspension layout of front MacPherson strut and rear torsion beam, nor there is any change in wheelbase or track width.

The coupe is built in Turin by coachbuilder Bertone, which was also responsible for the Calibra and the old Astra Cabriolet. However, instead of Bertone, the styling was the work of Opel's in-house studio, no wonder it lacks the beauty of Calibra. Is it ugly? for a coupe, I really think it is. Basically, it looks just like an Astra sedan with only 2 doors and a fastback. The all-important nose is especially dull - look at that family-resemblance grille ! it is the dullest I have ever seen in a coupe. Even the headlights are not very attractive, although they wrap around corners fashionably. Aerodynamic drag, however, is a remarkable 0.28, although still trails its predecessor by 2 points.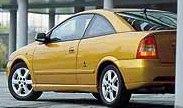 What it lacks in beauty is compensated by the chassis. The coupe body is very rigid, thanks to the lack of rear doors and the strengthening in various locations, such as a cross member added to bulkhead, stiffer suspension turrets and strengthened sills. The result is a torsional rigidity 20% higher than the hatchback.
Astra coupe has three choice of engines. Number one is a turbocharged 2-litre 16V developing (just) 190 horsepower and 184 lbft of torque. It was a development from the old Calibra turbo. Number 3 is the existing 1.8-litre Ecotec with 115 hp and 125 lbft. Sandwich between them and also expected to take the majority of sales is an all-new, all-alloy 2.2-litre 16V which has appeared in Saturn LS as GM's global engine. It produces 147 horsepower at 5,800 rpm and 150 lbft at 4,000 rpm, obviously more torquey than the 2-litre engine using by Astra SRi and even the special edition OPC. Inevitably, the long stroke unit incorporates a pair of counter-rotating balancer shafts to dampen the inherent vibration.
Unlike Saturn LS, the Astra coupe has the 2.2-litre engine installed and mounted quite well, hence spins smoothly right from idle. Press the throttle pedal, it revs eagerly all the way to mid-rev, then becomes really strong, accompany with crisp exhaust note. Despite of tall gearing which benefit high speed cruising, the torquey engine is highly flexible at low speed acceleration. Opel claims it can sprint from zero to 60 in 8.5 seconds, roughly equals to the 100 kg lighter SRi hatchback, but in reality it always feels more accelerative.
Now come the strongest aspect of the coupe - handling. Benefited from the stiffer suspension setup and stronger chassis, not only body control is improved, but the electro-hydraulic steering also deliver quicker response and greater feedback. Nevertheless, it's not in the league of Celica or Nissan Silvia in terms of feel and responsiveness, especially the 3.2-turns lock to lock is too modest for a coupe. Initial turn-in isn't very sharp.
Ride demonstrates how the Astra coupe satisfying the requirements for excitement as well as comfort. It's stiffer than the hatchback, but still absorb bumps well on a variety of surfaces, no matter in town, on back roads or highway. Then you'll find the six-spokes alloy wheels wearing 205/50R16 tyres grip hard on the ground. Flick the shifter results in a slick and precise downshift that never experienced in any Astra other than OPC. Going too fast? press the brake pedal and discover a strong yet consistent braking. This kind of fluency in twisty road matches the best GTi and makes Ford Cougar feels bulky. On the other hand, the Astra coupe cruises in autobahn as stable as any well sorted German big guns.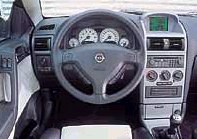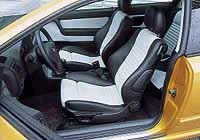 Like the exterior styling, the cabin looks cheap as well as dull. Opel didn't invest much money into the packaging of cabin, just added optional leather seats and some trivial add-on, such as white-faced gauges with aluminium rims, a fake alloy instrument panel which looks more plasticky than metallic. A screen for trip computer recessed in an odd-looking plastic housing. All plastics are of very poor grade, no better is fit and finish. In contrast, space is not scarce of, especially considering it's based on the Astra. The fastback and short wheelbase take little space out of the rear seats, thus enable 2 average size adults travelling in the rear with decent comfort. Although not as roomy as Peugeot 406 Coupe, it is a true 4-seater.
As a conclusion, the Astra coupe is both fun to drive and practical to use. The biggest problem is poor packaging. Most people buy coupes for handsome appearance, or even a bit sense of occasion. In this respect, the Astra coupe may fall into the GTI category instead of Coupe, just like the late Rover 220 Coupe.