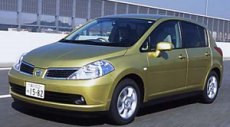 Despite of its great financial success, to be honest, I am not convinced with the cars created by Nissan in the era of Carlos Ghosn. In my opinion, his emphasis on low cost made most Nissan cars too average - average quality, average market positioning, lack of innovations and free of risks. In other words, boring. You might argue that it has 350Z, but then again Nissan used to have 300ZX twin-turbo, Skyline GT-R and Pulsar GTi-R. And if it wanted, it could have put the dream car Mid-4 into production as well.
Admittedly, when comes to the bread-and-butter Sunny / Sentra / Almera, Nissan used to play it safe. However, under the guidance of Le Cost Killer, today it plays even safer. This can be easily seen in the new Tiida.
Tiida is the successor to Sunny. At first you might think Nissan sacrificed the long-serving Sunny nameplate in pursue for a new image, but then you realize "Tiida" actually means "the sun" in a Japanese dialect. New bottle, old wine.
Tiida comes in 2 body style - a boring 5-door hatchback and an even more boring 4-door sedan called "Tiida Latio". Two cars are basically the same except the boot and the rear seat. The rear seat of the hatchback can slide back and forth for 24 cm to vary luggage space from 289 to 463 litres. In contrast, thanks to the big boot (467 litres), the sedan does not need sliding rear seat.
You might find the hatchback look like a Renault Megane. In fact, the Tiida is not built on the Megane platform (note: sorry for my earlier mistake) but on the Renault-Nissan group's B-platform which gave birth to March, Cube, Note, Renault Modus and Clio III. These cars share high percentage of components thus allows the group to source components globally at lower prices, because the quantity they purchase is multiplied. On the down side, Le Cost Killer killed not only cost but also the individual character of Nissan's biggest selling car.
It would have been better if Tiida look as stylish as Megane, but it isn't. One thing Tiida did proved: Renault design boss Patrick Le Quement is really a genius. Based on the same size, he can shaped a masterpiece while Nissan's sculptors resulted in something this boring. Car design is really a magical thing.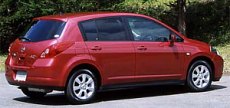 If you are not convinced, listen another story: do you know why one year after its launch in Japan the Tiida still hasn't landed the USA market? rumor said that earlier this year Nissan showed the car to some selected American families secretly to test reaction. The feedback about its styling was very bad thus Carlos Ghosn ordered a restyle before it can go on sale in the USA. (Update on 2005-10-05: eventually, Nissan cannot wait any longer and it decided to export the Tiida to USA with little facelift and a new name "Versa". However, the Versa is not going to replace the old Sentra. A larger new Sentra will be introduced within 2 years.)
Still not convinced ? listen one more story: half a year since Tiida went on sale in Hong Kong, I saw it just once on public streets. During the same period, I saw a dozen Porsche 997 Carrera S, a couple of Lamborghini Gallardo, a Porsche Carrera GT, a Ferrari F50…. you can see how unpopular it is.
The B-platform is never outstanding. It employs struts and torsion-beam suspensions and electric power steering just like any cost conscious European family hatches. Converting it to the taste of Japanese made it even more unremarkable - very light steering totally lacks feel, very soft suspensions lead to a lot of body roll, and the rear drum brakes lack stopping power. The way it drives is as boring as the way it looks.
The engine and transmission are a little better, but still fall in the average category. Nissan says the newly developed HR15DE engine has all-alloy construction and special treatment to reduce friction and improve thermal efficiency, but it has neither variable valve timing nor variable intake manifolds. On paper the 1.5-litre 16V engine delivering 109 horsepower is quite remarkable, but by JIS standard that is only average. On the road, the engine runs quite smoothly, but not particularly eager or refined. At higher rpm it sounds rather noisy. Transmission is similarly uninspiring. Tiida employs a CVT transmission as standard. Although it has no much rubber band effect, it has no manual mode to excite its driver either.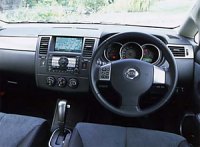 After all those average performance, we finally found an outstanding area of Tiida: cabin space. And this is really outstanding. Nissan said the cabin of Tiida is by far the biggest in the class. From the throttle pedal to the rear seat the total length of the cabin is 2035 mm. What does that mean? you will be amazed by comparing this with its rivals: Toyota Corolla (1915 mm), Honda Civic sedan (1865 mm), Mazda 3 (1825 mm)…. it even matches the current Infiniti Q45 !!! besides, its cabin height is also the largest in class. No wonder Tiida's back seat feels super-roomy ! passengers have enormous legroom and headroom matching or even surpassing cars a class above !
Look at the spec sheet, you will find the Tiida has just an average wheelbase of 2600 mm. How can it achieve that amount of interior space ? from starter, its engine and transmission are designed to be as slim as possible so that the engine compartment can be reduced, pushing the firewall forward. This free up the front passenger space. At the back, the Tiida employs a slightly narrower rear seat which can be slotted between the rear wheels. This contributes to most of the additional space, although shoulder room suffers a little. Predictably, the luggage space is sacrificed. Therefore the hatchback Tiida offers a sliding rear seat to compensate.
Apart from space, the cabin is pretty well trimmed. The plastics are soft-touch ones and most surfaces are covered with soft padding. The dashboard design emphasis living room ambience, using high-quality faux wood to resemble Japanese furniture, a strategy started by big brother Teana / Cefiro. Unfortunately, the materials and switch gears fail to deliver the solidity and ultimate quality feel as the best European hatchbacks.
The Tiida is an accountant-driven car, a typical Carlos Ghosn car. From the engine, transmission, suspensions, steering to the packaging, everywhere has signs of cost concern. To keep cost down and free of risk, it employs the most conventional mechanicals and execute in the most predictable way (well, that sliding rear seat is not an innovation actually, just copied from various MAVs). Nissan is paying the price for being too conservative this time. In the competitive market, innovative and fun-looking cars always have an advantage over boring cars. Sometimes Carlos Ghosn can be wrong.