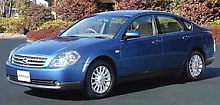 With the introduction of Teana (or Cefiro in some countries), Nissan has completed its simplification process of its once overcrowded model lineup in Japan. The successor to Cefiro has thrown away its own platform and now shares the FF-L (front-engine, front-wheel-drive, large) platform with the American-market Altima. By the way, this platform also gives birth to the American Maxima.

FF-L uses strut suspensions up front and multi-link at the rear, the latter ensures better bump absorption and quietness than Cefiro's non-independent beam-axle. However, no matter the setting of suspensions and choose of tyres favour ride comfort rather than handling, as Teana is tuned to please traditional customers in Japan. People who prefer European-style handling had better to buy Skyline / Infiniti G35 instead.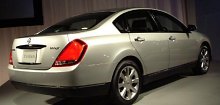 Externally, Teana looks like a Volkswagen Passat and Audi A6, having the same modern shape, solid feel and attention to details. Enter the cockpit, there is a completely different design theme. Instead of European style, the light-color, wood-enhanced dashboard has strong resemblance to Japanese or Korean furniture. Nevertheless, you may still upset by the cheap-looking steering wheel and instrument reading, plus the general lack of quality in plastic trimming. It seems that cost-saving cabin has been the weakness of almost all Nissan cars. "Le Cost Killer" should take note.
With a wheelbase of 2775mm, Teana is a big car in Japan and would have been considered as an executive car in Europe if it were there. Very tall people may find the swoopy roof limiting rear headroom, but otherwise all passengers enjoy good space in all direction. Comfy seats are flat thus not designed for hard cornering, just like the car itself.
The top Teana is powered by the popular 3.5-litre VQ35DE V6 engine. Because the car bias towards comfort rather than performance, it is detuned to 231hp only, lower than all the other Nissan sedans using this engine. This is probably a good decision to avoid abusing the civilized chassis setup. Anyway, the big V6 generates tons of torque from low to mid-range and peak at a useful 246 lbft, therefore performance is easy to access while cruising refinement is high.
Of course, 3500cc could be too much for most Japanese - most of their cars are below 2000cc, therefore Nissan also offer a 2.3-litre version of the VQ engine. It pumps out 173 horsepower. This engine is coupled to a 4-speed automatic only, unlike the 3.5's Xtronic CVT (Continuous Variable Transmission). Xtronic is a conventional CVT using steel belt, like that used by Primera for years. However, it is strengthened to handle the higher torque of the big V6 while transmission ratio range is widened to improve acceleration and fuel economy.
The problem of Teana is that it is not outstanding in any area. A Lexus gives you impression of quality and refinement, a Volvo shines in comfort, a BMW or Audi scores high in driver excitement. In contrast, Teana seemed a mixture of all the mass production components without a focused character. Nissan wants to sell 100,000 units of Teana a year. Good luck!