R34 Skyline GT-R versus Lancer GSR Evolution VI
Comment from Hong Kong
As they were launched within a month's time in Japan, inevitably everybody like to compare them. Recently a local magazine did a comparison test drive, the result is quite believable to me, so let me share with you.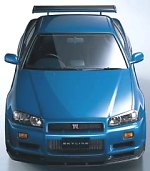 The tester said the GT-R does not jump start as explosively as the lightweight Evo VI, partly because of its weight penalty of 200kg, partly because its twin-turbo straight six is arranged to deliver linear output. At the first two gears, GT-R obviously goes slower. It starts to catch up at third, and blast away the Mitsubishi from 4th to 5th. At 6th, which the magazine didn't have the chance to test, no one will doubt the GT-R will leave the Mitsubishi alone in smoke.
As mentioned, GT-R's RB26DETT is more linear than Lancer's 4G63, thanks to the smaller twin turbo instead of single turbo. Turbo lag at low speed is noticeably smaller than R33, torque grows progressively towards high speed and fades later than Lancer's. In contrast, Lancer's unit is relatively explosive once the turbo gets full boost at around 3,000rpm.
The chassis feels stronger than Evo VI's, thus give hard cornering more confidence. Steering feels heavier than the Evo VI, thus suit European's taste. Suspensions are tuned quite hard, but perhaps of the extra weight, it rides slightly smoother than the Evo VI. Besides, precise gear shift and the adequate weight of clutch and brake pedals made the tester felt perfect.
The tester did not say a word about high speed cornering, which used to be Skyline GT-R's strongest point. Considering the superior aerodynamics, the 4-wheel-steering and the effort of tuning the car in Nurburgring, I strongly believe the GT-R could overshadow the Evo VI even more. In contrast, the rally-purpose Mitsubishi will feels at home on rough and twisty roads.
Comment from UK
Recently, Autocar tested the Skyline GT-R together with Mitsubisihi Lancer GSR Evolution VI (what a long name !) and recorded the following performance figures :

| | | |
| --- | --- | --- |
| | Lancer Evo VI | Skyline GT-R |
| 0-30 mph | 1.8 sec | 1.8 sec |
| 0-40 mph | 2.4 sec | 2.5 sec |
| 0-50 mph | 3.5 sec | 3.5 sec |
| 0-60 mph | 4.4 sec | 4.6 sec |
| 0-70 mph | 5.9 sec | 5.7 sec |
| 0-80 mph | 7.3 sec | 7.4 sec |
| 0-90 mph | 9.2 sec | 8.9 sec |
| 0-100 mph | 11.2 sec | 10.8 sec |
| 30-70 mph | 4.1 sec | 3.9 sec |
| Standing quarter mile | 13.3 sec / 108mph | 13.2 / 111mph |
| Standing kilometre | 24.0 / 134mph | 23.1 / 137mph |

As you can see, they are closely matched until 90mph, then the Skyline stormed away with its wider power band due to the additional turbo and cylinders. Subjectively, the Lancer's single turbo engine feels more laggy, but once it get full boost beyond 2700rpm, it delivers an explosive power surge that, accompany with more noise, feels even faster than the Skyline.

Mid-range acceleration also favours the Mitsubishi, whose in-gear acceleration of 50-70mph and through gear 30-50mph eclipsed the GT-R. However, the latter has more sound-deadening, as well as a smoother, more linear inline-6 that makes beautiful noise. The Lancer sounds too raw and unrefined, gearchange is also less slick than GT-R's Getrag unit.

The Lancer tipped the scale some 240kg lighter than the 1605kg Skyline. In addition to its shorter wheelbase (2510mm versus 2665mm), it goes quicker on twisty roads and displays the agility that only a well-sorted rally car has. The Skyline also handles remarkably good on country roads although not yet matching the little Lancer. However, in terms of driver involvement it is superior. Steering feel is much richer, thus allows the driver to apply power slide easily. The rear-bias ATTESA-TS 4-wheel-drive provides the in-corner adjustability that the AYC of Lancer cannot match. Understeer is the essential nature of Lancer but never exist in the GT-R. At the limit, GT-R is more rewarding to drive.