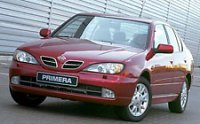 Nissan put many efforts in transforming its car to suit European taste in recent years. This pay off with the success of Micra, Almera and now, Primera.

Although Nissan's stylists fail to create a stylish shape ( once again ! ), its engineers had done a great job on improving the handling and riding stability on the chassis. Now Primera can proudly beat many European players in handling - Renault Laguna, Citroen Xantia, Opel Vectra....only Ford Mondeo and Peugeot 406 can marginally better than it. More impressive, both of its 2 litres engines, including a standard 128hp unit and a sportier 150hp unit, runs smoothly and eagerly, which are actually better than all european rivals.

Inside, though look boring, Primera offers good space and a generous lists of equipment in a bargain price. It seems that Nissan discards all frills, make the car as straightforward as possible to in favour of lower cost. This has its high and low : If you consider only practicality, Primera would be your cleverest choice. The bad news is, your car would look less decent when standing besides a Ford and a Peugeot. Your children would feel boring when siting inside, because the cabin looks so dull.

Report created before 16 Feb 99. Last updated before 16 Feb 99. All Rights Reserved.