Nissan March / Micra

Debut: 2002
Maker: Nissan
Predecessor: March / Micra (1992)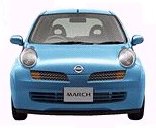 March - or Micra to European - was the first Japanese car taking European Car of the Year award. We praised its cute styling and quality engineering. But that was 10 years ago. Why Nissan reluctant to replace it was a mystery, obviously not because of strong sales. In fact, March was struggling in both home and Europe for a few years, even being outsold by its derivative Cube in Japan.

A new generation finally arrives. Styling-wise, it breaks the mold of regular super-minis, bringing us a fresh idea. Still very cute, even a bit girlie (because target buyers are mainly young working women). The high-mounted elliptic headlamps distinguish it from all other mini cars on the market, so do the strong shoulder lines running towards the taillights, the double-bubble tailgate and all the fine details at nose and taillights. To me, it looks like a concept electric car.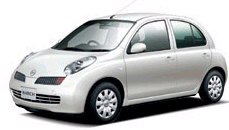 Mechanical-wise, March is conventional. The platform - to be shared with next Renault Clio and Twingo - employs MacPherson struts and torsion beam suspensions. Pure electric power steering is just as predictable. The car's overall size is compact by class standard. Measuring 3695mm in length, it is a massive 135mm and 200mm shorter than Honda Fit and VW Polo respectively, although width and wheelbase matches the class standard while the 1525mm height is among the tallest in class.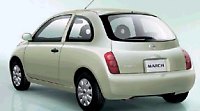 Nevertheless, the interior is spacious and feels airy. Rear passengers get 100mm more legroom than before. Unlike Honda Fit, March does not try to be a mini MPV - that mission will be fulfilled by the next generation Cube - therefore seating and storage arrangement is conventional. Dashboard design is simple and, again, feminine, but fails to match the imaginative exterior design. Like many recent Nissans, it employs poor quality plastics all over the cabin. In contrast, equipment level is very good, with satellite navigation, telematics and keyless entry / engine start.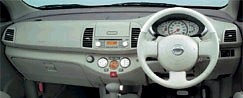 March offers 3 petrol engines, all come from the new CR-series four-cylinder with twin-cam 16 valves. They displace 1.0, 1.2 and 1.4 litre, produce 68, 90 and 98hp respectively, more powerful than rivals. In addition to the relatively low kerb weight, all engines provide brisk performance even though they are coupled to a 4-speed automatic. 5-speed manual and CVT will come soon. In 2005, Nissan replaced the 1.4 engine with the new 1.5-litre engine from Tiida (109 hp JIS), together with CVT transmission. At the same time, European version Micra got an even larger 1.6 litre engine (110hp DIN) with manual gearbox to power the hot version Micra 160SR.

As we have already said, March is designed to please female customers. Therefore its suspension is tuned to provide comfortable ride rather than entertaining handling. Attack corners at high g-force will find it rolls considerably. But it is easy to drive, with accurate steering and good brakes.
The above report was written on 18 Mar 2002 and last updated on 10 Oct 2005. All Rights Reserved.
Micra C+C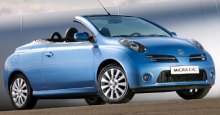 The C+C (coupe plus cabriolet) version of Micra was designed and engineered Britain instead of Japan. It is also being produced exclusively in the UK plant at Sunderland. The roof is made by German cabriolet specialist Karmann (like Renault Megane CC), which set up a small production facility in the Sunderland plant to build and install the roof mechanism.

Despite of its small size and cheap price (at £14,000 only), Micra C+C has one of the best roof mechanisms in the world. It is tight fit, well sealed and occupies little space - 457 litres of luggage space is left once the roof is up, or 225 litres when it is down. This is larger than many cars a class above. Moreover, the roof is made of glass to enhance airy feel of the cabin. The whole mechanism takes 22 seconds to open and close.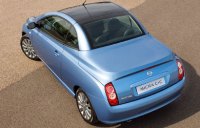 Like most other CC, the windscreen is made lower and steeply raked in order to make the roof panel small enough to be stored in the boot. The lower roof results in a 110mm reduction on overall height. Inevitably, tall drivers will find headroom tight while the windscreen pillar is too close to their heads. The boot is lengthened by 90 mm, so the CC looks more like a coupe than a straightforward conversion of the Micra hatchback. The 2+2 seating (proper rear seats are sacrificed for the roof) also promote this coupe feeling.

The Micra C+C has two engines to choose from: a 88hp 1.4 and 110hp 1.6. The 1.6 engine is lively and provides decent performance. The chassis feels very matured, being noticeably stiffer than direct rival Peugeot 206 CC (admittedly, the trend-setting Peugeot is almost 5 years old now). This give the Micra C+C fine handling and ride compliance. Overall, this car is well built, fun to drive and a bargain.
The above report was last updated on 10 Oct 2005. All Rights Reserved.