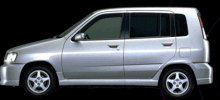 Nissan calls it "Cube" solely because of its appearance. Unquestionably, cubic shape is always the most space efficient design, although many people think this as old fashion. But isn't old also means retro ?

We don't know from which car it is developed. Since the reduction of platform is one of the most important policy of Nissan at this moment, we have no reason to believe Cube does not share platform with other models. It is probably based on March (Micra), or on the contrary, it will provides the basis for the next generation March (the current March is 6 years old.). Or most likely, it is modified from the current March and will provides the platform for the next March, since this is the most cost effective.

Cube is 55mm longer and 25mm wider than March. To qualify as a Recreational Vehicle, it even raise the roof by a massive 190mm !! Therefore it enables upright seating thus frees up more leg room. In fact, this so-called "Tall body design" was originated by Giorgetto Giugiaro when he created Fiat Uno in the early 80's.

Like other RV, Cube has different seating plans to accommodate a surf or a bicycle beside the driver. A temporary bed is also available although not flat. Folds up the rear seats and a huge and flat cargo room is created. Apart from these normal tricks, Cube also emphasis sophisticate equipment. First of all, you will see 2 eye-catching blue fluoresecent dials in the dashboard, something similar to Lexus GS300. Then, there are high quality sound system and even satellite navigation. Moreover, cabin design is unusually cool for Japanese cars.

What about the power unit ? It is essentially the 1.3-litre engine that used by March, with different tuning, mated to the intelligent CVT transmission (with optional 6-speed sequential shift) or 4 speed automatic. However, few people would care of this aspect ...