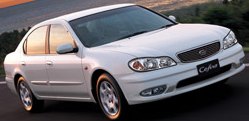 The new Japanese Cefiro was born in December 98. 2 months later its American version, Maxima, appeared in the stand of Chicago auto show. At the first glance, the Mercedes S-class-inspired headlights and the handsome nose section inject a dynamic yet classy image to the otherwise ordinary exterior styling. For those prefer more sporty appearance, Maxima provides a GM-style exaggerate treatment to the grille, front bumper and lamps, which is awful to me but might suit somebody think they are driving a four-door Firebird. Oddly, this time the Japanese stylists have done a far better job than their California-based American colleagues.

Styling aside, what separate the Cefiro and Maxima are two things - first, engine capacity; second, gearbox. The previous Cefiro was renowned for its super smooth, super silent VQ6 engine, the same will be happen for the latest car. As before the VQ6 is benefited by all alloy head and block, lightweight reciprocating parts and high precision casting. While smoothness and quietness are still unmatched by rivals, power and fuel efficiency have been upgraded by the adoption of variable valve timing and direct fuel injection. This Japanese-bounded 2.5-litre V6, helped by a high 11.0 : 1 compression ratio, output an impressive 210ps (JIS) and 196lbft. A 160hp 2.0 V6 is also on offer in Japan as the value choice.

Maxima has neither direct fuel injection nor VVT, but it gets a full 3.0-litre capacity as a realization of "there's no replacement for displacement". Even so, variable induction manifold and variable back-pressure exhaust are added, the former improves low end torque and the latter boosts medium to high end power. Compare with the outgoing unit, it gains an incredible 32hp to 222hp, which equals to the previous 300ZX. Torque also rise from 205lbft to 217lbft. Apart from Jaguar's V6, this is the most powerful 3-litre V6 currently available.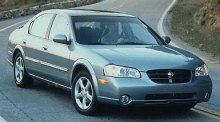 < Maxima
For all the Japanese Cefiro and most US Maxima, the existing four-speed automatics are mated to the V6s. But there are always someone think their Maxima as a 4-door Firebird, so a 5-speed manual box is also on offer. In this case, the Maxima could sprint to 60mph in a mere 7sec. Top speed is likely to reach 142mph, considering the so-so drag coefficient of 0.32.
When you have more power, you need an improved chassis to cope with. Basically the chassis is modified from its predecessor, adding 50mm to the wheelbase to free up more cabin space. The suspension is still front MacPherson struts plus rear multi-link beam axle. The rear one is Nissan's unique design, with an advantage of compact size. However, it also used to generate a bit too much understeer. As an improvement the engineers have relocated the panhard rod (a lateral control linkage), now in behind of the torsion beam axle. Besides, there are reinforcements in front subframe and rear suspension mount and various other locations.
In real world the new Cefiro / Maxima really displays some improvement in handling. The first to notice is the reduction of understeer, which also appears progressively. The rigid chassis feels more stable in corner and rolls less, although steering remains too light and not communicative enough. Overall speaking it rivals well with Honda Accord and Volkswagen Passat and better than Toyota Camry.
Inside, the extra 50mm wheelbase gives more leg room to occupants of both rows, in particular, 30mm to the rear passengers. 30mm increase of height also benefit headroom. This means even more comfort to the originally spacious cabin. In terms of design, there is no much worth attention, however, fit and finish is never in doubt, so is quietness from the improved sound-proofing.
That said, the new Cefiro / Maxima is an all-rounder performing well in every key aspects - performance, engine refinement, handling (if not able to rival European's best), comfort, quality and reliability. This is very attractive to most average families. If anything preventing it from dominating the US, it must be the American-penned styling.