The bloodline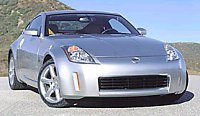 Being the most prestige sports car in Japan, Nissan's Z-cars has a long history of success. The first Z-car, 240Z, was born in 1969 and immediately stormed the world with its beautiful shape styled by Albrecht Goertz, strong performance from a 150hp 2.4-litre straight-6 engine and reliability that shamed the contemporary British sports cars. Of course, Japanese kind of value for money was also a crucial factor. 240Z was the first Japanese sports car succeeding in overseas market.
In 1978, the Z-car was upgraded into the second generation, 280ZX. It was longer, 2+2, more luxurious and more powerful (2.8-litre inline-6). Though losing the driver appeal of the original car, it was the most popular Z-car I saw among the 4 generations.
280ZX was replaced by 300ZX in 1984. The third generation car continued evolving into a luxurious GT while upgrading power - now came from a 230hp 3.0 V6 turbo. It became the first 150mph Japanese sports car. A mid-life makeover in 1987 introduced a rounder body and an optional 24-valve V6 (normally aspirated and 190hp though).
The fourth generation debuted 1989 kept the name 300ZX, implying the lack of capacity increment. However, this generation was probably the greatest of all, not only had a sophisticated styling that made Porsche 944 almost ugly by comparison, it was mechanically superior to contemporary rivals. Power came from a 24-valve V6 with twin-turbo good for 300hp, it could sprint from 0-60mph in 5.6 seconds and topped more than 155mph. Faster than direct-rival 944 while handled nearly as good. It even had a 4-wheel steer system.
Unfortunately, the burst of Japanese economy bubble and the slump of global sports car market led to the death of Z-car in 1996 (or a couple of years later in Japan), without any replacement. Fans had to wait for many years until seeing the rebirth of Z-car...
350Z - back to basis
Nissan boss Carlos Ghosn knows why the last 300ZX failed - it was enhanced by too much technology (virtually everything the contemporary Nissan knew), hence too expensive. It was no longer affordable by the majority of young customers. Recalling the early history of 240Z found its successful formula was actually good performance/handling at an affordable price. Therefore Ghosn decided to build a back-to-basis fifth generation Z-car, make it simple and price it aggressively.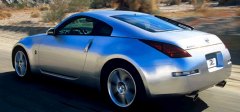 How simple? the new Z switches back to 2-seater format as it did in first generation. Its V6 gets rid of turbochargers, relying on increased capacity (by 500cc, hence giving the name 350Z) and reduced weight of the whole car (130kg) to achieve the same level of performance. The 3.5-litre V6 is also much cheaper to build, as it is shared by various other mass production models. Similarly, cost is also reduced by building the new Z-car on the Skyline V35 (Infiniti G35) platform, sharing the same suspensions and many other components.
Despite of the large percentage of common parts, the new 350Z looks 100% an individual model. Its styling was chosen among proposals submitted from different studios. Again, the American studio won the hearts of product planners at headquarters. What about ours? probably not. Unlike the sleek and even feminist expression of the last 300ZX, the new car looks muscular, brutal and therefore harder to swallow at first sight. Observing from the front, it is not unlike a tank, with a flat front-end surface and an odd rectangular mouth. Very special but controversial. On the other hand, the high shoulders, swooping roof and curvy tail were obviously influenced by (if not copied from) Audi TT - the design classic that influenced so many modern cars. Overall, the 350Z does deliver a sense of occasion by its unusual shape and elegant finishing, like the Audi. It just fails to convince me that it is beautiful. Maybe I am outdated, but my basic instinct tells me a beautiful sports car must look sleek and light in the way many classic Ferrari did.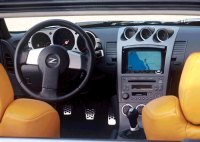 The alloy-effect interior also resembles Audi TT. General design of the dashboard is simple, stylish and driver-oriented. Controls are placed ergonomically, especially the 3-gauge instrument which moves together with steering column during adjustment (like Porsche 928). Another nice detail is the big LCD screen at the center console which hides behind a flip cover. Plastic, however, is poor in quality.
Is it comfortable to sit in? yes, there are generous room for two and the bucket seats are supportive. Visibility? poor, blame to the TT-influenced high shoulder line (hence small windows) and thick C-pillars. Storage? bad. Although 350Z is still a hatchback, its luggage room is ruined by the adoption of tower bar over rear suspensions.
Motor and Speed
The motor powering 350Z is VQ35DE, essentially the same unit used by Skyline 350GT / Infiniti G35, Altima and Maxima. It displaces 3498cc and is equipped with continuous variable valve timing. Compare with Infiniti G35's, it gets freer intake and exhaust as well as sportier cam profile to gain an extra 27 horsepower and 14lbft of torque. The end result is 287hp and 274lbft, not far off from the twin-turbo 300ZX (300hp / 283lbft). The new Z is also 130kg lighter and has a 6-speed gearbox instead of 5-speed.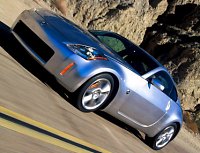 Start the motor, instead of turbo lag, you can feel the large-capacity V6 has so much low-end grunt in the way like American muscle cars. Tremendous torque across a wide power zone pushes the car strongly towards 60mph in less than 6 seconds. Car And Driver even recorded 5.4 seconds and 0-100mph in 13.9 seconds, edges out the 200kg-lighter Honda S2000! It will top 155mph, yet this is just electronically regulated. With an excellent drag coefficient of 0.30 (0.29 with optional spoilers), it has a potential of 165-170mph! 350Z is undoubtedly the fastest car in its class.
What cars does it compete with? because Nissan price it aggressively (thanks to sensible cost control by Le Cost Killer), it rests on the same price range as Audi TT, the low-end BMW Z3 and Honda S2000, all are at least a league lower in terms of power and performance. Base model with least equipment even approaches the price level of Mazda MX-5 and Toyota MR2, unbelievably cheap for a 290-horsepower sports car! call it "Bargain of the Century" won't be too exaggerate.
Any weakness? purists may criticize the big V6 for not free-revving enough, as it won't spin happily beyond its 6600rpm redline. Some may be disappointed by its lack of aural appeal, because the V6 does not produce very attractive noise. That's an urgent and high pitch noise, but without the addictive quality of BMW straight-6 or Alfa V6.
350Z is equipped with a new 6-speed manual gearbox supplied locally by Jetco. This is a good tranny, with short-throw shifter and a crisp gearchange that delivers a good mechanical feel, if not as slick as S2000's.
Chassis and Handling
As I have already mentioned, the chassis of 350Z comes from Skyline sedan, sharing the same so-called "Front-Mid engine" layout and all round multi-link suspensions with forged aluminum arms. The biggest difference is that the Z-car is a 2-seater, thus wheelbase is shortened by 200mm. The chassis is also stiffened by tower bars over both front and rear suspensions. According to Nissan, its engine is positioned behind the front axle and is even more rearward than that in the Skyline. Also according to Nissan, its 53:47 weight distribution were actually better than pure 50:50 because, when the car is accelerating, weight transfer will lead to 50:50.
From my viewpoint, Nissan's marketing people are just playing tricks. The engine is not positioned behind the front axle, just its center point is. This, in addition to the short tail and lack of rear seats, results in the 53:47 weight distribution, actually worse than Skyline (52:48). Moreover, no engineers will say 53:47 were better than 50:50. On the contrary, many will tell you they want a bit rear-bias, because when the car is braking into corner (ie, the moment balance is most crucial), weight transfer towards the front will lead to perfect balance.
No wonder some road testers are not impressed by its chassis balance. When 350Z is being driven below its cornering limit, it does feel very sporty. Fat tyres generate good grip. Long wheelbase (despite of shortening, it is still an unbelievable 2650mm!), wide tracks, stiff chassis and firm suspension setting result in excellent stability. In other words, it rolls very little in corners and runs on highway like an arrow. Its optional Brembo brakes are powerful stoppers. Its steering is weighty, responsive and delivers decent feedback, although quite lifeless at straight-ahead position. The car turns into corner crisply, just in the direction the driver points to.
Nevertheless, push it harder towards its cornering envelop, especially in tight corners, the 350Z will easily understeer and run wide. Where's the balance? where's the neutrality? where's power slide? sorry, there are some sedans from Munich balance better and are more fun to drive at the limit.
The 350Z is not a comfortable cruiser. Despite of aluminum suspensions, the firm setup leads to rather harsh ride over road irregularities. If you ask for comfort, Audi TT should be a better choice. If you want good handling, S2000 has an upper hand. If you can pay considerably more, of course, Porsche Boxster 2.7 is always the first choice. Anyway, 350Z is still the King of performance and perhaps the better overall choice if you consider its outstanding value for money.