Skyline GT-R was the first Japanese performance car truly beating the best European sports cars by dynamics rather than value for money. From 1989 to 2002, three generations of GT-R got the highest regards of Western automotive journalists and changed our view about Japanese performance cars.
Skyline was a long existing label in Japan, but the first time it caught the attention of the world was in 1989, when the new R32 Skyline was derived into GT-R version. From the outset, the GT-R was designed to be a secret weapon in Group A touring car racing. To outpower its rivals, Nissan developed a 2.6-litre straight-six engine called RB26DETT, with 24 valves and twin turbochargers. In production form, it was regulated at 280 hp to meet the voluntary upper limit in Japan. However, the engine was constructed so robust that it could be easily tuned to a reliable 500 hp by using bigger turbos and enhanced cooling. Even in the standard form, it was already capable of reaching 250 km/h and accelerating from 0-60 mph in just over 5 seconds.
In motor racing, Skyline GT-R stormed the Japanese Touring Car series in the first 4 years, winning 29 races out of 29 races!! In Macau, the famous street circuit in Southern China, the GT-R blasted Ford Sierra RS500 away, leading a distance I had never seen. The car was said to be good for 700 horsepower and even more in qualifying or overtaking. So shocking that next year the organizer was forced to revise the regulations, adding weight penalty to the car.

Apparently, horsepower alone could not make a winner. Skyline GT-R was so successful because it introduced some advanced technologies to handle its tremendous power. The first one was the ATTESA E-TS computer-controlled all-wheel-drive system. It employed a multi-plate clutch to assign the right amount of power to the front wheels in case of tire slip. This mean in normal driving the GT-R was basically rear-drive. No wonder it displayed the neutrality and uncorrupted steering feel of rear-drive sports cars, and simultaneously the 4WD benefits of superior traction and cornering prowess! Furthermore, Nissan tested the car extensively in Nurburgring circuit of Germany to make sure it worked perfectly in real-world conditions.
Another high-tech feature was the Super-HICAS 4-wheel-steering system. Again, it was controlled by computer and was benefited by the Nurburgring testing. It countered steer the rear wheels in corner entry to sharpen turn-in response, and then reverted to the same direction as the fronts to stabilize the car in mid-corner. This allowed the car to keep its power slide under control. No wonder the GT-R cornered like a much smaller and lighter sports car.
By the norm of Japanese cars, Skyline GT-R was never cheap. It cost about half the price of a 911 Turbo, but then it offered more real-world performance and driving fun than any production Porsches and Ferraris of the time. With some light modifications, it could even beat many so-called supercars! That was why it sold an astonishing 44,000 units in 5 years, even though sales were bounded in Japan. It was truly a poor man's supercar.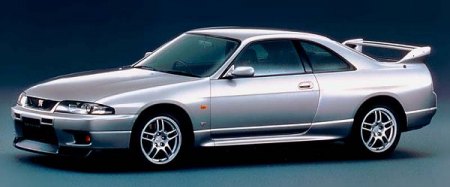 As the Skyline family evolved to R33, the GT-R was also updated in 1995. Many saw it as the least driver-focused among the 3 generations as it grew larger and heavier by 60 kg. Also, the suspension was tuned to be more compliant. However, by today's standard the R33 was probably better than its predecessor. Its chassis got stiffer, build quality higher, offered more cabin space, controls got more refined, rode with less harshness... even though its exterior design wasn't as convincing.
Its winning formula was kept largely unchanged. The RB26DETT engine was revised to produce more torque. Once again, maximum power was said to be 280 hp, but the actual figure was believed to be around 300 hp. The 4WD system added an active rear LSD and became ATTESA E-TS Pro.
Although the R33 may not be quicker than its predecessor, its reputation continued to grow overseas as it was exported to the UK and got increasing exposure to media. More and more Western car lovers started realizing its superiority over European performance cars.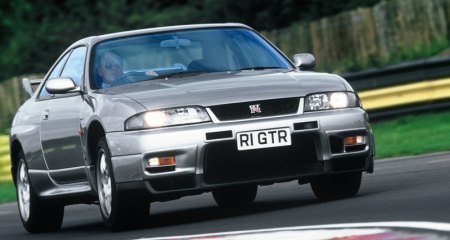 Nismo 400R (1996)
This was a limited edition prepared by Nissan's racing department, Nismo. Only 44 cars were built and sold at a very high price. The name 400R implied its maximum power of 400 hp. This was achieved by enlarging the engine to 2771 cc, increasing boost pressure, upgrading pistons, con-rods, crankshaft and clutch etc. In the chassis, wider tracks and wider tires improved handling, so did the 30 mm lower ride height, Bilstein gas dampers and bigger brakes. The 400R was not for everyone's taste. It was destined to the most demanding drivers with healthy backbones.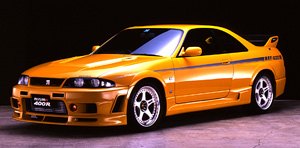 The final Skylinde GT-R was introduced in 1999 accompanied with the new Skyline R34. Having listened to criticisms from fans, Nissan made this car compact again. Length and wheelbase were shortened by 75 mm and 55 mm, respectively. A diet (by means of aluminum bonnet, carbon-fiber underbody panels, forged alloy wheels and suspension control arms) compensated largely the weight gain due to a stronger body shell, larger Brembo brakes and other enhancements, resulting in just 20 kg increase over its predecessor. The hard-edge design of R34 also looked purer and more purposeful than R33.
The twin-turbo straight-six engine remained mostly unchanged, though it got larger intercoolers and ball-bearing turbines. Official power was again limited to 280 hp, but engineers revealed the actual number was about 330 hp. Maximum torque increased considerably from 271 to 293 lbft. Moreover, the gearbox was upgraded from 5-speed to 6-speed unit, therefore 0-60 mph was shortened to 4.6 seconds only. 0-100 mph improved even more, from 13.0 to 10.8 seconds according to independent test results.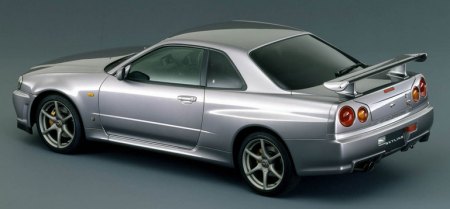 However, by then the GT-R had lost somewhat its limelight, because over the years there was no major changes applied to its engine, 4WD and 4WS systems. In contrast, Porsche progressed much quicker with each generation of 911. Meanwhile, Mitsubishi Lancer Evo and Subaru Impreza WRX STi presented serious threat to the GT-R at the lower end of the market. These rally specials were almost as quick while being much cheaper. Problem was, Nissan was deep in financial trouble thus could not direct more money into its development. In particular, it would be too costly to update the RB26DETT engine to comply with new emission regulation effective in August 2002. As a result, the mighty Skyline GT-R came to the end. Nissan would revive the GT-R name – albeit without Skyline – five years later, but that was another story.