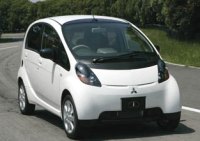 If Mitsubishi i were born in the 1960s, people would have thought it come from Mars. Strangely, the philosophy behind i and Smart Fortwo are so close - both of them are small city car powered by a rear-mounted engine, but the Mitsubishi doesn't look very smart. Instead, its organic shape looks weird, like a vehicle from space creatures. And unquestionably, judging from the taste of its design, those space creatures must not be Mr. Spock of Star Trek, but those man-eating big insects or octopuses !

Strange look aside, the focus of the i must be its rear-engined configuration. You might remember many of the world's best selling small cars in the past were driven by rear-mounted engines, such as Volkswagen Beetle, Fiat 500 and Fiat 126. But the rear-engine era was ended by Sir Issigonis's Mini, whose transversely-mounted front engine and front-wheel drive configuration used space even more efficiently. Moreover, placing more weight to the front instead of the rear can make the car "safer" to handle, because it is more likely to understeer rather than oversteer. That's why since the 70s the automotive world has been dominated by FF cars.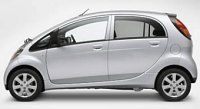 Just like Smart, the Mitsubishi mini car returns to rear engine because it wants to satisfy the increasingly high crash protection standard while providing more interior space out of a small package. Yes, a small package is very important to i because it is bounded by the Japanese kei-car regulation (3.4 meters long and 1.48 meters wide) in order to enjoy tax benefits. To deal with crash test, the i has its 660 cc 3-cylinder engine located underneath the luggage compartment and drives the rear wheels. In this way, a large crumple zone is left up front. Mitsubishi can therefore shorten its front overhang and move its cabin forward. By doing so, the wheelbase is stretched to 2550 mm, some 130-190 mm longer than other kei-cars on the market. This mean the i offers plenty of legroom as well as smoother ride quality.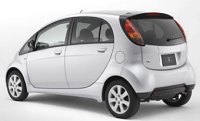 The 660 cc three-pot engine is a new development. Mitsubishi will also supply it to the next generation Smart Fortwo. It has double overhead camshafts, 12 valves, MIVEC variable valve timing, a turbocharger and an intercooler to produce 64 horsepower, the maximum allowed by kei-car regulation. As a city car, it provides sufficient punch. Unfortunately, the 4-speed automatic gearbox eats some of the power. Mitsubishi is short of cash to develop CVT, so we had better to wait for the manual gearbox when it go on sale in Europe next summer. In the congestion-filled streets of Tokyo, people should be satisfied with the smooth shifting automatic gearbox and the useful torque the engine offers at low speed. However, once you get on the highway, as many people travel to countryside at the weekends, the engine gets noisy and breathless. Mitsubishi's small engine seems less refined that those offered by Daihatsu.


Predictably, the suspension setting of the Japanese car biases strongly towards ride comfort without consideration for handling fun. By using a set of front tires narrower than the rear, Mitsubishi successfully turned oversteer crisis into understeer - something learned from Smart. Unfortunately, the front end grip is so weak that understeer occurs too soon, so this car has no much driver appeal. And we haven't mentioned the body roll yet ! this car and Smart teach us one lesson: rear-wheel drive does not guarantee driving fun.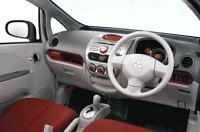 Inside, the cabin provides plenty of head and legroom for four people, although shoulder room is typically tight. The organic interior design is not much better than the exterior, and the nasty plastic in the pre-production car is worrying. This might be improved when it go on sale in Japan next January. Unlike that, the small luggage space won't be altered. Although the engine tilts 45 degrees rearward to reduce its height, the boot floor is still inevitably higher than regular hatchbacks. The is the price it pays for the rear engine configuration. Strangely, there is no secondary luggage compartment up front. So what is inside the space between the nose and the cockpit ? my guess is: it possibly hides a pair of electronic beam laser gun. Once the high-intelligence octopus press a button, the guns pop out and destroy "earthman"…