Mitsubishi eK Wagon

Debut: 2001
Maker: Mitsubishi
Predecessor: no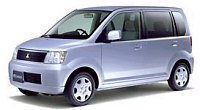 According to Mitsubishi, "eK" stands for "Excellent Kei-car". This sounds quite childish. The car itself is not much better. Basically, the whole floorpan and all important mechanicals - engine, gearbox and suspensions for instance - are carried over from Minica (see above). And that means only a cheap sohc 3-cylinder engine and an outdated 3-speed automatic are available. No more choices.

So what is the purpose of building another Kei-car when the company has already got Minica and Toppo ? because Minica is outdated and relatively cramped compare with new rivals, while Toppo is too tall for Japan's tower parking which is popular in cities. In contrast, eK Wagon's 1550mm height is exactly the maximum limit of tower parking. Although hard points are unchanged from chassis donor Minica, eK Wagon is still able to stretch more interior length and width to improve leg and shoulder room. Its boxy exterior shape already told you it place space in first priority.

Though roomy, the interior is too simple to the extent that boring. There are many storage cubbies and pockets but there is no design or quality feel to talk about. Young people are unlikely to be interested in this car. Housewives might be.
The above report was last updated on 21 Nov 2001. All Rights Reserved.
eK Wagon 2006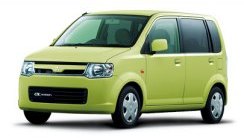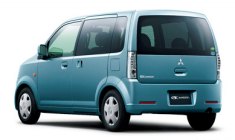 It's not an all-new generation, but it's not a mild facelift either. The eK Wagon starting from late 2006 keeps the basic architecture of the old car unchanged, but its exterior and interior are thoroughly revamped to look modern and feel high quality. The engine is still that 657 cc sohc 3-pot, but a 5-speed manual and 4-speed automatic gearbox are added beside the long-serving 3-speed automatic. A new model called eK Sport adds a turbocharger to the engine and therefore has its power saturated at the 64 hp limit allowed by Japanese law. However, the biggest news to the eK is a power sliding rear door at the passenger side. Suddenly the little Mitsubishi K-car sounds like a luxury MPV ! What a pity owing to the limited length of the car the door can only slide backward for 53 cm, so fat guys are strictly banned from this car.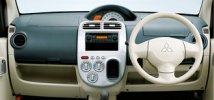 The above report was last updated on 13 Sep 2007. All Rights Reserved.