Space Star was derived from Carisma / Volvo S40 and built alongside them in the NedCar plant in Netherlands. Although it looks like a rival to Renault Scenic, I doubt its competitiveness being a mini MPV. High roof aside, it works more like a hatchback. There's no independent rear seats, just a 60-40 split seat which can be fold forward but not removable. No fold tables, no parcel shelf, no tool tray or drawer. So what's the purpose of creating such vehicle? ask Mitsubishi.

You may notice that the three-diamond offers a lot of MPVs, such as the smaller Dingo (for Asia only), the 7-seat Space Wagon or you may call it Grandis and the Space Runner RVR. Recently the line-up also added Dion, a 7-seater not as grand as the Grandis but bigger than the Space Star. Among them, Dingo, Dion, Space Runner and Space Star obviously overlap in marketing position. You know, a Fiat Multipa or Opel Zafira alone can replace all of them and save a lot of money. This indicate how upside down the Mitsubishi product planning strategy is, no wonder it went into receivership by DaimlerChrysler.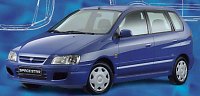 Back to the Space Star, it is powered by either a 86 hp 1.3-litre or a GDI 1.8-litre coming from Carisma. Owing to the 1250 kg kerb weight, you'd better to ignore the 1.3 version. Instead, the 122 hp GDI engine is delightful and frugal, although it takes at least 3,000 rpm to get into real eagerness. After all, performance and handling is no match with any hatchbacks. Again, the real question for Space Star is its identity. Is it a hatchback or a MPV?