Lancer GSR Evolution VII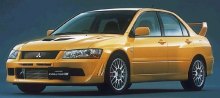 Evo V, good. Evo VI, better. Tommi Makinen, welcome. Anyway, they were just small evolutions from the Evo IV because the chassis and powertrain were basically unchanged. As the Lancer sedan was renewed in mid-2000, the new Evolution VII also enjoys a new chassis. In addition to a new active differential, Evo's fans have more things to talk about than ever.

Let us start from the chassis first. The regular Lancer Cedia is already far more rigid than its predecessor, but the Evolution strengthened it further by adding some 200 spot welds to suspension attachment, sills, pillars, floorpan etc. - the result is 50% higher torsional stiffness than the outgoing Evo VI !

For crash protection, refinement and space reasons the Lancer sedan is also considerably heavier than before, just like the new Impreza. However, unlike Subaru, Mitsubishi made extra effort to cut fat from Evo VII, including using aluminium bonnet and front fenders, magnesium cam cover (these improve weight distribution as well), thinner roof panel and glass. Even the Recaro seats are lighter. They also reviewed the rear wing and decided to discard its adjustable function. All these works result in just 40 kg increment over Evo VI, which is undoubtedly very good considering the car is 105 mm longer, 45 mm wider and have a wheelbase stretched by 115 mm.

The powerplant remains to be the familiar 2.0-litre turbocharged four named 4G63. Believe or not, it has been serving Lancer GSR since the first generation ! this latest version is believed to be the last evolution of the engine and it will be replaced by an all-new GDI unit in Evo VIII. As it reaches the end of life span, not many things can be improved. In particular, it is still lack of variable valve timing or variable intake. Here is the list of minor improvement: hollow camshafts, smaller turbo nozzle for better mid-range response, variable back-pressure exhaust for improved noise and lower back pressure, higher flow intercooler with 1 more water spray injector and at last a bigger oil-cooler. These small tweaks add 1 kgm (7 lbft) of peak torque while - officially speaking - peak power remains at the domestic voluntary limit of 280 hp. I believe the actual figure has already exceeded 300 hp.

The old Evo VI did 0-60 in 4.4 sec and 0-100 in 11.2 sec. The new car is 40 kg heavier but deliver slightly more torque, so in terms of straight line acceleration it is more or less the same as before. However, in terms of cornering the new car is obviously quicker, thanks to improved chassis and 4-wheel drive system. It is always more resistant to understeer. If we define the outgoing car's cornering limit as 100%, then the new one will be 108%. Someone lapped a new GSR in Japan's Tsukuba race track in 1 min 6.67 sec, eclipsing Evo VI's 1 min 6.71. Yet this is just in a smooth and familiar racing circuit. In real world - less predictable public roads or poorer surfaces - the difference will be inevitably much bigger.

Now let us talk about the most interesting part - the drivetrain. While transmission is virtually the same 5-speeder (sorry, the rumoured 6-speeder did not come true, giving Impreza STi a clear advantage here), the center differential is new. All previous Lancer Evo employed a simple viscous-coupling unit as center LSD, whose disadvantages are passive and a fair amount of delay (see Technical School). Calling ACD (Active Center Differential), the new unit is a multi-plate clutch whose degree of engagement is controlled by computer via hydraulic according to needs. New concept ? no, it was pioneered by Porsche 959 and is now using by Audi TT, Volkswagen Golf 4motion etc. What differs it from other similar systems is that it cooperates with the existing AYC (Active Yaw Control) and, I believe, its software is the best developed among all. Undoubtedly, Mitsubishi's experience and requirements in World Rally Championship must help a lot the tuning of the system. By the way, rally cars such as Focus WRC also use active center differentials.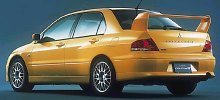 So what is the advantage of active differential ? firstly, using multi-plate clutch instead of viscous liquid speeds up response by 3 times. Secondly, the torque split between front and rear axle can be varied many times during cornering to maximize grip and steering response. Normally the torque split is 50:50. When entering a corner, ACD will tend to distribute equal amount of torque to both axle by locking up the clutches in order to maximize grip and induce a bit understeer - both of them are vital to stabilize the car. In mid-corner, ACD will tend to disengage the clutches thus allow more speed difference between front and rear wheels, which is vital to cornering agility. In the exit phase ACD will lock up again to equalize pulling force on all wheels, hence maximize traction to pull the car out of corner.
Another advantage of ACD is that it is adaptive to road conditions. Choose "Tarmac" mode and it will allow more clutch slippage, hence torque transmit freely from one end to another. "Gravel" mode tends to limit the difference between front and rear torque split so to minimize tyre slip. "Snow" mode nearly lock up all wheels to prevent from any wheel spin.
The last advantage is that it cooperates with AYC. Remember the active yaw control ? it has been adopted since Evo IV and is renowned for killing the understeer character of the car. It is actually a small multi-plate clutch incorporated inside rear differential. When the clutches engage, more torque will be sent to the opposite wheel. In mid-corner, AYC directs more torque to outside rear wheel to reduce understeer or even induce oversteer as desired. Exit corner, it transmits more torque to inside rear wheel to induce understeer for stability. The AYC in new Evo is unchanged, but it shares the computer and sensors (steering angle, g-force, yaw, wheel speed etc.) with ACD and communicate with each other to optimise the result. Think about it, ACD adjusts torque split between front and rear while AYC takes care of left and right (rear wheels), so they can virtually control the torque transmitted to any individual wheel as desired. As long as the software is right, this is the ultimate drivetrain engineers dreamed for decades !
On The Road
You will never appreciate its styling, but honestly speaking I think the (relatively) leaner look of the new car is far better than the horrible He-man style of the old one (I don't like He-man, by the way), although few journalists agree with me. Anyway, if you really care about styling, you must wait for the forthcoming Focus Cosworth.
In contrast, all people will agree that the new cockpit is a big improvement. Apart from more head room and rear passenger leg room, the dashboard also looks smarter and made of higher quality plastic. Thanks God, the fake wood found in regular Lancer Cedia is no longer here. Facing the superb Recaro seats are chromed-rim gauges and a window showing the manual selection of ACD - "Tarmac", "Gravel" and "Snow". Interesting enough ?
Twist the key and you'll notice the engine is silencer - thanks to variable exhaust and better noise insulation of the stronger body shell. Simultaneously, you'll find throttle response is sharper than ever once the turbo is operating. Among all turbo machines, you might need a 911 Turbo to beat its throttle response. For best results from the engine you still need 3,000 rpm, but the torque curve is obviously flatter - not only comes earlier but also drops later. Power band is strongest between 2,750 and 5,500 rpm. Turbo lag has been reduced a lot, although a single big turbo indicates that it is not in the league of Audi RS4, that miracle turbo machine.
Very quick, no doubt, but anyone having experienced the Evo V upwards won't be scared. Instead, they will be surprised by the new-found refinement. The strong chassis and additional suspension travel (15mm front and 10mm rear) result in less thump and bang on rough surfaces. The steering column transmits less vibration. Noise level is well down. However, all these are relative. Compare with other sports sedans - new Impreza STi inclusive - it still rides very hard thus is not a good companion for long journey.
Although we would have preferred one more ratio, transmission has a decent shift quality while it matches the power band very well. It is not as slick as Subaru STi's 6-speeder, but with shorter throw, true decisive and meaty feel. Autocar's test editor Stephen Sutcliffe said qualitatively speaking it is more satisfying than Subaru's six-speeder but both EVO and a Japanese journalist said it could be sticky in a hurry. However, there is no room for argument that the braking is first class. The Brembo brakes are not only powerful but pedal feel is also superb.
However, the strongest area of the new Evo is cornering ability. Apart from TVR Tuscan we have never seen a car with a steering so direct - just 2.0 turns from lock to lock ! in addition to active yaw control, steering response is astonishing. At first you might think it is too nervous, but getting use to it you'll discover it is extremely precise and well weighted while that directness allows you to attack corner with the least hands movement yet full confidence. The result is, we have never seen a car turn-in so enthusiastically and corner so quickly. The power of ACD and AYC is really astonishing. They give the car bags of grip yet virtually no understeer. Best of all, the computer cleverness does not devoid of driver involvement. You can still adjust driving angle and line by cooperating throttle and steering and even plays power slide.
Undoubtedly, Mitsubishi has succeeded developing the ultimate driving machine in the world. It is the quickest A-to-B car ever made. Best of all, it remains to be a bargain. Subaru Impreza STi is thoroughly knocked out.
Click here for Evo VII versus STi