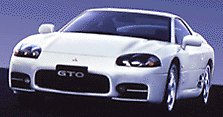 It was in the mid-80s, Japan's fortune rose to new height but no one realised that was just the result of bubble economy, at least car makers didn't. Every car makers invested a lot of money into sports car programs, hoping to stun the Western world by their ability of building the best cars in the world. As a result, the Japanese supercar era began in the late 80s, from the 1987 Supra turbo, 1988 Fairlady 300ZX turbo, 1989 Skyline GT-R to the peak set by Honda NSX in 1990. These cars nearly pushed Porsche into bankruptcy. And the Western car industry was greatly shocked. But the attack was not over. The crazy of the crazy, Mitsubishi 3000GT VR4 (called GTO in domestic market) arrived right after the NSX, bringing more technology than we have ever heard, such as a 300-horsepower 24-valve twin-turbo V6, a full-time all-wheel drive system, 4-wheel steering, 2-setting electronic damping and automatic adjustable aerodynamic aids. In terms of high-tech gadgets, not even the mighty GT-R can match it.

Heart of the car is a 3-litre twin-cam V6, transversely mounted in the front although the car looks somewhat like a mid-engine. In non-VR4 trim, it drives the front wheels only. VR4 employs a viscous coupling center differential to split torque between front and rear wheels. It is also fitted with twin-turbochargers and individual intercoolers, boosting the output to a full 300 hp and 300 lbft (as usual, it is rated as 280 hp in Japan). Since 1996, it became 320 hp and 315 lbft. It feels decisively more punchy than the contemporary 300ZX turbo yet without adding turbo lag. Mitsubishi can always proud of its engine-making know-how.
The make over in 1996 also introduced a Getrag 6-speed manual in place of the old 5-speeder, thus further lifted the already remarkable performance. Although carrying a kerb weight of over 1700 kg, 3000GT VR4 can sprint to 60 mph in 5.4 seconds. However, the electronic aerodynamic aids, which consisted of adjustable lip spoiler and rear wing which automatically dropped and raised respectively above 50 mph to reduce lift, were replaced in 1996 with fixed ones. More changes of aero kits were made in the 1999 facelift as shown in the pictures, which include a high rear wing which makes better use of air flow as well as improves rearward visibility.
Thanks to the fool-proof all-wheel drive and huge rubbers, it is always glued to the road even when pushing hard in corner. Without wet or snow, its tremendous grip can hardly be broken. However, grip and power do not tell us the whole story. It is the kerb weight that dominate the handling aspect of this car. Unlike a real sports car, the VR4 feels bulky to steer. It may have 4WD and 4WS, but obviously they are not very well sorted to improve agility. Unlike Skyline GT-R, the viscous-coupling LSD normally sends 45% torque to the front axle, so it can hardly play adjustable power slide like RWD cars. Also unlike GT-R, the 4WS system just steer the rear wheels as a function of speed, that is, in the same direction as front wheels when exceeding 30 mph or opposite direction below that, therefore it can't help providing the desired understeer and oversteer during the whole cornering phase. As a result, technology doesn't actually improve the handling of the VR4, just adds hundreds of kilogram to burden the already heavy car.
While there is no much fun to drive, there is also no much beauty to look at. Basically, the exterior styling was somewhat learned from the contemporary Corvette and Porsche 944 (for pop-up headlamps and swoopy rear glass shield), plus Ferrari Testarossa (for side grilles). Nevertheless, the summation of all these features did not resulted in beauty because of poor execution. In contrast to 300ZX's beauty-in-harmony, the GTO looks overstyled, something like out of the school of Pontiac Firebird. It's not a good thing, because the price tag and high-tech deserve a more prestige image than the American pony cars.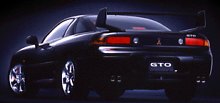 The same character also dominate the interior. There are a lot of gauges, all focus towards the driver, but the over-aggressive shape of dashboard, rough plastic and below-standard fit-and-finish make it look so cheap and brainless. It doesn't seem to be a thinking man's cabin. Rear seats are only suitable to a dog or shopping bags, not even a child. You may wonder how a car so heavy can be so cramped.
Then you may doubt if somebody will go shopping or take a dog for a walk with the GTO. It's not that lifestyle sports car, unlike Porsche Boxster. Instead, it is a hard core express-myself performance machine, something pony cars' drivers would buy if they have more money. The problem is that it is not really involving to drive or competitive in street racing. Worst of all, like many contemporary Japanese sports cars, it was hit by strong yen and became too expensive, despite of the removal of electronic damping and electronic aero kits in 1996. Sales declined led to the closure of the American plant (hence end of road in America together with sister car Dodge Stealth), leaving only Japan can see its survival. For how long? I strongly feel it will die within a year.