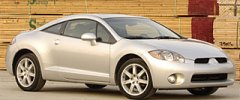 Mitsubishi's affordable coupe was started by Starion in the mid-80s. It was a compact, good-looking 2+2 coupe powered by a powerful 2-litre turbo engine. Compare to established Japanese coupes like Nissan 300ZX and Toyota Supra, the Starion was a pocket rocket, fast yet cheap. In 1989, Starion transferred its winning genes to Eclipse. The first generation Eclipse was even more powerful, faster and more stylish than Starion. Its 2-litre 16V turbo engine produced 195 horsepower, enabling the car to storm from 0 to 60 mph in 6.8 second ! Suddenly every boy-racer in the USA wanted to buy an Eclipse, especially the AWD version. The love affair of Eclipse continued in the second generation (born in 1994), which was an evolution of the previous car. Unfortunately, Mitsubishi changed its strategy in 1999. The third generation Eclipse grown bigger, heavier and more civilized. Its 200hp 3.0 V6 was actually a sedan engine. The car lost its sharp edge, so did the love from its fans.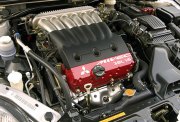 You might think Mitsubishi would learn from its failure. Sorry, it didn't.

The latest, Mk4 Eclipse is not only again a big and heavy machine, but it is actually bigger and heavier than the Mk3 ! Its body measures some 11cm longer, 8.5cm wider and 5cm taller, while kerb weight has increased by 150 kg !

The new Eclipse again employs a naturally aspirated V6 (and a 2.4-litre 4-cylinder engine for the base model). However, to achieve hotter performance, the V6 is enlarged to 3.8 litres and its SOHC cylinder heads are added with MIVEC variable valve timing and lift. The result is a competitive 263 horsepower and 260 lbft of torque. These enable the new car to sprint to 60 mph in about 6 seconds, not much behind performance leaders Nissan 350Z and Ford Mustang GT. However, the V6 is short of excitement. It is a lazy, torque-biased engine. Its max power is extracted at only 5750 rpm like a pushrod engine.


In terms of handling, the big Eclipse suffers. Not only the size and weight, the front-drive layout and poor weight distribution also work against handling. For cost reasons, the Eclipse is built on the Galant platform. This allows it to be produced at the USA plant alongside the Galant, but it also means its fundamental was designed for family sedan. The Galant is big, so is the Eclipse. The Galant employs a heavy iron-block 3.8 V6, so does the Eclipse. No wonder the latter has 62% of weight suspended over the front wheels. The result is a lot of understeer that you won't expect in a coupe. You know, when a car understeers heavily into corners, there is no fun to talk about.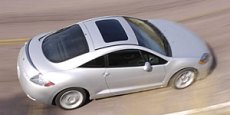 With so much torque sent to the front wheels, torque steer is inevitable. This is not helped by the low-cost MacPherson strut front suspension, which is more prone to torque steer than other suspension designs (that's why those FWD Audi and Alfa Romeo employ 4-link and double-wishbone front suspensions respectively). Again, the MacPherson strut was originally designed for Galant rather than a performance car. Disappointingly, Mitsubishi offers neither AWD nor limited-slip differential, giving up the last chance to cure the torque steer. Whenever you apply throttle in tight corners, the Eclipse's power will fight with your arms to resist your steering action. If you drive hard enough, the strong torque may even spin the unloaded inside front wheel !

Braking power and grip from its all-season tires are also disappointing, as is body control. Th Eclipse rolls quite a lot in corners because its suspensions are set soft. In return, it gets a smoother ride than most other rivals. The slightly stiffer chassis (torsional rigidity up by 11%) also reduces vibration and noise entering the cabin.

So, maybe this is a comfort-biased coupe...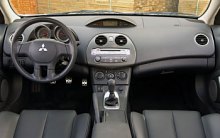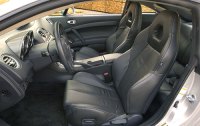 Maybe not. If you look at the cabin, you will find the dashboard is made of poor quality plastics and offers little storage space. Front passenger space is acceptable, but the rear seat is purely for small children or dogs. In fact, rear seat room is actually smaller than the Mk3, even though the car has grown a lot in exterior dimension.

Unquestionably, rear accommodation is sacrificed for styling reasons. Viewing from the tail, the Eclipse's sharp-angle fastback looks very sporty. However, you may also notice the rear end styling is clearly a copy of Audi TT Coupe. Too bad. In contrast, the front end styling is purely original, but it is also the ugliest place of the car. Mitsubishi's stylists seemed unaware that organic styling theme has long past its golden time.

So the new Eclipse is fast but unexciting, civilized to drive but not very practical, looks aggressive but not tasteful. Summing all up, it seems that the new Eclipse is already eclipsed by many other good coupes.