Mitsubishi Colt

Debut: 2004
Maker: Mitsubishi
Predecessor: no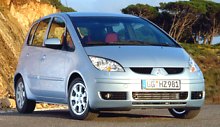 Everybody knows Mitsubishi is now facing a critical, live-or-die situation. Losses, recalls, lost of customer trust and the withdrawal of DaimlerChrysler could be factors that kill the long-standing Japanese company. In the end, only good products can save it. Colt could be the car. In the financial year ended on 31 May 2004, Mitsubishi's sales in the North American slide by a horrible 20%. The reason is every bit predictable: its product line-up is uncompetitive. In contrast, domestic sales - supposed to be hit by bad reputation due to recalls and criminal charges for hiding faults in cars - rose slightly while European sales even jumped by 7%. Furthermore, Mitsubishi Europe estimates another rise of 20% next year. All thanks to the new Colt.

Mitsubishi introduced the 6th generation Colt to the domestic market in Nov 2002 and then Europe one and a half year later. Why did it take so long to reach the European shore? because instead of importing from Japan, the European Colt was considerably re-engineered to suit the European tastes and was transferred to Holland for production. It is being produced in the Nedcar plant left by Carisma and Volvo S40. The plant is now a 50-50 joint venture between Mitsubishi and DamilerChrysler. The latter uses it to produce Smart Forfour alongside the Colt. The Smart and the Mitsubishi are actually sister cars, sharing as much as 60% components to make the Smart project financially viable while increasing the profitability of Colt. However, the Smart is designed to be a niche car, selling at premium price to scare its customers (as my previous report found out), thus it will sell at a volume no where near the Colt. Although Smart insisted its car has equal status with the Mitsubishi in the project, it is clear that Mitsubishi was the core. It developed the whole car including the chassis, engines and transmissions. The European (Mercedes) only contributed a couple of diesel engines because Mitsubishi does not need them in Japan and it would be more cost effective to out source. Smart only joined the project in later stage of the development.

One of the reasons why the Colt was so well accepted in Europe is its European flavor - it was designed by ex-Mercedes designer Olivier Boulay, who joined Mitsubishi as design chief after designing Peugeot 206 and Maybach. No wonder the Colt looks so much like Mercedes A-class. The sharp styling encloses a MPV-like profile. It occupies roughly the same parking space as Honda Fit (Jazz), but it is 2.5cm taller and boosts a 5cm longer wheelbase. That make it both the tallest and the longest wheelbase car in the B-segment.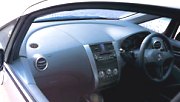 Enter the cabin, you will find the extra dimensions pay off. It is very roomy for all passengers, especially rear legroom because the rear seat can slide to alter the distribution between passenger and luggage space. All passengers sit high as in MPVs but still enjoy vast of headroom. The ambience is airy and cheerful, thanks to huge windscreen and big windows. But like many MPVs, the far forward A-pillars create blind spots. Japanese and European versions employ different dashboard design (shown here is the Japanese version), the former is more elegant while the latter is more funky. However, both are made of soft touch plastics to deliver a quality feel. Overall speaking, the cabin is a lovely place to be in.

The flexibility of rear seat can rival any real MPVs. It can slide forward to increase luggage space, fold down to form a flat load area, tumble forward to store tall things or even completely detach. In case of long things, the front passenger seat can fold down to increase the maximum length. Which car can beat it for flexibility?

Large cabin and high-quality interior usually lead to increased weight. This is a common trend of mini cars. Most rivals weigh between 1040kg and 1100kg, but Mitsubishi did a good job to keep Colt under 1 ton, from 965kg to 990kg depending on engines. This is quite surprising considering its class-leading interior space. Part of the contribution is the aluminum head and block engines with thermoplastic intake manifolds and cam cover.


All engines are eager and produce pretty high output for their displacement, thanks to Mitsubishi's MIVEC variable intake valve timing and lift. This cam-changing VVT technology was used in FTO to produce up to 100 horsepower per litre. In the bread-and-butter Colt, they are of course optimized for economy and flexibility. Nevertheless, the base 1.1-litre 3-cylinder engine still produces a respectable 75hp, more than Volkswagen's 1.2-litre tripe by 10 horsepower despite of its smaller capacity. A balance shaft is employed to cancel vibration, so it revs reasonably smooth.

At the other end of the range, the most powerful engine is a 4-cylinder version of the triple, sharing the same bore and stroke dimensions. It produces 109hp out of just 1.5 litres, again beating most rivals. But it sounds coarse at high rev, so the pick of the range falls into the 1332 cc four-cylinder, which is the short-stroke version of the 1.5. It is more willing, smoother and quieter. 95 horsepower combines with 975kg kerb weight result in a brisk performance - 60mph is reached in 10.4 seconds only. Mating with the light and quick-shifting manual gearbox, the Colt is really enjoyable to drive.

With the tallest body in the class, does it handle well? in contrast to prediction, it does! well, the softly sprung Japanese version rolls more in corner than keen drivers would like, but considering its intention as an inner city transport, that's fully understandable. The European Colt has stiffer suspension setup. Ride is a little firm but compensates with well-judged damping which resists float and crash. Body roll is surprisingly minimal. The Colt goes into corners with real agility and crispness. Its wide tires provide generous grip, but it can play lift-off oversteer as well. This make it more fun to drive than sister car Smart Forfour. Both cars share an electrical power steering, but the Mitsubishi's setup provides more feel, if not really matching conventional hydraulic steering. The steering is also quick, precise and well weighted.

Well done, Mitsubishi. After years of disappointing effort, it has finally produced a class winner. The Colt is a very efficient mini car. Its small engine produces big power. Its light body encloses a big interior. Its cockpit is comfortable, nice-feeling and highly flexible. Its chassis is well engineered to deliver capable handling and ride. Most important, it is fun to look, to sit and to drive. This could be the savior to Mitsubishi.
The above report was last updated on 22 Jul 2004. All Rights Reserved.
Colt CZT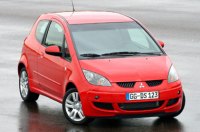 Europe is by far the world's biggest market for hot hatches, this is why Mitsubishi designed Colt CZT specially for Europe and denied it from Japanese buyers. The CZT is based on the 3-door Colt CZ3. Both are 5cm shorter and 3cm lower than the 5-door. In the hot version, it gets sportier aerodynamic kits, reinforced chassis, stiffer suspensions, quicker steering, larger wheels and tires etc. But most important is a turbocharged engine…

This is derived from the existing 1.5-litre dohc 16V with MIVEC variable valve timing. Because the engine is already stretched to the maximum possible, Mitsubishi decided to add a turbocharger and intercooler. It pumps out 150 horsepower at 6000 rpm and 155 lbft of torque at 3500 rpm, enabling the car to top 131 mph and sprint from rest to 60 mph in 7.6 seconds, said Mitsubishi. This levels with the 163hp Mini Cooper S. Sounds somewhat over-optimistic, but note that the little Mitsubishi weighs just 995 kg, undercutting Mini Cooper S by 145 kg ! it is the lightest 150hp hot hatch in the market.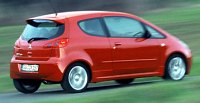 The CZT is a competent performer on highway. As long as you keep its engine revving at above 3000 rpm, it has abundance of punch. Of course, it is no match with the 182hp Renault Clio, which is in another league, but CZT is faster than regular "warm hatches" like Ford Fiesta ST and Peugeot 206 GTi. Because of the stronger torque, it pulls stronger in mid-range, requiring no super-short gear ratios like Fiesta ST. That means the engine always rev calmer, benefiting cruising refinement.

There is no discernible turbo lag, but the turbo engine still has a number of drawbacks compare with a 2-litre normally aspirated engine, such as its weaker bottom-end output, slower throttle response and a less-than-eager engine note. That's why the CZT is more lovely on the highway than on twisty mountain roads.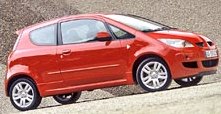 The chassis has similar problems - it is user friendly rather than inspiring, competent in most circumstances instead of maximum attack. There is no big flaws in any area - it grips well, stop well and feels light and agile. Inevitably, its tall body (still in excess of 1.5 meters !) rolls more than traditional hot hatches in corner, but not indecent by today's downgrading standard. However, if you push it really hard, you will discover a hint of torque steer at the front wheels, by then ESP will cut engine power to correct things. The same goes for oversteering, which is carefully watched by the ESP. The CZT is therefore safe and easy to drive. It just lacks the sharpness of Mini Cooper S and the wildness of Renault Sport Clio. Most crucial, it is not as involving to drive as a hot hatch should. A more inspiring steering feel could compensate, but unfortunately it feels no different from the standard Colt.

However, Mitsubishi seems content of positioning it against other "warm hatches" instead of the full-blooded Mini Cooper S and Renault Sport Clio. In this way, the £13,000 price, the performance and user friendliness are highly competitive. It just lost a chance to storm the hot hatch world like what it did with Lancer Evo in higher segment.


The above report was last updated on 15 Feb 2005. All Rights Reserved.
Colt CZC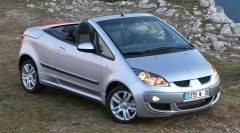 2006 is the year of retractable metal roofs. In this year we see the debut of Volvo C70, Opel Astra TwinTop, Volkswagen Eos, Ford Focus CC and this one, Mitsubishi Colt CZC. The Mitsubishi open-top supermini is engineered and built by Pininfarina (the same as Ford Focus CC and Volvo C70). It joins Peugeot 206CC and Nissan Micra C+C as the smallest "coupe-cabriolets" in the market.

To distinguish from its rivals, Colt CZC has sportier suspension setup and the most powerful engine in the class – the 150 horsepower 1.5-litre 16V turbo from CZT. The combination of strong turbocharged torque and superb 5-speed manual gearbox allows the little coupe-cabriolet to sprint from zero to 60 mph in 7.9 seconds. For your record, although the roof conversion added 130 kg, its overall kerb weight of 1125 kg is still the lightest of the class. Big power and low weight, no wonder CZC turbo provides near hot hatch performance.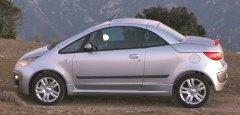 Handling is another matter. CZC's chassis is not as rigid as Nissan Micra C+C. If you push it on demanding B-roads like you were driving a hot hatch, you will find plenty of shake and vibration. Its ride quality also suffers on rough surfaces due to the stiffer suspension setup (to deal with the extra weight). On the plus side, it provides the most faithful steering in the class, being well-weighted, accurate and quite communicative. While it is not an alternative to hot hatches, it delivers more driving fun than Micra C+C and Peugeot 206CC.

Colt CZC is claimed to be a 2+2, but in fact the rear seats are too small to carry any people. Luckily, the front seats have no problem to carry big guys. Praise must be given that Mitsubishi avoided the fast and low windscreen found in 206CC and Micra C+C, leaving plenty of headroom and good forward visibility. The metal roof is also well engineered by Pininfarina. It opens and closes in 22 seconds. When it is stored in the boot, there is still 190 litres of luggage space. This expand to a remarkable 460 litres when the roof is up.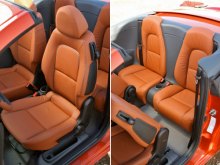 The above report was last updated on 20 Apr 2006. All Rights Reserved.