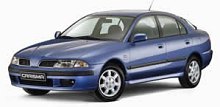 Without driving the Carisma, it's hard to believe that it is built in a joint-venture with Volvo in Holland and share the same platform with S40. They look so different - the S40 is angular and feels smaller than it is while the Carisma is on the contrary. The latter isn't really attractive to eyes, but it is already more handsome than many Japanese opponents such as Mazda 626 and Toyota Avensis.

Few cars today are poorer to drive than the Carisma, although a facelift in 1999 tamed its long list of problems a bit. There is wider track and revised suspension tuning, but overall speaking it is still poor to handle and ride. Yes, few cars match its ability to provide poor low speed bump absorption and harsh high speed ride simultaneously. (by the way, one of these cars is the S40!) We could blame the old-fashion semi-trailing arm suspension which carries a lot of unsprung weight, especially the whole car is relatively light and have a short wheelbase. Handling is not much better, although the revision has reduced understeer to acceptable level. It's still boring to drive.

Not only the wheelbase is some 150 mm shorter than our benchmark Peugeot 406 and Ford Mondeo, the Carisma actually measured smaller in all dimensions other than height. In other words, it is shorter and narrower than class average by quite a big margin. In return, Mitsubishi can build it cheaper and make it more attractive to budget-wise customers. However, brilliant packaging helps it to offer a cabin nearly as spacious as its bigger competitors, with a big boot to match. For more convenience you may choose the hatchback version which looks even better than the sedan.
The cabin is practical rather than tasteful. As experienced in S40, you won't expect fit and finish from the Nedcar plant matching the Japanese plants. Plastic just look as it is. Styling is familiar - the light color instrument panel looks more like a Mazda 323 than other Mitsubishi models.
Carisma is the first car bringing GDI (gasoline direct injection) engine to Europe. It saves fuel by decreasing the fuel / air mixture ratio from 1:14.5 to 1:20 when the engine is running under light load. Mitsubishi claims 30% reduction in fuel consumption, but this was never realised by car testers because it requires a leisurely driving style to keep the engine running at lean burn mode. Admittedly, the higher Sulphur fuel offering in Europe also hamper the efficiency of GDI. You may read our Technical School's articles for more information.
The 1.8-litre GDI engine is good for 125 hp in European spec., some 15 hp less than Japanese version. Anyway, it still copes well with the relatively light body.