| | |
| --- | --- |
| Published on 8 Jan 2013 | All rights reserved. |

Mitsubishi has a glorious history of building highly sophisticated and desirable cars, such as Galant VR4, GTO, FTO and Lancer Evo. Since the burst of bubble economy in the 1990s it got more realistic, but it still strived to build the best products in the form of i and Colt. However, life is getting more and more difficult to the independent Japanese car maker as it is troubled by strong yen and the lack of economy of scale. Sliding sales led to the closure of its Dutch factory as well as the killing of Colt, Galant and Eclipse. Its thin chance of turnaround is increasingly dependent on the business growth in developing countries. Among them Thailand is the focus. A Thai worker earns just US$300 a month, and government policies encourage the development of automotive industry. Therefore Mitsubishi invested heavily into the country to turn it into its export hub. Currently it has 3 assembly plants there with a total capacity of 460,000 units a year. A small portion of the production is consumed locally while the rest is exported to other ASEAN countries, Australia, Europe and back to Japan. The third plant was built just last year for the production of the new Mirage small car. At full capacity, it could roll off 150,000 Mirages a year.


Naturally, the new Mirage cannot be a direct replacement to the Dutch and Japanese-built Colt. It gets smaller, simpler and a lot cheaper so that it can please the demand of developing countries. The philosophy is not unlike Nissan March (Micra), which is also built in Thailand.

Like the Nissan, it opts for a jellyfish styling which lacks character and looks cheap at certain places. However, at least the body is aerodynamically sleek, with a Cd as low as 0.27, and the car is designed to be very space efficient. While its external size stands midway between A and B-segment cars, its interior offers B-segment level of accommodation. Four adults can seat reasonably comfortably, though the 235-liter boot is on the small side and access is not too convenient through the small tailgate with high load sill. Thai parts suppliers are not renowned for quality control, thus it is not a shock to see the interior is full of hard and shiny plastics. The base car is spartan, but Japanese and European customers can get "luxury" features like a lacquered center console, infotainment system, keyless entry, stability control and auto engine stop-start. Otherwise, the interior is conventional. It lacks the flexible seating/loading layout of Colt or typical Japanese Kei-cars.


To emphasize fuel economy, the Mirage is powered by a pair of 3-cylinder motors with either 1.0 or 1.2 liter of capacity. They have DOHC 12 valves and dual-continuous VVT (dubbed MIVEC again) yet produce only 69 and 81 horsepower, respectively. Nevertheless, as the car weighs only around 850 kg, performance is okay. What it fails to impress is refinement. Mitsubishi's 3-pot motor is not as smooth and quiet as those of Volkswagen Up 1.0, Peugeot 208 1.2 VTi, Renault Clio 0.9 TCe or Nissan March 1.2. It is quite noisy at high rev, something made more obvious by the car's lack of sound deadening. Likewise, the Invecs-III CVT tends to keep the engine at its vocal power band under hard acceleration or high-speed running. The lack of NVH suppression is also evident in the excessive wind and road noise transmitted into the cabin. This separates an old-school cheap mini car from modern superminis.


Use it strictly as a city car and the Mirage may be praised for its easy going manner. Its light steering, CVT, compact size and tight turning circle enable it to be driven and parked easily. However, the same can be said to many small cars, too. If you want some excitement, you will probably dislike its soft suspension, which bounces over big bumps and leads to dramatic body roll in corners. The electric power steering with column-mounted motor is equally disgusting with its vagueness, lightness and slow reaction. Its handling is hard to engage the driver.

Lacking dynamics and refinement, the new Mirage trails a long way behind B-segment class leaders like Clio, Fiesta and Polo. However, its trump card is low price, which should place it closer to the territory of Volkswagen Up, Fiat Panda and Kia Picanto. Still, I would definitely choose the latter camp as they don't look and feel as cheap as the Mitsubisihi.

Verdict:











Mirage 1.0



2012

Front-engined, FWD
Steel monocoque
Mainly steel
3710 / 1665 / 1490 mm
2450 mm
Inline-3

999 cc
DOHC 12 valves, DVVT

-
-
69 hp

63 lbft

CVT or 5-speed manual

F: strut
R: torsion-beam

-

165/65R14
5M: 845 kg
CVT: 860 kg

5M: 107 mph (c)
CVT: 103 mph (est)

5M: 13 (est)
CVT: 14 (est)

-


Mirage 1.2



2012

Front-engined, FWD
Steel monocoque
Mainly steel
3710 / 1665 / 1490 mm
2450 mm
Inline-3

1193 cc
DOHC 12 valves, DVVT

-
-
80 hp

78 lbft

CVT or 5-speed manual

F: strut
R: torsion-beam

-

165/65R14
5M: 860 kg (est)
CVT: 875 kg (est)

5M: 112 mph (c)
CVT: 108 mph (c)

5M: 11 (est)
CVT: 12 (est) / 12.0* / 10.9**

-










Performance tested by: *MT, **C&D









General models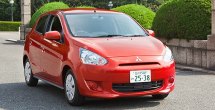 Copyright© 1997-2013 by Mark Wan @ AutoZine