Japanese cars of the late 1980s and 1990s were renowned for high technology. The most notable of them was Mitsubishi Galant VR-4. Introduced in 1987, this car packed the most technologies this side of Porsche 959: 4-valve turbocharged engine, 4-wheel drive, 4-wheel steering and 4-wheel ABS. It was easily the most sophisticated production car of its time.
The first generation VR-4 was developed to participate in rallying. Group A regulations required a minimum production of 5000 units and an engine restricted to four cylinders and 2000 cc. These requirements fitted Mitsubishi very well. Its existing 4G63 1997cc turbocharged engine was converted to twin-cam and 16 valves to deliver 205 horsepower and 217 pound-foot of torque, very good figures for a 2-liter engine. The new Galant was chosen as the base car and fitted with a permanent 4WD system. Front to rear torque split was 50:50 in normal conditions, but in case of wheel slip the viscous coupling could lock up the center differential. Another new development was the 4WS system, which used hydraulic-actuated toe-control links to steer the rear wheels by up to 1.5 degrees at speed above 50km/h, thus improve high-speed stability.
On the road, the VR-4 was praised for good traction and balance thus it was fun to drive. However, it was not as quick as imagined because all those high-tech features brought it kerb weight to 1340 kg. As a result, 0-60 and 0-100 mph took about 7 and 20 seconds, respectively, significantly slower than Ford Sierra RS Cosworth (6.2 and 16 seconds). Even though its engine was uprated to 220 hp in 1989 and then 240 hp in 1990, the effect was largely offset by more equipment hence extra weight. The Mitsubishi also lacked the Sierra's spectacular looks. Only a small tail spoiler and subtle skirts differed it from lesser Galants, no wonder it needed the marking of "4WS 2.0i DOHC 16V Intercooler Turbo" on its doors to remind you its superior contents.
In motor racing, the VR-4 was not very successful either. Failing to break the domination of Lancia Delta Integrale, it won only 3 races during the 3 years it participated. Later on, Mitsubishi turned to the smaller Lancer for its WRC campaign.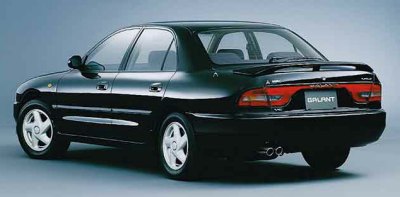 Galant VR-4 Mk2 (1992)
The second generation Galant VR4 was born in 1992. Compared with the Mk1 it was even more understated. Built on the new generation Galant with a softer styling and even milder aero package (basically only a tiny rear spoiler), few could spot it on the road. Moreover, the Mk2 was never officially exported, so it was virtually unknown to car enthusiasts outside Japan.
While most of the technologies in the original car were carried over to the Mk2, the four-pot engine was replaced with a new 2-liter twin-turbo V6 derived from the naturally aspirated unit on FTO coupe. As the car was no longer used for rallying, Mitsubishi considered a smooth V6 would be more suitable for its new role as a gentleman performance saloon. It delivered the same 240 horsepower as the last Mk1 but a little bit more torque at 228 lbft. The horsepower rating was probably underrated, as Mitsubishi did not want to distract the limelight from its new rally weapon, Lancer Evo, which was rated at 250 hp. The standard 5-speed manual gearbox was joined with a new Tiptronic-style semi-automatic transmission with 4 speeds, again to attract gentleman drivers. Another change was the 4-wheel steering system, now controlled by computer according to speed and yaw. At low speed maneuvering the rear wheels turned in opposite direction to quicken turn-in.
Born at a time when Japan was hit by economic recession, the Mk2 VR-4 was unpopular. Its demise in 1996 was about as quiet as its arrival.
The Mk3 introduced in 1996 was much better. Based on the more stylish new generation Galant, it got some very aggressive aero kits to match its enhanced performance. The twin-turbo V6 was enlarged to 2.5 liters, deliberating 280 horsepower and 268 lbft of torque, enabling the car to sprint from rest to 60 mph under 6 seconds and top over 150 mph. Buyers could opt for 5-speed manual or a new 5-speed Invecs-II semi-automatic. The 4-wheel drive system was carried over, whereas 4-wheel steering was abandoned in favour of an active rear differential called AYC (Active Yaw Control), which came straight from the contemporary Lancer Evo IV. Other enhancements included suspension tower braces, wider tires, larger ventilated disc brakes, uprated springs and dampers as well as retuned steering.
On the road, the Mk3 drove better than ever. Its two small turbos spooled up quickly and the V6 spun smoothly and linearly towards 6000 rpm. Such a combination of high performance and cultured manner distinguished it from the laggier and peakier delivery of Subaru Legacy GT-B / RS. Likewise, the semi-auto transmission bridged the gap between driving thrills and everyday usability, making the Mitsubishi a cheaper alternative to AMG. Meanwhile, the VR-4 was more capable than its predecessors in the twisty. Its 225/50VR16 tires hit the sweet spot between grip and ride comfort. Its new AYC successfully cut understeer and resulted in a much more neutral handling. The reworked steering also delivered more weight and feel. Figure in the usual excellent traction and all-weather drivability, it was probably the best affordable performance four-door of its days.
Equally admirable was Legnum VR-4, the station wagon derivative of Galant VR-4. It brought a concept pioneered by
Audi RS2 Avant
to mainstream audiences, greatly widened the customer portfolio of VR-4 and helped the Mk3 to attain a much higher popularity than its predecessor. However, that was also the last time VR-4 shone. In response to a domestic market trend that was shifting towards smaller cars, Mitsubishi finally axed the entire Galant line together with the VR-4 in 2003.