Mercedes S-class (W221)

Debut: 2005
Maker: Mercedes-Benz
Predecessor: S-class (W220)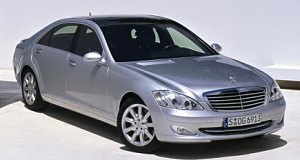 From W220 to W221 might be a small increment, but that is enough to put the S-class on the top of the luxurious car ranking again. In fact, ever since I watch cars, Mercedes S-class has been dominating the luxury segment. It is the label that every other premium marques want to - but fail to – challenge. The previous S-class W220 sold a total of 485,000 units in its 7 years life. That is an amazing figure for such an expensive vehicle. Even in its final full year, it still sold 84,100 units worldwide, accounting for 35% of the segment and, unsurprisingly, once again by far the best selling luxurious car in the world.

However, no matter how great the W220, it did show signs of aging in its final years – the cabin quality fell below class standard, the sleek appearance started getting old, and the eco-friendly 3-valve per cylinder V6 / V8 engines lack power to fend off the challenge from BMW 750i. Therefore Mercedes improved these areas in the new generation W221. Unsurprisingly, it also took this opportunity to increase cabin space, reduce NVH and upgrade all the sophisticated safety and comfort technologies.



In terms of design, in my opinion the new W221 S-class is an improvement from W220. The old car's sleek and sporty shape was handsome, but it lacked elegant details to match its luxury status. By luxurious car standard its design was almost too raw and pre-matured. In contrast, the new S-class might look more conservative – even have some shadows of Maybach - but the shape is imposing and the details are fine and elegant. Most important, it is still recognizable a big Mercedes.

To offer more room inside, Mercedes stretched the wheelbase by 70 mm, now exceeding BMW 7-Series by 40 mm. The length, width and height are increased by 33 mm, 16 mm and 29 mm respectively. Open the doors, you will find it offers more room than anybody needs. It is also more comfortable than any other mass production luxurious cars. First of all, the cabin is really very, very quiet. It isolates the engine and the road effectively. Then you can enjoy the superbly comfortable seats – it is the most comfortable seats in the industry (excluding the airline first class seat of Maybach, of course), which is heated, ventilated, perfectly cushioned, incorporating a massager and side bolsters that inflat automatically during hard cornering to hold you firmly in place. Brilliant.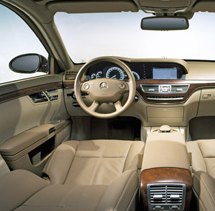 Mercedes' intention to regain the lead in quality is apparent in the cabin of the new S-class. The dashboard, door panels and transmission tunnel are impeccably built and trimmed. The attention to details surpasses the level of Audi. Many switches are chromed. Soft theater lighting enhances the ambience at night. At the same time, the cabin feels high-tech – the speedometers look like analogue dials but they are actually the image in a high resolution LCD screen. At night, the screen can be changed to display the infrared image of the road ahead (in case the optional "Night View" equipment is selected). The center console has another big LCD screen. It displays the information from the "Command" system – a multi-control system for audio, video, sat-nav, phone, climate control etc. It is Mercedes' version of i-Drive or MMI, but the control is more initiative than both BMW and Audi's. Unfortunately, to house the LCD screen without light reflection, Mercedes came up with a dashboard design similar to BMW 7-Series. It also copied BMW's idea to move the gear lever to the steering column and place a big armrest + rotary control knob of the Command system in front of the arm rest. Luckily, this aluminum control knob looks high-tech and there is a wrist pad provided – just like the wrist pad in behind your mouse – to comfort your hand. Open the wrist pad, a mobile phone keyboard is revealed, wow.... This environment combines the best quality with the best technologies.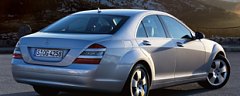 As usual, the S-class is loaded with countless of equipments and electronic assistance. Safety features include PRE-SAFE system (which automatically tighten seat belts and close windows in prior to a possible crash), Brake Assist Plus (when the front radar detects the vehicle in front is too close, it warn the driver and increase brake booster), Distronic Plus (a cruise control which keep a minimum distance from cars in front and rear, also help parking) and the aforementioned Night View infrared camera.

From mechanical point of view, however, the W221 is a small evolution from W220. Its new shape body keeps drag coefficient unchanged at 0.27. It uses aluminum bonnet, front fenders, doors and boot lid to limit weight gain to merely 65 kg. It retains the basic suspensions of its predecessor, i.e. 4-link up front and multi-link at the rear. It continues to offer Airmatic DC variable air spring / variable ride height / adaptive damping, though the calibration is further refined. Active Body Control (an active anti-roll system) is again standard on S600 and optional to other models. Besides, the speed-sensitive hydraulic assistance rack and pinion steering remains unchanged. These systems worked so brilliantly in the old S-class and today they are still the most sophisticated in the industry, no wonder Mercedes wasted no effort to alter them.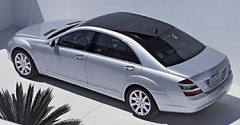 Instead of chassis, more attention has been paid to the powertrain. The new S-class finally replaces the long-serving 3-valve-per-cylinder V6 and V8 with a new generation 4-valve V6 / V8 family. This start from the 272 hp 3.5-litre V6 S350 to the new 388 hp 5.5-litre V8 S500 (or S550 for USA), and later next year, the 510 hp 6.3-litre AMG V8. The new engines are benefited from more valves, dual continuous VVT and variable intake manifolds, also increased capacity, no wonder they produce significantly more power than before – for example, the new S500 gains 82 horsepower.

With new found power, now S500 becomes almost a sports sedan. Its V8 is powerful, flexible yet refined. At low rev it spins silently. Once you ask from it, it delivers serious power and torque, even more so than the recent BMW 750i (which is not only heavier than S500, but produces 20 less horsepower and 30 less pound-foot of torque). The 7-speed 7G-Tronic automatic transmission also gives it a slight advantage in acceleration. Mercedes believes the S500 can accelerate from 0 to 60 mph in merely 5.2 seconds, that's half a second quicker than its arch-rival !

For those who ask for even more, the flagship S600 is the natural choice. Ridiculously, its 5.5-litre twin-turbo V12 is the only survivor of the outgoing 3-valve-per-cylinder series engine, but it can still crank out 517 horsepower and an astonishing 612 lbft of torque, both figures are slightly higher than the outgoing S600 but not Maybach. 0-60 mph can be done in a supercar-rivaling 4.5 seconds, even though the long-wheelbase-compulsory model tips the scale at 2.1 ton ! Moreover, it still employs the old 5-speed automatic because it is the only transmission can handle so much torque.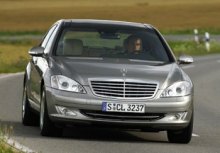 In terms of comfort, refinement, quality, technologies and performance, the new big Mercedes set new standards for the class. How about handling and ride? evaluating handling in isolation, BMW 7-series may have a slight advantage. But combining handling and ride together, there is simply no other luxurious car can rival the S-class. This statement has been true to the outgoing W220, and even "truer" to the new S-class. Despite of its size and weight, the S-class feels surprisingly nimble to drive. It can attack corners with the composure of a much smaller car, especially if ABC is equipped, where its turn-in becomes sharper and body roll becomes almost non-existent. The steering wheel might feels light and vague at straight-ahead (to filter harshness that could ruin cruising refinement), but once you turn it either side, it feels natural, precise and quick. Push the S-class to the limit, it displays amazing level of neutrality, followed by mild understeer and then the ESP digs in smoothly to correct things. This car is so enjoyable to drive.

However, what made the S-class so different to rivals is: beside that remarkable handling, the big Mercedes offers superb ride comfort simultaneously. Such level of completeness is still unrivalled by BMW, Audi, Jaguar, Lexus and even Bentley. The S-class' Airmatic suspension is still the most effective adaptive suspensions in the world. It deals well with almost all kinds of surfaces and speed, resulting in a supple and quiet ride.

S-class is always the symbol of Mercedes-Benz. Its success is highly crucial to the image of the company. Now the engineers responsible for the new S-class can finally have a good sleep, for they have created the best luxurious car in the world, once again.


The above report was last updated on 21 Oct 2005. All Rights Reserved.
S65 AMG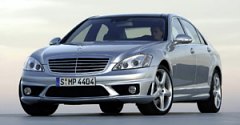 From the old S65 to new S65, one thing hasn't changed: its heart. This is AMG's most fearsome power plant, the 6.0-litre twin-turbo V12. Based on the long-serving Mercedes 3-valve-per-cylinder V12, it might not be state of the art. It doesn't have any variable valve timing, direct injection or the like, but it has plenty of displacement and a pair of turbochargers sucking 1.5 bar boost pressure. A simple calculation will find this equals to 15 litres of capacity ! no wonder it can pump out 612 horsepower and a mind-blowing 1000 Nm of torque !

Look at the torque curve and you will be astonished: from 2000 rpm to 4000 rpm the curve is completely flat. What does this mean? It means AMG artificially limited the peak torque to 1000 Nm. Unrestricted, it could have reached 1200 Nm, but unfortunately Mercedes group has no transmission capable of handling so much torque. The strongest transmission it has is the old generation 5-speed automatic, which can withstand 1000 Nm reliably. That's why S65 AMG does not use the latest 7G-Tronic but the older 5-speeder with AMG Speedshift program.

Containing the same wine is a new bottle. W221 definitely looks sharper and more elegant than the organic W220, especially in AMG form. It got a very stylish front bumper, aero tweaks, 5-spoke 19-inch wheels and four chromed exhaust pipes, but the overall design theme still follows AMG's tradition: understated beauty. Few outsiders could believe this is the world's fastest production sedan. Mercedes talks of 0-60 mph in 4.3 seconds and 0-100 mph in 9 seconds. As long as in Autobahn, it could eat BMW M5 for breakfast. No one knows how fast it could be if it were not regulated to 155 mph. Maybe 200 mph, I think.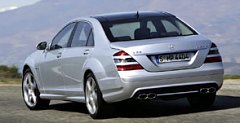 Of course, the 2.2-ton, long-wheelbase limousine is not the right car to chase M5 in the twisty. It lacks the agility, cornering prowess and intimate feel to do so. People should understand that it is an Autobahn rocket rather than a Nurburgring hero. To exploit its superior performance you should drive it on highway, give it plenty of space and long straight. In this way, you can enjoy its neverending power and torque.

At the same time, you will be amazed by the luxury and refinement it offers. Sure, there is more tire roar and small harshness transmitted from the low profile tires, but the car is so stable and relaxing at high speed. Its Active Body Control limits roll and pitch effectively. Its traction and stability control avoid wheelspin and oversteer. Its ceramic composite brake discs and twin sliding calipers kill speed quickly. This mean all 612 horses are tamed to serve you, allowing you to enjoy the ventilated massaging seat at 250 km/h. Should you corner too aggressively, the seat bolsters will inflate to hold you tight.

However, the AMG is neither a real limousine nor a real sports sedan. Those pursuing driving excitement is better to look for a M5 or E63 AMG. Those pursuing luxury will be better served in the S600, which also provides most of the AMG's performance. Perhaps S65 AMG goes too far. There are always some people asking for neverending horsepower to show their superiority over others - no matter measured by performance or by wealth. S65 AMG is this kind of car. A statement of excellence. A statement of superiority. However, it is not necessarily the best car in the world.


The above report was last updated on 18 May 2006. All Rights Reserved.
S63 AMG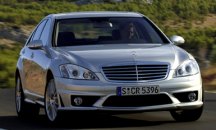 There are plenty of fast S-class. If S500 is not fast enough for you, you can opt for S600, S63 AMG and S65 AMG. Each of them offers in excess of 500 horsepower and 0-60 mph acceleration in no more than 4 and a half seconds. Some may think it is unnecessary to have 3 super performance models in the S-class. Mercedes argues that they have different character – S600 biases towards comfort, S65 AMG is the ultimate performance limousine while S63 AMG is the sportiest.

Yes, sportiest does not mean the fastest. In isolation, the 525 horsepower 6.2-liter naturally aspirated V8 is already very powerful – some 75 horses more than Audi S8, for example. But S65 AMG has 612 hp on tap and an overwhelming advantage in torque, i.e. 738 lbft versus 465 lbft. This mean the top model can accelerate from rest to 100 mph in an estimated 0.8 seconds quicker than S63 despite that its transmission has two less ratios. Nevertheless, performance is not the only thing car enthusiasts concerned. More important is how it deliver the performance in terms of sound, response and agility. S63 has several advantages to S65: firstly, it is derived from the short-wheelbase platform, saving 130mm between the axles. This translate to higher cornering agility. Secondly, its front axle carries 100 or so kilograms less than the bigger car, thanks to the weight difference between the V8 and twin-turbo V12 and their transmissions. Again this make it feels more nimble than the S65. Thirdly, the naturally aspirated V8 is more delicious in all subjective aspects – it sounds exciting, it loves to rev and it responds instantly to throttle input. Turbocharged engines can hardly provide these qualities.



The control system of S63 is also sportier than S65. It provides 3 modes – Comfort, Sport and Manual, which alter the gearshift speed of the 7G-Tronic transmission, the stiffness of Active Body Control suspensions and the throttle response of the engine. In contrast, the control system of S65 lacks the ability of changing throttle response. In manual mode, S63 can make 50 percent faster gearshifts while S65 is only 35 percent faster. Moreover, the manual mode of S65 affects transmission only, while the same mode in S63 stiffens suspensions further. If you are willing to use Manual mode at the price of ride quality, you will find S63 noticeably sportier.

However, no matter how brilliant the ABC and control system are, they cannot hide the laws of physics completely. This car measures in excess of 3 meters in wheelbase and weighs 2 tons. While it is surprisingly nimble for its size, it cannot match the smaller E63 and CLS63 which use the same engine, or the CL63 with lower center of gravity and shorter wheelbase. It works well on highway or fast bends, thanks to the outstanding high-speed stability, powerful ceramic brakes and strong grip, but will you dare to push it in the twisty and power slide it ? like S65, it works better as an Autobahn express. Only in this way its superior refinement and ride quality will shine. However, on the increasingly congested European highways, most people will find a regular S500 fast enough.

Large performance limousines are always the most difficult cars to justify. S63 faces the same identity problem as S65 and Audi S8. So far only Maserati Quattroporte has proved that big limousines can be entertaining to drive.


The above report was last updated on 25 Oct 2006. All Rights Reserved.
S400 Hybrid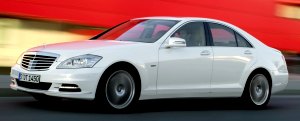 Mercedes' first take on hybrid technology is conservative. Unlike the rivalry Lexus LS600h, S400 Hybrid is a "mild hybrid" instead of a "full hybrid". Its 3.5-liter petrol V6 is assisted by a small electric motor offering only 20 horsepower, therefore the car cannot run in pure electric mode. However, you cannot underestimate its effectiveness. Compare with the regular S350, its EU combined fuel economy is improved from 27.9 to 35.7 mpg, while CO2 emission drops from 242 to 186 g/km. Mercedes proudly claims it is greener than LS600h (30.3 mpg and 219 g/km), although they rest on very different performance levels.

The S400 Hybrid is not about performance. It takes 6.8 seconds to go from 0-60 mph, just 0.1 second less than S350. However, the electric motor's 118 lb-ft of torque, available right from startup, does boost its low-down tractability a lot. If you normally drive in streets of city, you might feel it considerably more powerful. Up the pace to motorway speed, however, it feels much closer to its performance figures suggested.

What makes it really special is packaging. This is probably the first hybrid system that takes no more space than a conventional powertrain and is therefore fully compatible with existing cars. You can hardly find where its electric motor and battery pack locate, because the thin disc-type motor is neatly laminated between the automatic transmission and flywheel, and the small but efficient Lithium-ion battery (supplied by Continental) is placed in the engine compartment, taking the place of the conventional battery. The battery doesn't need a dedicated cooling system because it makes use of the car's air conditioning, which is located just nearby. Such simplicity means any rear-drive Mercedes can adopt this hybrid system in the future.


The above report was last updated on 19 Jun 2009. All Rights Reserved.
S63 AMG Biturbo

| | |
| --- | --- |
| | Turbocharging in the name of green |

Since 2006, most AMG models have been powered by the M156 6.2-liter V8. Until today, it is still mightily powerful, flexible and great to listen. To performance hardcore, there is absolutely no reason to replace it. Nevertheless, like all other European car makers, Mercedes is struggling to lower its average fleet emission in order to avoid tax penalty to be imposed in the future. Its large-selling AMG fleet is no exception. Starting from S63 AMG, all the "63" models will shift to a greener 5.5-liter biturbo V8 codenamed M157. More worrying is its roots. While the M156 was a clean-sheet development by AMG itself, the M157 is derived from the production Mercedes M273 V8, sharing its bore / stroke dimensions and capacity of 5461cc. Will it lose the sharp throttle response and thundering howl of the outgoing engine ? That is the most worrying to us.

Before answering this question, let us hear the good news first. As wished, the new engine is far cleaner than the old one. Thanks to the reduced bore (by 4.2mm) and stroke (by 4.1mm), it generates less frictional energy loss. The reduced capacity also leads to less pumping loss. Furthermore, the new engine employs Mercedes' latest direct fuel injection with spray-guided combustion and piezo injectors. In addition to auto start-stop, the end result is a reduction of 27% in fuel consumption and 29% in CO2 emission. On the new S63 AMG, EU combined consumption is now a remarkable 26.9 mpg, incredible for a 2-ton limousine with 500-plus horsepower output !


| | |
| --- | --- |
| | Those who praised the old 6.2 engine for effortless performance should recalibrate their mind, because great performance is easier than ever with the new engine. |

Moreover, such greenness is not achieved in the expense of performance. A pair of Garrett turbochargers are integrated with exhaust manifolds to provide as quick response as possible. They produce a maximum 1.0 bar of boost pressure, realizing 544 horsepower. That's not a big departure from the previous 525hp, but you may notice that it is now available at 5500 rpm instead of the previous 6800 rpm. More telling is torque, which is lifted from 465 lb-ft to 590 lb-ft. Moreover, the peak torque is now available continuously from 2000 to 4500 rpm, versus the previous peak at 5200 rpm. The strong bottom-end torque means the new car can run at much lower rev than before, thus explaining why it could achieve lower fuel consumption.

Officially, the new S63 AMG improves 0-60 sprint by only 0.1 second. In the real world, however, the stronger torque – available right at any gear and any rev – makes a noticeable difference subjectively. The sensation of g-force is instantly available once you prod the throttle, especially is the car fitted with Performance Pack. Thanks to turbocharging technology, AMG can easily offer two states of tune from basically the same engine. With a more aggressive engine mapping, the Performance Pack car has maximum boost pressure lifted to 1.3 bar, leading to 571 horsepower at 5500 rpm and a mind-blowing 664 lb-ft of torque from 2250-3750 rpm. This software also lifts its electronic speed regulation from the usual 155 mph to 186 mph, so that the owners can enjoy its extra performance on Autobahn. 0-60 mph sprint is reduced by 0.1 second further, although any more improvement is now down to traction rather than power.


| | |
| --- | --- |
| | Still a remarkable combination of high performance, endless luxury and grace. |

So those who praised the old 6.2 engine for effortless performance should recalibrate their mind, because great performance is easier than ever with the new engine. On the downside, the turbocharged V8 does loses the instantaneous throttle response of the old one, although by turbocharging standard it is very good indeed. Having said that, only the purists may miss the old engine for its sharpness. Ditto for sound. The 6.2 is unquestionably angrier, more traditional in the way it sound, but the biturbo V8 is surprisingly delicious to ears with its turbocharging bass at the background overlaid with a hard-edged exhaust wail at full throttle. Congratulation to AMG's acoustic engineers !

Apart from engine, the biggest change to S63 AMG is (finally) the adoption of MCT (multi-clutch technology) gearbox from SL63. As we said before, replacing the hydraulic torque converter of the 7-speed automatic gearbox with a computer-actuated multi-plate wet clutch is a delight to keen drivers as it means faster, more decisive gearshift, even though it comes at the price of a slight reduction of smoothness. Otherwise the S63 Biturbo differs from the old car by only a mild facelift and recalibration of electronic aids to cope with the increased torque. The suspensions, steering, brakes and rubbers are all intact. It is still a remarkable combination of high performance, endless luxury and grace.


The above report was last updated on 9 Aug 2010. All Rights Reserved.
Specifications
General remarks
Layout
Chassis
Body
Length / width / height
Wheelbase
Engine
Capacity
Valve gears
Induction
Other engine features
Max power

Max torque

Transmission
Suspension layout


Suspension features
Tires


Kerb weight
Top speed
0-60 mph (sec)
0-100 mph (sec)

S350

Front-engined, RWD

Steel monocoque
Steel + aluminum

5076 / 1871 / 1473 mm
3035 mm
V6, 90-degree

3498 cc
DOHC 24 valves, VVT

VIM
-
272 hp

258 lbft

7-speed automatic
F: 4-link
R: multi-link

Adaptive air spring + damping
235/55R17


1805 kg
155 mph (limited)
6.9 (c)
-

S500 (S550)

Front-engined, RWD

Steel monocoque
Steel + aluminum

5076 / 1871 / 1473 mm
3035 mm
V8, 90-degree

5461 cc
DOHC 32 valves, VVT

VIM
-
388 hp

391 lbft

7-speed automatic
F: 4-link
R: multi-link

Adaptive air spring + damping
235/55R17


1865 kg (LWB: 1910 kg)

155 mph (limited)
5.2 (c) / 5.3* (LWB: 5.7**)

13.2* (LWB: 13.8**)


S600

Front-engined, RWD

Steel monocoque
Steel + aluminum

5206 / 1871 / 1473 mm
3165 mm
V12, 60-degree

5513 cc
SOHC 36 valves

Twin-turbo
Twin-spark
517 hp

612 lbft

5-speed automatic
F: 4-link
R: multi-link

Active body control

F: 255/45ZR18
R: 275/45ZR18
2105 kg

155 mph (limited)
4.5 (c) / 4.2* / 4.4**
9.7* / 10.8**










General remarks
Layout
Chassis
Body
Length / width / height
Wheelbase
Engine
Capacity
Valve gears
Induction
Other engine features
Max power



Max torque



Transmission
Suspension layout


Suspension features
Tires


Kerb weight
Top speed
0-60 mph (sec)
0-100 mph (sec)

S400 Hybrid

Front-engined, RWD

Steel monocoque
Steel + aluminum

5076 / 1871 / 1473 mm
3035 mm
V6, 90-degree, AC motor

3498 cc
DOHC 24 valves, VVT

VIM
-
Engine: 279 hp
Motor: 20 hp
Combined: 299 hp / 6000 rpm
Engine: 258 lbft
Motor: 118 lbft
Combined: 284 lbft / 2400 rpm
7-speed automatic
F: 4-link
R: multi-link

Adaptive air spring + damping
235/55R17


1955 kg

155 mph (limited)
6.8 (c) / 7.1*
18.1*

S63 AMG

Front-engined, RWD

Steel monocoque
Steel + aluminum

5076 / 1871 / 1473 mm
3035 mm
V8, 90-degree

6208 cc
DOHC 32 valves, DVVT

VIM
-
525 hp / 6800 rpm



465 lbft / 5200 rpm



7-speed automatic
F: 4-link
R: multi-link

Active body control

F: 255/40ZR19
R: 275/40ZR19
1995 kg

155 mph (limited)
4.4 (c) / 4.5*
10.8*

S65 AMG

Front-engined, RWD

Steel monocoque
Steel + aluminum

5206 / 1871 / 1473 mm
3165 mm
V12, 60-degree

5980 cc
SOHC 36 valves

Twin-turbo
Twin-spark
612 hp



738 lbft



5-speed automatic
F: 4-link
R: multi-link

Active body control

F: 255/40ZR19
R: 275/40ZR19
2175 kg

155 mph (limited)
4.3 (c) / 4.2*
9.2*










General remarks
Layout
Chassis
Body
Length / width / height
Wheelbase
Engine
Capacity
Valve gears
Induction
Other engine features
Max power

Max torque


Transmission
Suspension layout


Suspension features
Tires


Kerb weight
Top speed
0-60 mph (sec)
0-100 mph (sec)

S63 AMG Biturbo

Front-engined, RWD

Steel monocoque
Steel + aluminum

5122 / 1871 / 1488 mm
3035 mm
V8, 90-degree (Perform. pack)

5461 cc
DOHC 32 valves, DVVT

Twin-turbo
DI
544 hp (571 hp) / 5500 rpm

590 lbft / 2000-4500 rpm
(664 lbft / 2250-3750 rpm)

7-speed MCT
F: 4-link
R: multi-link

Active body control

F: 255/40ZR19
R: 275/40ZR19
2045 kg

186 mph (limited)
4.3 (c)

-













Performance tested by: *C&D, **R&T
Copyright© 1997-2010 by Mark Wan @
AutoZine