Mercedes SL-class (R230)

Debut: 2001
Maker: Mercedes-Benz
Predecessor: SL (R129)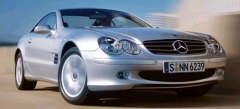 The market segment for luxurious roadster/coupe is small but profit margin is unusually high. For decades, it has been dominated by Mercedes SL, which was never seriously threatened by challengers such as Jaguar XJS, BMW 8-series, Cadillac Allante and lately, Jaguar XK8 and Lexus SC430. The outgoing SL was so dominating that it lived for 12 years without major makeover, during that period some 200,000 cars were sold worldwide. It is amazing that many car journalists still regard the 12-year-old SL better than the 4-year-old Jaguar XK8, its closest challenger to date.

Given such background, undoubtedly, the new generation SL will enter a class of its own. First of all, its sexy styling can blow the oppositions away in the first round of beauty contest. Its basic profile evolves from the 1989 model, featuring similar proportion, trademark grilles and side air vents, but all surfaces and corners are polished to smoother and sleeker. Windscreen and rear window are more steeply raked so that it feels more sporty. The preservation of low shoulder line - as opposed to recent trend - makes it look smarter and cleaner than others, especially facing Lexus SC430. British designer Steve Mattin has done a good job here.

Like the old car, it looks long but not really so. Measuring at 4535mm, it is just 19mm longer than the Lexus and a massive 225mm shorter than Jaguar XK8. Structurally, biggest change to the chassis is the adoption of SLK-style retractable hard top. Engineers are proud to announce that the electric mechanism takes a world-record 16 seconds to fold the aluminium roof into the boot, some 9 seconds quicker than SLK and 4 sec faster than Lexus SC430. Moreover, the rear window is automatically detached from metal frames and stored independently to take advantage of its curvature in order to save luggage space. As a result, boot volume is a remarkable 265 litres when the roof is down. Roof up, that increase to 290 litres.

One of the weakness of the old SL was overweight. Therefore the new SL employs aluminium in bonnet, boot lid, front wings and doors, and magnesium inner door shells like its CL cousin. And we have already mentioned the aluminium retractable roof. Better structure and more usage of high-strength steel result in 20% increase of chassis rigidity. Despite of this, the new SL500 tips the scale at 1770kg (or 1845kg according to EU calculating method), some 45kg lighter than the old 500. Aerodynamics is another area of improvement - drag coefficient becomes 0.29 and 0.34 for roof up and down respectively. The old car's were 0.32 and 0.43.

While the all-alloy, 3-valve-per-cylinder, 5-litre V8 and the mandatory 5-speed automatic are unchanged, they take advantage of the lighter kerb weight to deliver stronger performance - we are talking about 0-60 in 6.0 seconds and a limited 155mph. If not enough, you can choose the AMG SL55 whose supercharged V8 pumps out 476 horsepower. It should do 0-60 in a supercar-rivaling 4.5 seconds. Nevertheless, as the beauty of SL is always relaxed motoring, I think 306 horsepower is perfectly adequate. The V8 is strong, creamy smooth yet economical for its kind (thanks to automatic cylinder cut-off at light load). Who needs V12 or supercharger ?

I can't think of any roadsters or coupes more relaxing to drive. Its engine is so refined, gearshift is so seamless, chassis is so free of NVH, steering is so free of kickback, ride is so compliant, so supple that you might think you are driving a long-wheelbase S-class. Look at the spec. and you'll know why: suspensions are made of aluminium to reduce unsprung weight; the adoption of active body control (ABC) allows softer setup without ruining handling. The cabin also plays an important role in relaxed motoring - sit on the comfortable and all-adjustable seats with massager and cooling, face the stylish, Alfa-like radical dashboard which is made of far higher quality than any post-1996 Mercedes, press a button and 16 seconds later you are enjoying fresh air and sunshine...



But attack the first corner and you'll know this Mercedes is also a sports car simultaneously. Whenever computer senses hard cornering (or you can switch it manually as well), the active body control enters sports mode, firming up the hydraulic-aided springs at each suspension and limiting body roll in cornering. For example, at certain speed when the old SL rolls 7°, the new car is limited to just 2.5°. The changeover from normal to sport mode is fluent thus you won't aware the transition point.

You must also notice 3 other new features that sharpen the handling of SL: 1) the front suspensions has been changed from struts to 4-link to improve camber control, hence front-end grip and agility; 2) like C-class, it employs rack-and-pinion steering instead of the ancient recirculating-ball design. Accompany with a quick steering ratio which takes just 2.6 turns from lock to lock, the steering is now more precise and responsive; 3) the SL introduces the world's first brake-by-wire system (SBC or Sensontronic Brake Control) which uses electronics to activate brakes rather than today's hydraulic linkage between pedal and brakes. By doing so, computer can apply different brake pressure to individual wheels, maximizing the performance of ESP yaw control. Until now, ESP can just signal individual wheels to brake more or less frequently but unable to alternate braking force. No wonder the new brakes feel so powerful.

There are some foolish commentary saying the SL not a real driver's car because of light steering and incapable of power-oversteer. Forget that. The SL is not designed to take on Ferrari Maranello or Porsche 911. If it were so, it would not have been so comfortable and enjoyable. However, if you let me choose between 911 Carrera and SL500 as my sole car, I think I would choose the latter. It is simply more desirable to own and to enjoy everyday. After all, the new SL's mission is to continue its domination of the luxurious roadster/coupe market. It does that cleanly, and extend its advantage further. It sends Jaguar XK8/R to the second division, and relegates Lexus SC430 to the third division. Its leadership position is guaranteed until, well, the next generation SL come.
The above report was last updated on 18 Oct 2001. All Rights Reserved.
SL55 AMG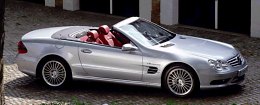 The standard SL500 with its 306hp V8 is already quite quick - it can accelerate from zero to sixty in 5.8 seconds. However, there are always some customers wanting more performance - and plenty of them can afford that. These are the AMG's loyal customers. They know AMG is the last word for luxurious performance regardless of price. A Porsche or a BMW M-power were never considered. Therefore as early as the launch of new SL we knew a AMG version is just a matter of time.

What surprise us is how serious AMG this time. Calling SL55 AMG, it would have been logical to assume it use the same 5.5-litre version V8 as the existing CL55, E55, S55 and CLK55 (and if you remember, the last generation C55). 360 horsepower would have been fine for a top SL. However, AMG was not content. It fitted a Japanese-made IHI supercharger into the V-valley in the same way as the smaller V6 of C32, running it at a maximum boost pressure of 0.8 bar. Use your calculator and you will see the engine equals to a 10-litre normally aspirated engine ! unbelievable ... if anyone apart from American love the concept of Muscle Cars, it must be AMG. Since its first 300SE 6.3 - some thirty years ago - it has been producing modern muscle cars.


You may be slightly disappointed by its 476 hp output, which cannot match a Ferrari 550 V12 (same displacement but no charger). Think about this: the Mercedes mega V8 is somewhat bounded by its basic architecture of single-cam 3-valve-per cylinder. Also, supercharged engines are not good at top end power. On the plus side, it is compact and lightweight for its class. AMG did a very good job in lifting its revability, which sees maximum power occurs at 6,100rpm. However, the strength of the V8 - like most supercharged engines - lies on the torque curve. At just 1500rpm, it pumps out the same torque (369 lbft) as BMW M5 does at peak. At 2000rpm, it overtakes McLaren F1 at its best (479 lbft). From 2650rpm continuously to 4500rpm, it generates the maximum 516 lbft, more than any supercars ever achieved. Only Bentley's 6.75-litre V8 turbo can better it.

How fast the SL55 AMG can go ? German magazine Auto Motor und Sport recently tested it against Aston Vanquish, Ferrari 550M, Lambo Murcielago and Porsche GT2 at Italy's Nardo test track. The result was an astonishing 202 mph, just bettered by the Lamborghini.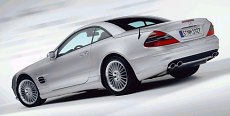 Let me spend some more time on this subject. On the net there were some people suspecting Mercedes supplied AMS a car generating more power to get better result. They simply did not believe the "476hp-only" Mercedes can do more than 200mph. In my opinion, if we can believe a Ferrari F40 reached 196mph out of 478hp, we must believe the Mercedes can do 202mph. Considering the F40 had a drag coefficient of 0.34 while the Mercedes is just 0.29 (the best ever for supercars), if their frontal areas are the same, my calculation tells me the latter can top even 212mph !

That's the theory. In reality, Mercedes' engineers swore they saw 208mph during testing. So why not AMS match that ? because for over 200mph Nardo is not the best place to test top speed. Although the circular test track has banked angle to cancel centrifugal force, it is still no replacement for a pure straight line. That's why McLaren F1 chose Germany's Ehra-Leissen test track to record its 240mph top speed.

Now back to SL55 AMG itself. Excluding engine and performance, the modifications made were rather subtle. This is not a stripped-out performance car. It retains all the creature comfort of the standard SL, including the luxuriously-equipped cabin and retractable roof. As a result, it tips the scale at 1880kg, some 110kg heavier than SL500 because of the strengthened engine, brakes and rear subframe (changed from aluminium to steel). Weight penalty in addition to the use of 5-speed automatic (now with button shift) result in a less impressive 0-60mph time of 4.4 second. Once on rolling, the heavyweight supercar becomes more accelerative.
Mercedes does not employ its new ceramic brake disc on the car, but using 360mm-diameter disc with 8-piston caliper up front is effective enough to stop the near 2-ton car. Also, it has the SBC brake-by-wire as the standard car.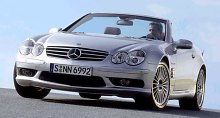 It is amazing that the SL55 AMG does not need any suspensions and chassis modifications to cope with its new found performance. The monocoque still feels rock solid at push. The retractable roof doesn't leak at top speed. The Active Body Control suspensions result in stable and agile cornering. Apart from stronger acceleration force and more tyre noise, you won't notice you are driving a 200mph supercar. It is so refined that, according to AMS, at 200mph the driver can still search for the switch to activate the massager function of the seats ! before the SL55 AMG, no one could have thought about a supercar so comfortable and easy to drive. Think about how revolutionary Honda NSX was in 1990 against its rawer Ferrari and Porsche rivals and you will understand. Perhaps the AMG's breakthrough is even bigger than that.

Any disadvantages ? while the standard SL is not the ultimate driver's tool for its class, the SL55 AMG is also not a real super sports car. There is no two-edge sword here: for the benefit of refinement, its steering and suspensions filter some road communication that supercars needed. Weight is another problem preventing it from being as agile and throttle adjustable as Ferrari 550 or Porsche 911 Turbo. It can be the King of Autobahn - both in straight line and high-speed bend, but to keen drivers the Maranello is still the ultimate front-engined GT.
The above report was last updated on 19 Jan 2002. All Rights Reserved.
SL55 AMG now 500hp

The suspect of understated power mentioned above has been finally confirmed by Mercedes-Benz. Now the company re-rated it as 500 horsepower. The previous 476hp was said as the lower end of the tolerance.

By the way, Autocar magazine tested the car twice and failed to match the performance figures recorded by AMS. The British magazine timed 0-60mph in 4.7 seconds and 0-100mph in 10.3 seconds. Now another suspicion is raised: did Mercedes really give AMS a standard-tuned SL55 for testing? or a car specially tuned to deliver more power?
The above report was last updated on 1 Nov 2002. All Rights Reserved.
SL65 AMG

If SLR McLaren is not as good as expected, why not buy a SL65 AMG at half the price instead? that's a good question. The AMG-tuned 6.0-litre twin-turbo V12 has been used in CL65 AMG which I reported last September. Putting it into the SL body is definitely a cleverer idea, as we know the SL has a better chassis than the saloon-derived CL. The twin-turbo V12 produces virtually the same power as the supercharged V8 of SLR (612hp vs 626hp), and considerably more torque (738 lbft vs 575 lbft). On the downside, the SL65 carries 330 kilograms more than the carbon-fiber-body SLR.

Put them against the clock, the SL65 takes just 4.1 seconds to sprint from rest to 60mph, versus 3.8 seconds the SLR needs. The gap grows wider when arriving 124mph: SL65 takes 12.9 seconds, SLR takes 10.6 seconds. The competition stops when SL65 arrives its electronic regulated top speed of 155mph while SLR continues to cruise to somewhere around 206mph. Theoretically, the SL65's sleeker shape (with a Cd 0.30 versus SLR's 0.374) enables a top speed in excess of 220mph, but nobody would dare to try that - it would be lucky if somebody can see that speed before airborne. The point is, there is always a reason behind the McLaren's poor drag coefficient, and I guess you know why.

So, instead of trying to compare SL65 AMG with SLR, we had better to concentrate on its own strength - smooth and relatively quiet V12, large and luxurious cockpit, refined ride and that retractable roof. Originally, Mercedes wanted to make SLR the most comfortable supercar, but that was not very successful. Now SL65 AMG could satisfy those who want supercar performance while retaining the luxury of a Mercedes-Benz. And, at the same price as Ferrari 575 Maranello, it seems a bargain too. It can't compete with the Ferrari for handling and feel, but its superior performance will steal many sales from Maranello.

The above report was last updated on 23 Aug 2004. All Rights Reserved.
SL facelift and SL63 AMG
| | |
| --- | --- |
| | Most cars are renewed after 6 and a half years. To Mercedes SL, this is only the Part II of its long life. |

Mercedes SL has always been an enduring product line. Most cars nowadays last for 6 or 7 years before they are replaced. Not so the SL. Six and a half years old is only midway of its expected life cycle. However, even this excellent car cannot afford to rest on its laurel. Since mid-2006 its limelight has been taken away by Jaguar XK. Although this is not much of a surprise to the long-serving Mercedes, it still needs to strike back with a mid-life facelift. The mission is clear: to bring the SL back to the forefront of competition.

The facelift majors on 3 areas: styling, engine and steering. Outside, the new SL returns to a wide and pronounced grille like its predecessor (the 1989 SL), giving the Mercedes a more distinctive character. The peanut headlights and bumpers are also reshaped to be more stylish. Predictably, AMG models get even more aggressive and stylish bumpers and wheels.

In the engine compartment, Mercedes added its 231 hp 3.0 V6 as the entry-level model (dubbed SL280). Besides, SL350 has its 3.5-liter V6 enhanced to 316 horsepower and 265 lb-ft of torque. This is achieved by using higher compression, lighter piston, lighter intake valves, faster cam timing and switched to a higher-flow (but fixed length) intake manifolds. This engine has been shown in the recent SLK facelift, but in the larger engine compartment of SL, its exhaust is freer thus results in 11 more horsepower at the top end. Interestingly, the new 3.5 V6 is actually more powerful than the 5.0 V8 serving SL500 a couple of years back. Technological advancement helps reducing fuel consumption and emission.

Concerning steering, the facelifted SL adopts a variable-ratio speed-sensitive power steering like the recent SLK. This sharpens its steering response in cornering without affecting cruising refinement.

SL63 AMG


| | |
| --- | --- |
| | New "63" engine brings no actual improvement to performance, but subjectively it is on a new level... |

The biggest news to the facelift is the replacement of SL55 AMG with SL63 AMG. Power increased from 500 hp to 525 hp, while torque reduced from 516 lb-ft to 465 lb-ft. As we have seen in E63, CLS63, CL63 and S63, replacing the super-torquey 5.4-liter supercharged SOHC V8 with the free-revving 6.2-liter DOHC V8 brings no actual improvement to performance, but it gives a significantly more desirable driving experience, no matter its aural quality or top-end eagerness. From handling point of view, replacing the immense bottom-end torque with a linear torque delivery results in easier control in corners, thus the real-world performance of SL63 AMG is easier to exploit. Its power and chassis work more in harmony. In contrast, the previous SL55 AMG could be felt over-engined.

Another major modification of SL63 is the 7-speed MCT (Multi-Clutch Technology) gearbox. Based on the 7G-Tronic automatic gearbox with planetary gear sets, MCT has conventional hydraulic torque converter replaced with an automated multi-plate clutch to enable faster gearshift response, so it is a crossover between automatic and manual gearbox. It offers 4 modes of operation – C (comfort) takes 200 ms to shift gear, S (Sport) takes 160 ms, S+ (Sport+) takes 120 ms, while M (Manual) takes 100 ms. The last one matches that of Ferrari 599 GTB ! The MCT gearbox combines the best of two worlds - seamless shift of automatic transmission and responsive shift of manual transmission. Now DSG has a strong rival. I hope Mercedes will adopt it on all other AMG models in the future.

SL65 AMG

Changes to the range-topping SL65 AMG model is rather disappointing, because it gets only the same cosmetic changes of the SL63. AMG did not alter its 6.0-liter twin-turbo V12, because it is already powerful enough, nor the 5-speed automatic transmission, because it is the only gearbox in Mercedes' parts bin capable of withstanding the 738 lb-ft of torque the V12 generated. In the view of environmental concern, Mercedes and AMG might stop developing the V12 and replace it with turbocharged V8 in the future.
The above report was last updated on 9 Apr 2008. All Rights Reserved.
SL65 AMG Black
| | |
| --- | --- |
| | Mercedes' in-house division wants to better McLaren, but who cares ? |

Following SLK Black and CLK Black, the exotic Black series expands to the flagship SL. The existing 612-horsepower SL65 AMG is already one of the fastest grand tourers in the world (0-60 mph in 4.1 seconds, 0-124 mph in 12.9 seconds and a derestricted top speed of over 210 mph), but compare with the Black version it is nothing. This car is 60 hp more powerful yet 250 kg lighter. Its power-to-weight ratio is a good 24 percent higher than SL65 AMG, even higher than Lamborghini LP640. It does 0-60 mph in 3.7 seconds, 0-124 mph (200km/h) in less than 10 seconds and 0-186 mph (300km/h) within 30 seconds. This matches the mighty SLR 722 built by McLaren.

The objective of the SL65 AMG Black project is very simple: to take the limelight from McLaren back to Stuttgart. The McLaren SLR project has never been as successful as Mercedes hoped for. Its performance wasn't good enough for its price (£340,000 for 722). Its cabin is cramped by the standard of Mercedes. Its ride is stiffer than many mid-engined supercars. But most important, its sales has been disappointing - so far only 1577 SLRs have been sold. By the time its production come to a stop next year, its accumulated sales will still be less than half of the number originally planned (3500 units). That is why Mercedes-AMG stopped working with McLaren and is now partnering with HWA (the company which runs AMG's racing program) to design and build its next generation supercar called "SLC".

However, before that happen, AMG thinks itself is capable to do something. A Black series of SL65 AMG will come at the right time. Only 350 units will be made in less than 2 years before SLC arrived. Each of them is priced at a relatively reasonable £214,000 or US$300,000. It will offer the space and ride quality McLaren SLR couldn't hope for, and performance matching the latter. Yes, dump the British and go it alone !


| | |
| --- | --- |
| | Aggressive looks combines with 250 kg weight reduction and 670 horsepower tune |

Based on the production SL65, AMG modified the car thoroughly. First, the twin-turbo 6.0-liter V12 received a pair of larger turbochargers with 12 percent higher flow and a 30 percent more powerful intercooler. Water cooling to the engine has been enhanced, while new exhaust silencers return lower back pressure. Maximum power is increased to 670 horsepower at 5400 rpm, while max torque remains unchanged at 738 lb-ft (1000Nm) from 2200 rpm continuously to 4200 rpm. This is because Mercedes' 5-speed automatic is only capable of withstanding 1000 Nm.

Due to this tremendous torque, it cannot employ the excellent 7-speed MCT gearbox that serves SL63 AMG. However, the shift pattern of the 5-speed auto has been revised to deliver more driver appeal. Apart from the usual Comfort, Sport and Manual mode, AMG added a second Manual mode (M2) whose shift time is 25 percent faster than M1. The gearbox also facilitates throttle-blip on downshift to match rev thus shortens shift time.

An important part of the performance upgrade is weight reduction. Considerable weight is saved by ditching the retractable roof mechanism, replaced by an aluminum roll cage (which also stiffens the chassis) and a fixed carbon-fiber roof panel. All other parts of the bodywork, except the standard aluminum doors, are also converted to carbon-fiber composites. These include the bumpers, bonnet, fenders and boot lid. Overall, the SL65 AMG Black tips the scale at 1795 kg (DIN), some 250 kg lighter than the standard car.

Surprisingly, the diet did not stripe out the cabin. Most luxury features and leather/alcantara trim remain. The most obvious weight saving is the carbon-fiber bucket seats. Other changes include a small-diameter flat-bottom steering wheel and some carbon-fiber decors to enhance visual appeal.

Some weight is saved from the suspensions instead. Gone is the heavy ABC active body control suspension, replaced by conventional springs and dampers. However, like CLK63 AMG Black, the dampers here are racing-style adjustable dampers. Compression rate, rebound rate, ride height, camber and track width are all adjustable. Apparently, this car has been designed with track days in mind. The rear axle now features a limited-slip differential. The ESP stability control offers 3 levels of intervention, including a complete off. The steering has faster ratio. The brakes are uprated, of course, 391mm and 360mm ventilated steel discs, 6-pot and 4-pot calipers front and rear respectively. They are the largest brakes ever on an AMG model. The wheels and tires are monster sizes, even larger than SLR's

As you can see, the Black version has much wider tracks than the standard car, some 97mm wider up front and 85 wider at the rear thanks to the race-car-like fenders. Countless of large air intakes and outlets are opened for the benefits of cooling and aerodynamics. Note that a new tail spoiler, normally recesses flush in the body, raises in the air at above 75 mph to enhance downforce. This allows the car to run stably at 199 mph. Mercedes did not cooperate with tire makers to develop special tires for 200 mph+ run, so it has to set the electronic regulation at 199 mph. In fact, the car has a potential of 220 mph if derestricted.


| | |
| --- | --- |
| | Disappointingly, It does not deliver what it promised... |



On the Road



One word summarizes it all: Disappointing. The SL65 Black should have been a fast yet refined highway express. However, it does not deliver what it promised.

Undoubtedly, it is very fast in straight line. Once its turbos get up to mood, you will be difficult to beat it in any production Porsche. Unfortunately, real world driving is not as simple as straight line performance measurement. When the road gets curvy, you need to decelerate and accelerate. Engine rev goes up and down in unpredictable pattern. Here reveals its first problem: the large turbos have some old fashioned turbo lag. Well, this problem alone may be bearable, but when it combines with a slow reacting torque converter auto, the problem is amplified. While the turbos get on and off during cornering, the auto fails to follow the rev and always upshift or downshift at the wrong moment. You can imagine how frustrating the experience is.

The handling is not especially sweet either. This low-riding chassis is tuned for track, obviously. It achieves flat cornering in the expense of ride, which is hard even by the standard of Ferrari and Porsche. On track, its ESP stability control works overtime to tame the power. With a set of narrow front tires (deliberately chosen), the car understeers heavily in corners. When it exits corner, the earlier you apply throttle, the more understeer dials in, thus force you to back off. To drive it smoothly on track, you have to avoid overestimating its chassis balance and always apply throttle with discipline. However, it won't bite you if you abuse the throttle pedal. In fact, the SL65 Black is set up to deliver a safe handling.

But safe also means boring. On roads, the car feels huge and bulky. It simply lacks the chassis balance and suspension composure to attack twisty roads fluently. Its excessive width is a nightmare on mountain roads. Its turning circle is so large that it will have problem going through tight hairpins. You had better to leave it at Autobahn.

Is SL65 Black really better than SLR ? We don't care anymore. The new class leader, by far the best car in the front-engined GT class, is Ferrari 599 GTB. It goes faster than the SL65 Black in real world, steers far keener, rides more comfortable, feels more special and produces a far more beautiful soundtrack. And still cheaper than the mass production converted SL. Who care the internal battle between AMG and McLaren ?
The above report was last updated on 28 Nov 2008. All Rights Reserved.