Mercedes SLK-class (R171)

Debut: 2004
Maker: Mercedes-Benz
Predecessor: SLK (R170)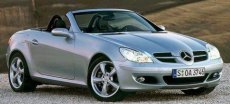 The name SLK stands for "Sport", "Light" and "Compact", it implies the car is the compact version of SL, although it is actually derived from the C-class platform. Since its birth in 1996, the first generation SLK found 308,000 buyers worldwide, making it the fastest selling roadster after Mazda MX-5, and perhaps the most profitable one. A number of reasons contribute to its success, the most important of which is the electric-folding metal roof it pioneered. By touching a button, the roof raised seamlessly from the boot and converted the SLK from a convertible to a hard-top coupe. People loved the high-tech feel it brought. This feature remained unique in the world until the arrival of Peugeot 206CC. The French took almost 5 years to imitate this idea!

However, the first generation SLK had various flaws preventing it from challenging Porsche Boxster. First of all, it was derived from the contemporary C-class, sharing the same old-fashion recirculating-ball steering which lacked feel. Secondly, its chassis was not very stiff, therefore when AMG modified it into SLK32 AMG it had to stiffen the suspensions to the extent that hurt ride quality. People saw it as a hot rod, very un-Mercedes indeed. Thirdly, the SLK never received any great engines. The early cars relied on a rough Kompressor 2.3 four-cylinder. A much more refined 3.2-litre V6 joined in 2000, but it lacked the eagerness of its BMW and Porsche rivals. Therefore, although it was commercially successful, car magazines liked to call it "hairdresser's car". In other words, high on image, low on ability.

Comparatively, the second generation SLK, codenamed R171, is a much more complete product. It might be lack of surprise and innovation, but it is highly competitive in most important areas, from build quality, comfort, handling, engine to performance. The only weakness is price - at 34,000 pounds, SLK350 is not only more expensive than Nissan 350Z, BMW Z4, Audi TT V6, Lotus Elise 111R, Honda S2000, but also overshadows Porsche Boxster. However, it is also the premium pricing proves that the car is very good, because discounts only appear in undesirable cars.


Like the old car, the new SLK is derived from the C-class platform, but this one is the latest W203 C-class. It uses rack-and-pinion steering, a 3-link strut-type suspensions up front and a multi-link setup at the rear. The body is slightly but not overly larger, with a wheelbase stretch of just 30mm to free up legroom. Basically, the SLK floorpan is a shortened version of the C-class, with 285mm chopped from the wheelbase. Therefore it is lighter and more agile than the C-class. Exterior design is smoother and sleeker. A more steeply raked windscreen and a smoother fastback reduce drag coefficient to 0.32. The most striking feature is a F1-style nose, making it look like a comical version of SLR, funny.

The new car has improved the roof further, reducing the time needed for opening or closing to 22 seconds. Moreover, it follows its bigger brother SL to use a rear window which automatically rotate 180-degree to save boot space. In this way, when the roof is stored, the boot still offers a generous 208 litres of luggage space, 63 litres more than before. When the roof is up, it increases to 300 litres.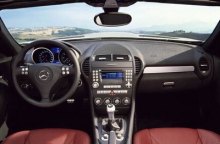 Better news is found in the cockpit: Ladies and Gentlemen, first-class quality has finally come back to Mercedes-Benz! since the 1996 E-class, Mercedes sacrificed its long-standing reputation as the world's highest quality mass production cars in order to cut cost. Its bosses thought the 3-pointed star brand can sustain the damage, but unfortunately, customers, car writers and J.D. Power are not easily fooled. The market gradually perceived that Mercedes cars lag behind Audi, Volkswagen and BMW in quality. Thanks God, in the new SLK, Mercedes is finally determined to fight back. Here in the cockpit, you can see a beautifully made dashboard combining the style of Alfa Romeo and the quality of Audi. Soft-touch plastic is used throughout the cabin. All the grab handles, switches and buttons are well damped to deliver a quality feel. Dark plastics are decorated with blue LCD and alloy-effect buttons / shifter. Welcome back to a real Mercedes-Benz!

SLK has 3 engines to choose from. The base model is SLK200 Kompressor. It uses the M271-series 1.8-liter (yes, not 2.0) introduced to C-class recently. It has balance shafts, variable valve timing and supercharger to pump out 163hp and 177lbft. Performance is adequate rather than remarkable, but it is tractable, fuel efficient and fulfills its job well as an entry-level engine.

Next one, SLK350. This is also the pick of the range and expected to be the best seller. The 3.5-litre V6 is not a development of the existing 3.2 V6 but the first member of a new generation V6 / V8 family. It packs a lot of advanced technology such as all-alloy construction, continuous dual-VVT, 2-stage variable intake manifolds and, you guess what, the return of 4 valves per cylinder! I remember in 1996 when Mercedes switched back to 3 valves per cylinder it declared that was the only way to pass future emission regulations. The premature conclusion did not come true. Today, Mercedes is eating its words and relaunching 4 valves per cylinder engines. The new 3.5 V6 pumps out a remarkable 272hp and 258lbft, more than all rivals bar Nissan 350Z.

The top model is SLK55 AMG, powered by the same engine as C55 AMG - a 360hp / 376 lbft 5.5-litre V8 that belongs to the old generation V6 / V8. However, I will leave this car in a separate report. Now let's focus to the mainstream SLK350...

The new V6 is excellent - powerful, flexible, creamy smooth and produces exciting exhaust note once you push it. You might say these descriptions can also be found in rival engines, so let us compare with our benchmark, BMW's 231hp 3.0 inline-6. The Mercedes V6 is 500cc larger, but it achieves the same efficiency as the smaller BMW engine. That translate to an advantage of 41 horsepower and 37 pound-foot of torque. Its bottom-end torque is especially astonishing: a total of 258 lbft is available from 2400 to 5000rpm, 225 lbft of which (already more than the maximum BMW can generate) is available from as low as 1500rpm ! the Mercedes V6 also produces a sonorous exhaust noise eclipsing the civilized BMW. The only deficit is that it does not rev as high as the BMW. Its maximum power occurs at 6000rpm and engine cut out at 6400rpm.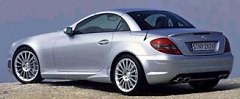 The V6 mates with a new 6-speed manual gearbox whose shift quality is much improved from the last generation. It is not as super-slick as some Japanese products, but clean and precise enough. According to Mercedes, with this gearbox SLK350 can sprint from rest to 60mph in 5.5 seconds. Nevertheless, it is beaten by the new 7G-Tronic automatic transmission by 0.1 seconds, because the latter has a total of 7 forward gears ! now driving enthusiasts are puzzling which one is the best choice - automatic for sheer speed, manual for pure fun.

Performance is definitely a strength of SLK350. Apart from the flyweight Lotus twins (Elise 111R and Opel Speedster Turbo), I can't think of any roadster in this segment can beat it. Honda S2000 and Nissan 350Z Roadster maybe the closest to 60mph, but none can rival the Mercedes' superior performance above 100mph. According to Autocar's test, SLK350 with manual gearbox arrives 60mph in 5.6 seconds and 100mph in 13.6 seconds. An excellent condition S2000 did that in 5.6 sec and 14.3 sec respectively, while 350Z recorded 5.8 sec and 14.2 sec - but that was a coupe instead of the heavier Roadster. The main rivals are slower: BMW Z4 3.0 took 5.6 sec and 15.9 sec. Porsche Boxster 2.7 needed 6.3 sec and 15.2 sec. They are simply not in the league of SLK350. There is one exception however - Chrysler Crossfire SRT-6. But I think few people would consider a Chrysler-badged roadster derived from the old SLK when they can get the new and real SLK.

On the road, apart from the superior speed and flexibility, the new SLK also impresses its driver by its comfortable ride quality. Mercedes is still the only German car maker knowing how to deal with broken surfaces as well as Autobahn. Even on British B-roads, the SLK makes use of its long-travel suspensions and well-tuned damping to absorb bumps and irregularities. The result is a supple ride unfound in BMW Z4 and Porsche Boxster, simply in the league of C-class.

The Mercedes also beats BMW for body control and steering feel, hence overall handling. It also corners as quick as Porsche Boxster, but there is more body roll and understeer, less steering feel and adjustability on throttle. In other words, it is neither as inspired nor as involving to drive as Boxster. After all, the Porsche is a mid-engined sports car with lower center of gravity and a chassis tuned to please demanding drivers. In contrast, the Mercedes is designed to appeal to broader customer base - sales is expected to be 3 times that of the Boxster. It has to offer a smooth ride and a steering free of road harshness when cruising. That said, Mercedes has found the right balance point. One example is the steering - at first, it feels not very communicative on the straight ahead. The more you turn the wheel, the more information flows through. Just when you want to attack corners, just when the car approach limit, the steering becomes totally feelsome.

No roadster is more relaxed in cruising. Surrounding you is a beautifully-made cabin worthing the name "Mercedes-Benz". When the top is opened, wind flow and noise are well deflected from the cabin. All you enjoy is the smooth running engine, the smooth ride and the rigid chassis so free of NVH. With abundance of torque, you don't need to make gearchange. Tall gearing means the engine cruises at fairly low rev, hence quietly. This is the best way to enjoy the new generation "hairdresser's car" - but this time it is high on image, high on ability. A new class leader has arrived.
The above report was last updated on 29 Jul 2004. All Rights Reserved.
SLK55 AMG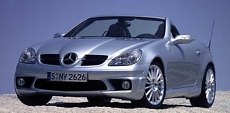 The 3.5-litre SLK has already gunned down Porsche Boxster in our last report. So what will it be when mating with a 360 horsepower, 5.5-litre V8 ? the answer is a fearsome super roadster.

When Porsche refuses to drop a larger engine into Boxster S, when BMW has no intention to put a M-power into Z4, Mercedes SLK55 AMG found itself having no direct rival in the market. The only thing matching its price and power is TVR Tamora and Chevrolet Corvette Convertible, but one can easily see they are different animals. Those praising the quality and comfort of Mercedes will never walk into the showrooms of TVR and Chevrolet. That means the AMG version of SLK is actually in a class of its own.

The last generation SLK32 AMG was powered by a supercharged V6. Recently, AMG abandoned this engine and replaced it with a normally-aspirated V8. Running as many as 5439 cubic centimeters, even though with just one camshaft per bank and 3 valves per cylinder, the V8 is capable to pump out 360 horses, or a full 80 hp more than the latest Boxster S. Its torque output is even more astonishing - 376 lbft shades the Porsche's 236 lbft. No comparison at all.

Working with the world's first 7-speed automatic gearbox, it accelerates from zero to sixty mph in a silky 4.7 seconds. That's probably no faster than the old SLK32, because the former was lighter and just slightly less powerful, but the way the V8 responds to throttle is in another league, so is its throaty roar. It can accelerate to 124 mph in 17.5 seconds, matching the 3.8-litre Porsche 911 Carrera S. If not electronically limited, how fast can it go? I guess probably 180 mph. A roadster has never been so fast.

The great chassis of standard SLK means AMG only needs to modify the legs to lift its handling to match the higher performance. These modifications include a revised front suspension geometry, stiffer springs and dampers, thicker anti-roll bars, harder bushings, 18-inch wheels, wider and lower profile tires and more powerful brakes. Predictably, grip and body control are excellent. Moreover, the added weight to the nose is satisfactorily countered by the tauter suspension setup, so the SLK55 does not feel nose heavy. The modifications also tightens the steering, making it feel more direct and accurate than in the standard SLK.

With 118 lbft more torque than SLK350, the AMG version enables powerslide more easily. As a result, attacking corners becomes even more entertaining. At £48,000, SLK55 AMG is undoubtedly very expensive, but it provides fire-breathing performance, superb handling and driving fun in a high-quality, comfortable and desirable package. Mercedes-AMG has another winning car.
The above report was last updated on 16 Oct 2004. All Rights Reserved.
SLK55 AMG Black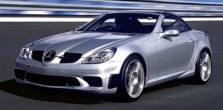 While SLK63 is just around the corner, AMG has launched the final and ultimate version of SLK55. It is a limited edition of only 100 cars aiming for occasional track use, so unsurprisingly it is very expensive – at £73,000, versus the £50,000 regular SLK55. That's almost the same price as a Porsche 911 GT3 !

To judge whether it worth the extra money, you must first see what have been modified. Firstly, the 5.5-litre sohc V8 has received smoother intake and exhaust breathing, raising its output from 360 to 400hp and 376 lbft to 383 lbft. This also accompany with sharper throttle response and an angrier noise. The 7-speed automatic transmission has added a race mode to deliver fast but aggressive shift.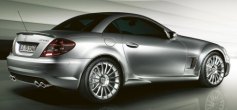 Then the car has received a diet to eliminate all the unnecessary weight. The first thing had to go is the retractable roof system. It is replaced by a fixed roof made of carbon fiber reinforced plastic (CRP). The wider front fenders are also CRP. Besides, the cockpit has its side air bags deleted and leather seats replaced by racing buckets. Overall, the so-called "SLK55 Black Series" is 45 kilograms lighter than before. 0-60mph now takes just 4.4 seconds. Top speed remains regulated at 155 mph, but customers can pay extra to raise it to 300 kph (186 mph).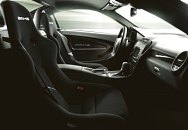 Handling is improved by the lower center of gravity brought by the CRP roof and lower ride height, stiffer suspensions, suspension tower brace (to strengthen the chassis), adjustable dampers, lightweight 19-inch wheels shod with Pirelli P-Zero Corsa tires and ceramic composite front brakes. It sacrifices ride quality for superior body control.

These modifications are professional enough, but it doesn't mean the SLK55 Black Series can be a serious rival to Porsche 911 GT3 or, to lesser extent, 911 Carrera S. The SLK is not an inherent sports car. To sharpen it up you have to sacrifice too much comfort yet fail to find the same balance and feel of a pure sports car. SLK55 is still better in its standard form.
The above report was last updated on 7 Aug 2006. All Rights Reserved.
SLK facelift 2008

| | |
| --- | --- |
| | SLK350 is the focus of the facelift... |

About one and a half year ago Audi TT overtook Mercedes SLK as the new benchmark of small premium sports cars. Now the SLK strikes back with a mid-life facelift. The focus model is SLK350, i.e., the fastest selling model in the range. Its 3.5-liter V6 has received a considerable power boost of 33 hp to 305 hp and cut-off is raised by 400 rpm to 7200 rpm. This is made possible by using higher compression ratio (11.7:1 instead of 10.7:1), faster cam timing, lighter intake valves and lighter pistons. The torque-enhancing 2-stage variable intake manifold has been ditched in favour of a faster breathing fixed manifold, so peak torque now arrives at 4900 rpm instead of the previous 2400-5000 rpm, but the peak value is lifted by 7 lb-ft. A by-product of the new manifold is a sportier howl at full throttle. Therefore keen drivers will enjoy the new engine more on the basis of extra performance and aural excitement. Brilliantly, fuel consumption is reduced slightly too.

Another improvement is the adoption of a variable ratio steering rack (in addition to the existing variable assistance). This mean the more you turn the steering wheel the faster it reacts. It sharpens the steering response by a welcomed degree, although it still lacks the true communication of, say, Porsche Boxster's.


| | |
| --- | --- |
| | SLK55 AMG also gets a new look, but mechanically still the same. |

Other changes to the SLK are less significant. Externally, the facelift brings a new F1-style front bumper to match the existing F1-style nose. Internally, there are some equipment upgrade, such as a new control system with voice recognition, Bluetooth hands-free, MP3 interface and upgraded audio system. Mercedes' new "Airscarf" seat is also available as option. It blows warm air to your neck, so now you can enjoy open air motoring even in winter.

Apart from SLK350, SLK200 has its 1.8-liter supercharged engine boosted from 163hp to 184hp. But SLK280 with its 231hp 3.0-liter V6 and SLK55 AMG with its 360 hp 5.4 V8 are unchanged. Therefore the pick of the range is still SLK350. There is still no other cars in the class offer the same kind of ride comfort, refinement and clever roof as this car. Now being faster and better to steer, it can clinch back the laurel from Audi.
The above report was last updated on 17 Feb 2008. All Rights Reserved.