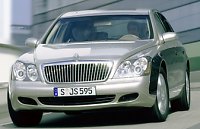 Maybach is Mercedes' first entry into the top luxurious segment which used to be reserved for Rolls-Royce / Bentley. This market is very small. According to survey, each year only 8,000 of the world's wealthiest people will be interested to buy these super luxurious cars. Among them, Maybach wants to get 1000 sales annually.

To distinguish the superior status of Maybach from the smaller, cheaper and mainstream S-class, Mercedes decided to brand the car as "Maybach" rather than Mercedes-Benz. In other words, instead of 3-pointed star you will see a double-M logo over the bonnet. Now you finally understand the brand strategy of the German company - "Mercedes-Benz" means middle-of-the-road, "Smart" means small cars and "Maybach" represents the biggest and most luxurious car.

For your information - if you have never heard of Maybach, it was a small German car maker founded by Wilhelm Maybach in 1907, building 3-ton limousines until World War II. Mercedes decided to resurrect the German luxurious marque rather than acquiring British marques like BMW and VW did.

The size of Maybach is astonishing even by Rolls-Royce standard. It is simply the biggest saloon in the world. The bigger selling base model, Maybach 57, measures 2 meters in width, 1.6 meters in height, 3.4 meters in wheelbase and 5.7 meters in length, the latter gives its model no. It is considerably bigger than a Rolls-Royce Silver Seraph or Bentley Arnage. But that's not all. To further strengthen its position as the world's most luxurious car, it has a long-wheelbase version called Maybach 62, whose name implies 6.2 meters of length. Wheelbase becomes an unbelievable 3.8m, some 740mm longer than a long-wheelbase S600 !! parking beside Maybach, the top Mercedes-brand sedan suddenly looks like a mini.



Maybach 62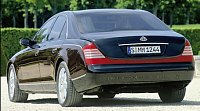 Maybach 57

Externally, Maybach looks like an enlarged S-class. It was penned by Olivier Boulay, who was then promoted to head Mitsubishi design. However, size aside, Maybach does not deliver the prestige feel the Rolls-Royce and Bentley have, because of the lack of classic detailing. Some people criticized its stripe taillights as looking too inelegant, some thought the front end grill too conservative, or look like a Daewoo / Ssangyong Chairman.

Maybach has its own chassis, but major components are sourced from Mercedes' parts pool to reduce cost, despite of its price at £280,000. The 5.5-litre twin-turbo V12 is adapted from S600, with boost pressure increased from 1.0 to 1.3 bar to produce 550 horsepower and a Bentley-scaring 664 lbft of torque. Likewise, the 5-speed automatic gearbox is strengthened from the S-class. For the suspensions, S-class also donated the front double wishbones and rear multi-link. E-class contributed to the AIRmatic DC air suspension with adaptive damping as well as SBC braking system. The dashboard architecture is based on S-class.

At 2780kg kerb weight, the Maybach 62 is of course a heavyweight saloon but not too heavy. For reference, Bentley Arnage is considerably smaller but still weighs in excess of 2500kg. In fact, Maybach cuts weight by using aluminum roof, bonnet, doors and wings. As a result, the whole bodyshell weighs 622kg.

Believe or not, the Maybach 57 and 62 can hit 60mph from rest in merely 5.0 and 5.2 seconds respectively, thanks to that super-torquey V12. It can't match the lighter S600, but the level of performance it delivers is undoubtedly more than any one needs. Remember, most of its owners are likely to take private jet planes or helicopters if they are in a hurry. Whether the performance is useful is not important, as Mercedes just wanted to demonstrate that Maybach is the best car in the world.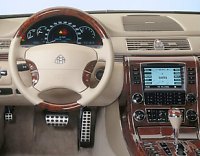 Push it into corners, you realize this level of performance is nonsense. The Maybach is by no means a sports saloon, no, far from that. It rolls and floats, and the turning circle of the 62 is ridiculous. Its air suspensions and damping are tuned to the soft side, about 10% softer than S600. Its 50-section tyres are chosen for the benefit of comfort and little tyre noise. Then there is an extra 500-700kg to burden its handling. The steering is slow and lack of feel (though completely free of kickback and vibration), because Maybach has reverted to use the recirculating-ball steering system. Its handling is better resolved than Bentley, being more stable, fluent and predictable, but Maybach is not designed as a driver's car. It is a passenger's car, a boss car.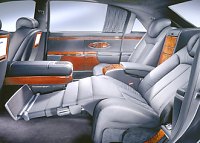 The rear passenger seats are where you can really enjoy Maybach. Travelling there at 120mph reveals how refined it is - the soft suspensions ride comfortably, with almost no suspension and tyre noise. The V12 runs silently. Wind noise is noticed for its absence. The whole world seemed isolated from the concert hall-like cabin. While you are enjoying the 600W sound system and champagne (from refrigerator) with a bespoke silver cup, or watching DVD movies, you don't realize what's happening outside the car, whether it is travelling at enormous speed. For all these you must thank to the thick glass windows and the sound deadening materials that insulate the whole cabin. Stuttgart said noise level in this cabin is 50-70% lower than a Mercedes S600. In fact, it is also noticeably quieter than Lexus and Phaeton.

Above the passenger is an interesting panoramic glass roof. Its degree of transparency can be altered by a switch. Basically the same theory as liquid crystal display. However, the most luxurious item is the aircraft-style chair of the Maybach 62. Now you understand why the car needs a 3.8 meter wheelbase - the chair can shift forward, then recline and extend its footrest like what you see in first-class flight. Have a good rest, boss. Enjoy the built-in ventilation, heating and massagers.

After 5 years of development, Mercedes has finally created the most luxurious car in the world. We shall see many royal families, dictators and billionaires purchase this super limousine. But for those who still like driving, Mercedes S600 is better. And ridiculously, you can buy three S600 with the same money of one Maybach.