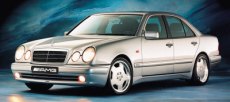 You may wonder why Mercedes replaced E50 AMG after only one year's service. Not because it has any flaw. Not because it sells badly. In fact, after Mercedes launched its new generation of alloy 24 valves V8s, the old V8 production lines are to be closed so that E50 AMG's engine must be replaced.

As usual, the hottest E-class uses an upgrade version of the biggest V8 available in the company. AMG's engineers picked the new 5-litre V8, enlarged to 5439c.c. (which give the name of this car), adopted cast-aluminium pistons, lightweight and fast-timing cams, strengthened the crankcase to cope with the increased torque, used new exhaust with lower back pressure... the result is 354 horsepower and 391lbft of torque, easily enable 0-60 mph in 5.5 sec (also thanks to the relatively lightweight of 1635 kg), although top speed is limited to 155mph by electronic device.

To be honest, the 7hp increment over E50 AMG disappoint me a little bit. Emission compliance is the main reason - if not for such reason, Mercedes would not have adopted the 3-valve head design for the V6 / V8 engines, thus the E55's engine would have had smoother breathing, hence more power. Now, it becomes more American-like: with a massive 391 lbft (37 more than E50 AMG), torque is the first thing dominating its character.

That transform the E-class into a brutal performance car. It's torque advantage over Audi S6 and even Jaguar XJR is easily felt. Acceleration is really astonished. It picks up the punch quickly at low rev, but doesn't rev as eager as the Double Vanos-equipped M5 and ultimately lose ground at the top end. Throttle response isn't as quick as the BMW because of the lack of drive-by-wire throttle, engine noise isn't as thrilling too. However, it doesn't mean E55 is not exciting. It just deliver a different kind of excitement: switch off the traction control and ESP, launch the car in a rubber-smoking style, you'll find a raw, brutal kind of thrill.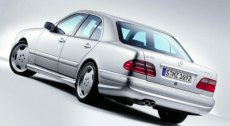 Without surprise, E55's suspension is firm but not unacceptable. Body control is excellent, with minimal body roll even under the hardest cornering. Brakes are super powerful. However, twisty roads isn't the kind of road it really likes, or at least not the kind of road its driver really likes, because the steering is a little bit slow (3.3 turns from lock-to-lock) and the steering feel is not in BMW's league. Like Audi S6, the E55 feels home at Autobahn, where its steering becomes precise at high speed. Directional stability is also superb.
Despite of the lightning performance and competent handling, E55 AMG isn't as satisfying to drive as the M5, especially it is not available with a proper transmission. Real car enthusiasts always love manual, don't they ?