Mercedes C-class Sports Coupe / CLC-class (CL203)

Debut: 2001
Maker: Mercedes-Benz
Predecessor: no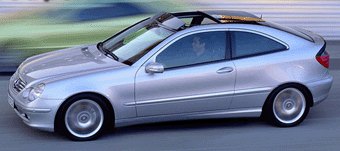 After watching BMW 3-series Compact for so many years, Mercedes decided to build a hatchback version of the C-class. However, instead of making it a cheaper alternative, Mercedes shaped it like a coupe - which means it looks far more handsome than its rival - and gave it an up-market name: C-class Sports Coupe. After seeing it recently in showroom, I swear that the car is really attractive to eyes.

What separate it from the sedan ? firstly, most apparent is the 3-door body with 180 mm boot chopped and replaced that by a liftback. Additional strengthening required for the tail's big opening makes it just 10 to 15kg lighter than the saloon. With rear seats down, it provides a 1100-litre luggage space, exactly the same as the 3 Compact. Despite of 20 mm lower roofline and a fastback tailgate, rear seats are still roomy enough to swallow a couple of 6-footers. Optional electric glass roof eats into headroom but it makes the cabin feels light and airy.

The second change is stiffer springs and dampers. The standard setup is roughly between the saloon's standard setup and sports setup, while the sports setup is another 10% stiffer. This results in a ride slightly firmer than the saloon while providing marginally better control and agility. Considering the high achievement of the saloon, you might think the Sports Coupe must beat the new Compact in handling ? wrong, because the new Compact has been tuned even sportier, overshadowing the Mercedes in every dynamic aspects (including steering feel) while matching its ride. The Sports Coupe is taut and grippy, steers accurately and feels agile, but being a coupe it faces some rivals offering greater feedback and quicker response. It works best at 80% rather than at limit.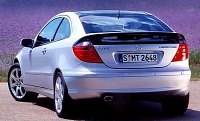 Market positioning could be tricky, because Mercedes has already got a CLK coupe (based on last generation C-class) above it. It marginally undercuts the saloon with equivalent engines, so budget-limited buyers are left to 316ti Compact. C180 Sports Coupe is slow and expensive, so unless you want its badge and design it is not a very sensible buy. Unluckily, other versions are not much better - 163hp C200K and 197hp C230K are powered by supercharged fours which are notorious about NVH. No match with BMW's 2.5-litre six at all. Although the 230K provides quite good performance (even in automatic), the engine sounds coarse and feels reluctant above medium rev, preventing the driver from enthusiastic flat out.

While the saloon and CLK have 3.2 V6 to choose from, Mercedes decided to limit the Sports Coupe to four-pots only to avoid internal competition. This is of course a big mistake, because the V6 would have made the Sports Coupe a really desirable car. It beats the Compact easily in beauty contest. It offers more room. It doesn't handle as well but still good enough. What it desperately need is a decent engine. Listen, Stuttgart, give it a V6 as soon as possible !
The above report was last updated on 19 May 2001. All Rights Reserved.
M271 four-cylinder engines

In mid-2002, Mercedes introduced a new 4-cylinder engine family to replace the notorious existing four-cylinders. The M271 family is a clean-sheet design. It has various new features to improve efficiency and refinement. First of all, there is twin-balancer shafts to eliminate the inherent vibration of inline 4-cylinder engines. Secondly, the cylinder head now employs variable valve timing at both intake and exhaust side. Thirdly, roller cam followers and hydraulic lifters are used to reduce friction and noise. Fourthly, all M271 engines have a more efficient supercharger and intercooler than the old one. Reduced clearance between the supercharger housing and compression roller reduces gas leakage thus the small supercharger can produce higher boost pressure. Lastly, by using smaller supercharger, reduced capacity to 1.8-litres (from 2.0 or 2.3-litre) and an aluminum crank case, the engine is smaller and lighter. For example, the engine for C200 Kompressor weighs 167kg, some 18kg lighter than the old 2.0-litre unit which produced the same power.

At the moment of writing, M271 family consists of 4 engines. Surprisingly, all of them displace 1.8 litres.

Different combinations of output and fuel consumption are implemented by different tuning, e.g., different supercharging pressure and compression ratio. The only exception is the CGI engine (CGI - Stratified Charge Gasoline Injection), which employs direct fuel injection. As usual, direct injection not only saves fuel, but also increases power by allowing higher compression ratio. The 4 engines are:


| | | | | |
| --- | --- | --- | --- | --- |
| Model | Eng capacity | Compression ratio | Power | Torque |
| 180 Kompressor | 1796 cc | 10.0 : 1 | 143hp / 5200rpm | 162 lbft / 2500rpm |
| 200 Kompressor | 1796 cc | 9.3 : 1 | 163hp / 5500rpm | 177 lbft / 3000rpm |
| 200 CGI | 1796 cc | 10.3 : 1 | 170hp / 5300rpm | 184 lbft / 3000rpm |
| 230 Kompressor | 1796 cc | 8.5 : 1 | 192hp / 5800rpm | 192 lbft / 3500-4000rpm |

As you can see, Mercedes has given up its naming theory according to engine size and uses a performance-rating system like AMD's Athlon XP processors.

Compare with the old 4-cylinder, the M271 family is much smoother, quieter and much more frugal. Mercedes finally has a world-class four-cylinder engine to match its superb V6, V8 and V12.
The above report was last updated on 8 July 2003. All Rights Reserved.
C-class Sports Coupe with new engines

C-class Sports Coupe used to be an example of how an excellent car ruined by a poor engine. At its launch, it was offered with either an under-powered 2.0-litre four or a pair of noisy and vibrating supercharged four (2.0 or 2.3 Kompressor). We questioned why Mercedes didn't supply it with a V6. Anyway, in mid-2002, Mercedes finally added the 218hp 3.2 V6 into the sales menu, primarily for the US market. Then, a new four-cylinder model consisting of 4 engines replaced the old four-cylinders.

The 4-cylinder series included C180 Kompressor (143hp / 162 lbft), C200 Kompressor (163hp / 177 lbft), C200 CGI (170hp / 184 lbft) and C230 Kompressor (192hp / 192 lbft). The entry-level unit is considerably more torquey than the old C180 Sports Coupe, thanks to supercharger, thus real-world performance suffers little from the old car's sluggish response. In fact, its performance is easily more accessible at low and mid-rev than BMW 318ti Compact, while good refinement should put smile on your face.

At the upper end, the C230 Kompressor loses a bit power and torque from its predecessor, as engine displacement has been reduced from 2.3 to 1.8 litres. Inevitably, performance eased back a little (0-60mph is now 8.1 sec), but the smooth and quieter power delivery is more than enough to compensate. In the past, the more you ask from the engine, the more unhappy it becomes. In contrast, the new engine adds to driving fun.
The above report was last updated on 8 July 2003. All Rights Reserved.
CLC-class
| | |
| --- | --- |
| | A facelift too late and too little cannot clear the question mark over its future |
Although Mercedes has renewed its C-class for one year, it has no intention to renew the 7-year-old C-class Sports Coupe in the same way. What the latter gets is just a facelift accompany with a new name, CLC-class, which is necessary to distinguish with the new C-class. Does this mean Stuttgart plan to discontinue the line in a few years time ? Probably.

In order to restore your confidence in the aging model, Mercedes claimed the CLC has got 1100 new parts. Many of them are used at the new nose which resembles the new C-class Avantgarde. Unfortunately the facelift does not make it any prettier. You will find the new nose design too angular to work in harmony with the sleek body. The front overhang is also too long for a compact hatchback. At the other end, the new tailgate has discarded the lower glass section, which results in poorer visibility. More disappointing is the interior, which needs a quality upgrade desperately but unfortunately it remains unchanged. The old car was born at a time when quality was no longer the first priority at Mercedes-Benz. Today you could find a Ford Mondeo or Honda Accord employs classier materials in their cabins. Even though the CLC gets a better steering wheel, seats and some equipment upgrade, it is difficult to persuade people to spend so much money on it.

In the mechanical side, the new CLC gets very limited improvements too - the suspensions has sportier setup, while the steering gets a variable-ratio rack for more responsive steer in tight corners. They make the CLC more fun to drive, but the old C-class chassis cannot hide its age and this prevent it from matching its rivals in handling. There are some minor changes to the engines, but none of them are exactly new to Mercedes. Sadly, the range-topping 3.5-liter V6 still produces 272 horsepower, i.e. without the 305hp upgrade that we have found in SLK recently.

Overall speaking, the CLC is a facelift that came too late and too little. It is no longer as likable as a few years back.
The above report was last updated on 2 May 2008. All Rights Reserved.