C32 AMG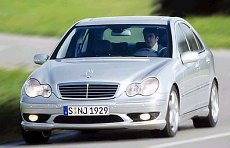 The stiffest rival to BMW M3 has arrived. The previous C43 AMG and C55 AMG were never able to challenge the BMW, not because of power but because of incapable chassis. Think in this way: putting a big V8 into the nose of a baby Mercedes could hardly achieve the right balance. The lifeless recirculating-ball steering couldn't help as well.

The new C32 AMG is another matter. Not only the new W203 chassis is dynamically outstanding, the smaller-and-lighter supercharged 3.2-litre V6 also provides abundance of power and torque without burdening the nose. Moreover, the new car looks really attractive to eyes.

History

Hot baby Mercedes started in 1985 with 190E 2.3-16. The sports sedan was developed to compete in Group A World Touring Car Championship, against the first BMW M3. It was powered by a Cosworth-designed 2.3-litre 4-cylinder engine with 16-valve head and delivered a respectable 185 horsepower. However, while the road car was heavier and less powerful than the M3, the race car also lived under the shadow of the Munich rival.

The 190E was upgraded to 2.5-16 in 1988, with the 4-pot engine enlarged to 2.5 litres and pumped out 197 hp. 2 years later, AMG entered the scene and made a few Evolution II to homologate DTM (German Touring Car Championship). It enhanced the 2.5 engine to output a hair-raising 235 horsepower. An aggressive aerodynamic kits including a big rear spoiler was added accompany with sports suspensions and wheels. This is the most racy baby Mercedes among all.

As the 190E was replaced by C-class in early 90s, AMG continued to build hot versions with the new, if bigger and bulkier body. The C36 of 1994 was powered by a 3.6-litre six-pot delivering 280 horsepower. Although it was criticized of nose heavy and inert steering, some 5,000 cars were built until it was replaced by the C43 in 1998.

C43 AMG surprised people by employing a 4.3-litre V8, in contrast to the contemporary M3's 3.2-litre inline-6. With 306 hp and a massive 302 lbft of torque, the C43 accelerated to 60 mph from standstill in 5.8 seconds and topped an electronic-regulated 155 mph. The all-alloy V8 was actually 20 kg lighter than the previous six-pot, but the chassis still fail to match the powerplant.

In 1999 AMG transplanted E55's engine into the baby Mercedes and created a crazy C55 AMG. It was not officially shown in Mercedes' price list so that production number was quite restricted. The 5.5-litre V8 pumped out 347 horsepower and an astonishing 376 lbft of torque, making smooth launch difficult thus it was not much quicker to accelerate from rest than C43. The heavyweight V8 worsened handling a bit because the chassis and suspension setting was basically unchanged. Some 4,200 C43 and C55 were built.

C32 AMG

The C32 is undoubtedly more rational than its V8 predecessors. From marketing point of view, it no longer clashes with the AMG E-class. From engineering point of view, its compact V6 benefits weight distribution and leaves a larger crumple zone at the nose to enhance crash protection. The supercharger raises power output to 354 hp, slightly more than C55. 332 lbft of torque might be some way behind the mega V8's 376 lbft but the new transmission shifts quicker and the car is slightly lighter.

Compare with the benchmark M3 it has an advantage of 11 horses and an overwhelming 63 lbft of torque, the latter should be enough to compensate the disadvantage of transmission (only 5-speed automatic is offered, compare with M3's 6-speed manual). In fact, the Mercedes actually reaches 60 mph in 4.6 seconds, which is a couple of tenths quicker than M3, and then reaches 100 mph in 10.8 sec, that is a mind-blowing 0.7 seconds quicker ! For reference, the C55 was timed 5.6 and 12.8 sec respectively. In terms of top speed, AMG can delete the speed limiter under request thus restoring the 175 mph potential. A taller final drive is also available to enable 190 mph. Safe or exciting, the choice is yours.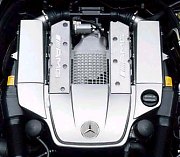 Providing such storming performance is a 3199 c.c. V6 modifying from C320. While the not-so-hot sohc and 3-valve head is unchanged, there are faster cam profile, stiffer valve springs, lighter valves, new crankshaft, con-rods and pistons and a 70%-higher-capacity oil pump. Needless to mention, the biggest change is the addition of a supercharger. Thanks to the large 90° V-angle, the lightweight supercharger (with aluminium rotors) recesses completely into the V-valley thus engage no more space - except that now there is an air-to-water intercooler added to the front. Talking about supercharger, you might have bad impression on Mercedes' superchargers about their noise and vibration as seen in the 2.0 and 2.3 Kompressor. However, this Lysholm-type (helical) supercharger supplied by Japan's IHI is not the same as the cheaper root-type superchargers used by C200K and some SLKs. It runs seamlessly and quietly once above idle (which generates diesel-like noise). Engagement and disengagement are made in an unaware manner. There is instant power from just a few hundred revs above idle. From 2,200 to 6,100 rpm, no less than 295 lbft is ready to serve you, proving how flat the torque curve is. It's not a lazy, torque-bias engine as well, because the redline is actually raised by 200 rpm to 6,200 rpm.
Unsurprisingly, the way it deliver its power is very different from M3. While the rev-happy M-power screams fiercely to 8,000 rpm red line to deliver maximum performance, the Mercedes supercharged V6 has instant power all the time. More so is the way they shift. The BMW keeps the driver involving by shifting the superb 6-speed Getrag gearbox while the Mercedes 5-speed automatic shifts by itself and let the driver concentrating on the road. There is a Tiptronic mode like other models but it won't get quicker. By the way, the manual mode shifts left-right instead of forward-backward for upshift and downshift, rather illogical. Anyway, this automatic is reprogrammed by AMG to quicken shift response by 35% (therefore Mercedes calls it "SpeedShift") with minimal trade-off in smoothness. It is also clever enough to predict the driver's intention to choose the right gear. For instance, under heavy braking, it will automatically downshift 1 or 2 gears to keep engine boiling.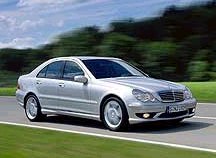 Supporting strong performance is a capable chassis already shine in the regular C-class. Undoubtedly, the 3-link strut front suspension and rack-and-pinion steering rack provides far better steering than the old C-class. Therefore AMG just modified the chassis with some usual techniques - drop ride height by 30 mm and stiffened suspensions, wider tyres, larger wheels, stronger brakes .... the result is 70 additional kilograms compare with C320. Strangely, Mercedes quoted a heavy 1635 kg according to EU new regulation for measuring kerb weight (two up, a full tank and some luggage) so that many journalists thought it is heavier than C55. In fact, the correct kerb weight is likely to be 1560 kg, which is around 40 kg lighter than C55.
As predicted, C32 combines capable handling with supple ride. Hard to believe, it rides nearly as comfortable as C320, just slightly tauter. This make it a better companion for cross-country journey then any other sports sedans besides M5. The chassis is well balanced and change direction with high agility. The steering turn-in sharply and feels more natural than M3. As usual, there is massive grip from the tyres but now the balanced chassis makes far better use of the grip to provide fluent cornering at far higher speed. At the limit, there is mild understeer like many well sorted performance cars while everything happening is predictable and well under control. By switching off ESP, you'll find the car is highly throttle-steerable, so "power oversteer" is the first time found in hot C-class' dictionary. Ultimately, M3 is still more driver-focused - corners harder, balance better, rides stiffer, steer quicker off-center - but the AMG is more tolerable and more relaxed to drive quickly. To determine which car handles better, it depends on your driving style. They just do the same job in different ways.
In many ways the C32 is more attractive than M3. It has more space, better ride and a more accessible power delivery. The M3 wins back in terms of engine noise and revability, gearbox, build quality and a purposeful styling. Ultimately, M3 engages and thrills the driver more while the AMG is easier to live with - as long as not considering the not-so-kind price tag. Although AMG expects sales number to be multiplied from C43, its target annual sales of 3,500 cars is just a fifth of the BMW's.